Envoy in NY seeks to calm virus fear
By HONG XIAO in New York | chinadaily.com.cn | Updated: 2020-02-18 11:19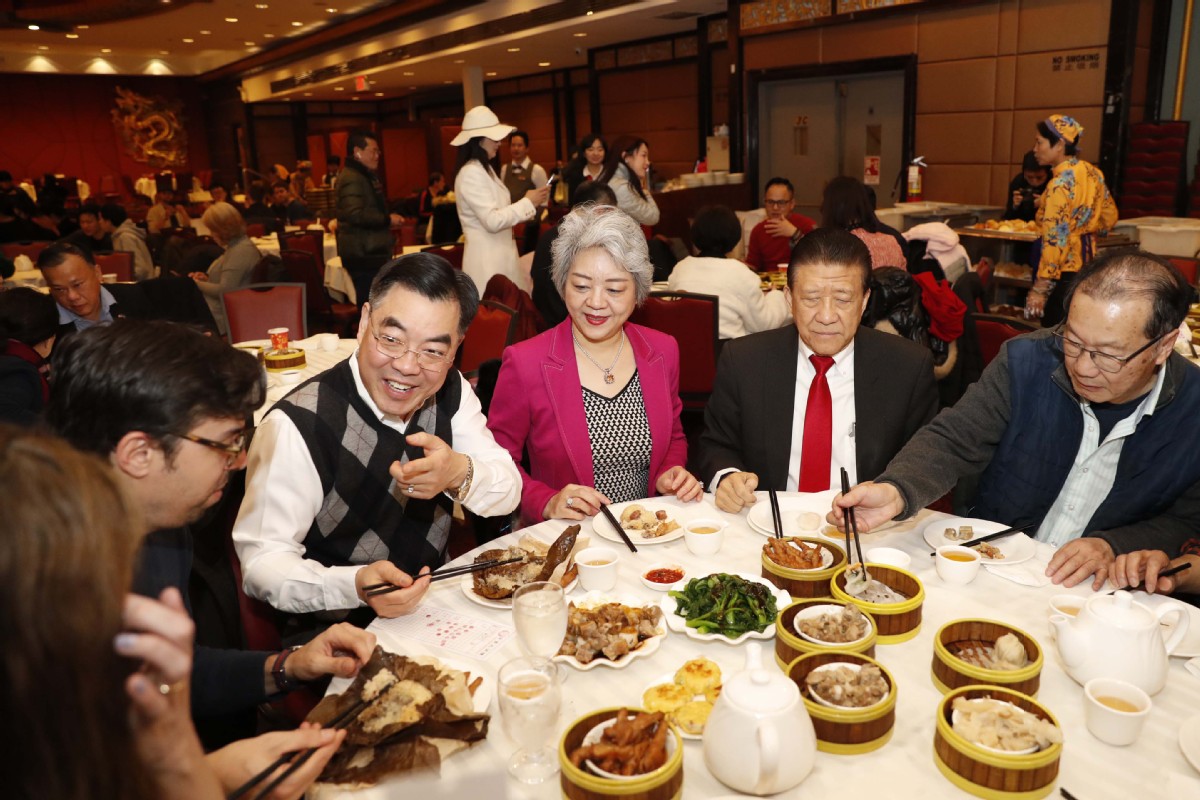 The Chinese consul general in New York City enjoyed dim sum while visiting Chinese communities over the weekend as part of an effort to ease anxieties about the novel coronavirus outbreak.
To encourage people to go about their lives, show support to Chinese restaurant owners and merchants, Huang Ping, the consul general in New York, together with his wife and officials at the Consulate General, visited Chinese communities in Manhattan, Brooklyn and Queens, respectively.
During the visits, the group ate at Chinese restaurants along with local Chinese residents, merchants and community leaders, exchanging views about the impact of the epidemic on businesses in the Chinese community.
"Today I came to Brooklyn and had two breakfasts in a row, which is satisfying," Huang said during a visit to the Chinatown in Sunset Park on Sunday morning.
"I am glad to see that the two restaurants are full of diners today," he said.
Peter Lin, owner of the 99 Favor Taste, Chinese Hot Pot and Barbecue chain restaurants in New York, said that in the past, business would decline gradually after the Spring Festival, but had never dropped so dramatically as it has this year.
Huang told attendees that the virus is under control in China.
"As the fight against the epidemic continues to bear fruit in China, public confidence is being restored," he said.
Huang said that there are few cases (15) in the United States, and none in New York state so far, so there is no need to panic, he said.
Huang believes that the business impact is temporary and will soon return to normal.
"New York City is safe; Chinatown has great food and a great shopping atmosphere, so I hope everyone could come here to enjoy the weekend," he said.
Huang also expressed his gratitude to the Chinese communities for their "selfless support and dedication" in the fight against the epidemic in China.
Huang expressed his wishes to resume normal personnel exchanges between China and the United States as soon as possible, as "it would benefit the two countries and peoples", he said.
The consul general and his colleagues also visited shops and bought fruit after dim sum to cheer up small merchants.
Huang went to Flushing, Queens, on Sunday afternoon and visited Chinese supermarkets and restaurants with state Senator Toby Ann Stavisky and City Council members Peter Koo and Rory Lancman.
On Feb 13, Mayor Bill de Blasio visited Flushing and had dim sum at the Royal Queen in New World Mall, attempting to ease anxiety about the coronavirus.
"The mayor came to Flushing a few days ago, and now Consul General Huang is here. It's encouraging for Chinese merchants," said William Shao, president of the New World Mall.
Shao told World Journal that the business has been improving in recent days. "I hope the outbreak will end soon, and the community will be back to normal," he said.