Bilingual volunteers aid travelers arriving in Shanghai rail station
By WANG YING in Shanghai | CHINA DAILY | Updated: 2020-02-20 09:02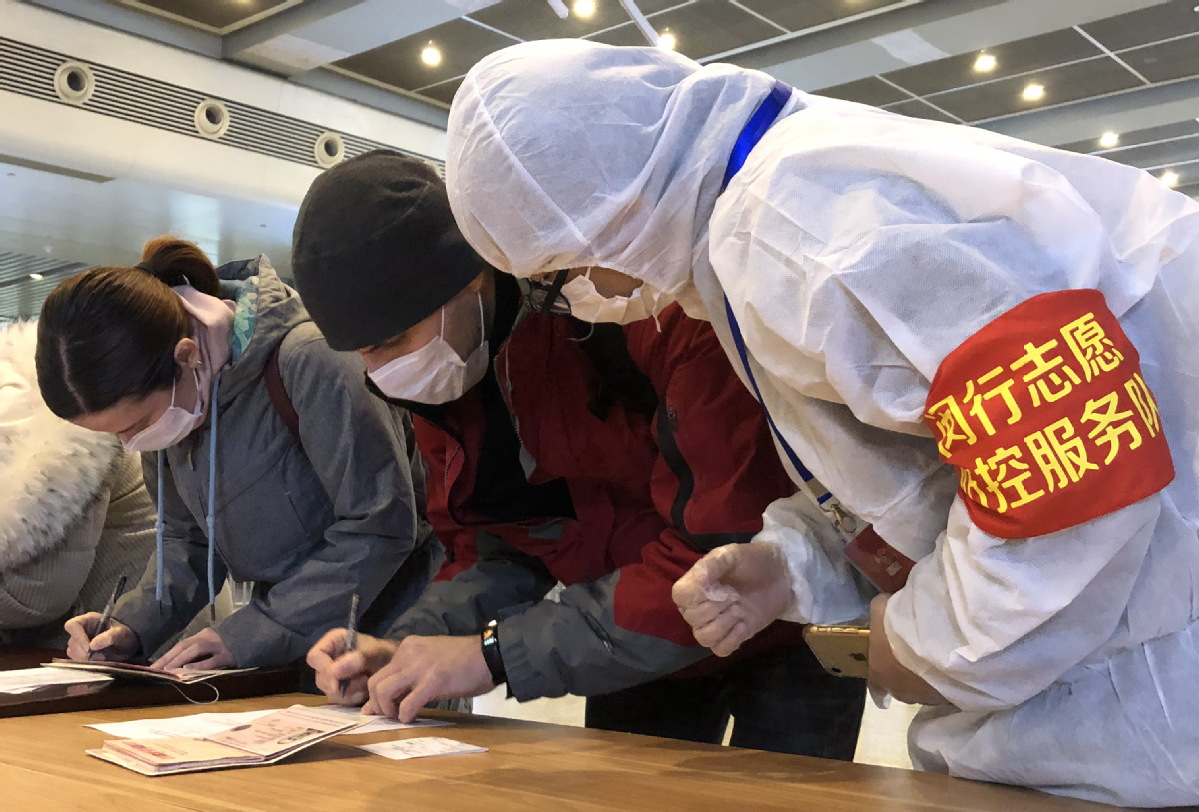 At 8 am on Feb 12, Wang Changtai carefully put on his protective suit and started a new day as a volunteer at Shanghai Hongqiao Railway Station.
Fully armed from head to toe like all the staff at the station to ward off the novel coronavirus epidemic, Wang is unusual as he is one of the bilingual volunteers.
"We stand by our position, and whenever someone needs help in English, the coordinators will tell us where we're needed," Wang said.
Yu Yi, another bilingual volunteer at the railway station, said, "I was only 10 when the SARS epidemic broke out in 2003, but I was deeply touched by the doctors, nurses and volunteers who confronted the virus to help patients. Now I am a grown-up, and it is my turn to make a contribution."
Yu is currently a volunteer member at both Shanghai Railway Station and Shanghai Hongqiao Railway Station.
Since Feb 2, the municipality has required that everyone entering the city fill in a personal health form. They can choose to complete the form on paper, via a WeChat mini program or by downloading the mobile phone app Jiankangyun, which means "health cloud".
The Hongqiao Integrated Transportation Hub in Minhang district, where Shanghai Hongqiao Railway Station is located, is known as the first gateway for passengers entering the metropolis. The mega hub includes an international airport, a high-speed railway terminal and two metro line stations.
The Hongqiao transportation hub saw 161,200 passenger trips on Feb 11, down 87.5 percent year-on-year, according to the Hongqiao Central Business District's administrative committee. Without the epidemic, this period would have usually been a part of the transportation peak for Spring Festival travel.
Despite the decreased passenger flow, work never stops.
With more people returning to the city following the end of the holiday, Minhang district decided on Feb 9 to recruit bilingual volunteers to assist foreigners.
Since Feb 11, 43 bilingual volunteers have provided services at the Hongqiao railway station from 8 am to 10 pm in three shifts. Most of them are from Shanghai United International School.
"Once I learned about the service from the head of our company group, I immediately applied to be a volunteer. I was the third applicant," said Wang, who is deputy director of the human resources division at Shanghai United International School.
Many of Wang's colleagues failed to become a volunteer, as vacancies were filled in a mere three hours.
"On the following day after the recruitment, organizers provided more than three hours of training for us, including how to wear protective suits, learn the working procedure and tips for volunteers," Wang said.
"Everybody is doing their bit in making a contribution to the ongoing fight against the novel coronavirus epidemic, and it is my way of helping-to soothe people's nerves with a "hello", help carry heavy luggage or find directions for people who have just arrived in the city," said Yu, a Shanghai native.
"We helped about 10 foreigners on each of the first two days, most of whom needed more help than Chinese passengers because they didn't know much about the health reporting procedures," said Xu Xinjiang, an official who is responsible for volunteer work at Minhang district. "Our volunteers have been extremely patient, and the foreign passengers have all expressed their thanks."