British retail hit by supply disruption as consumers stockpile
By BO LEUNG in London | China Daily Global | Updated: 2020-03-06 11:01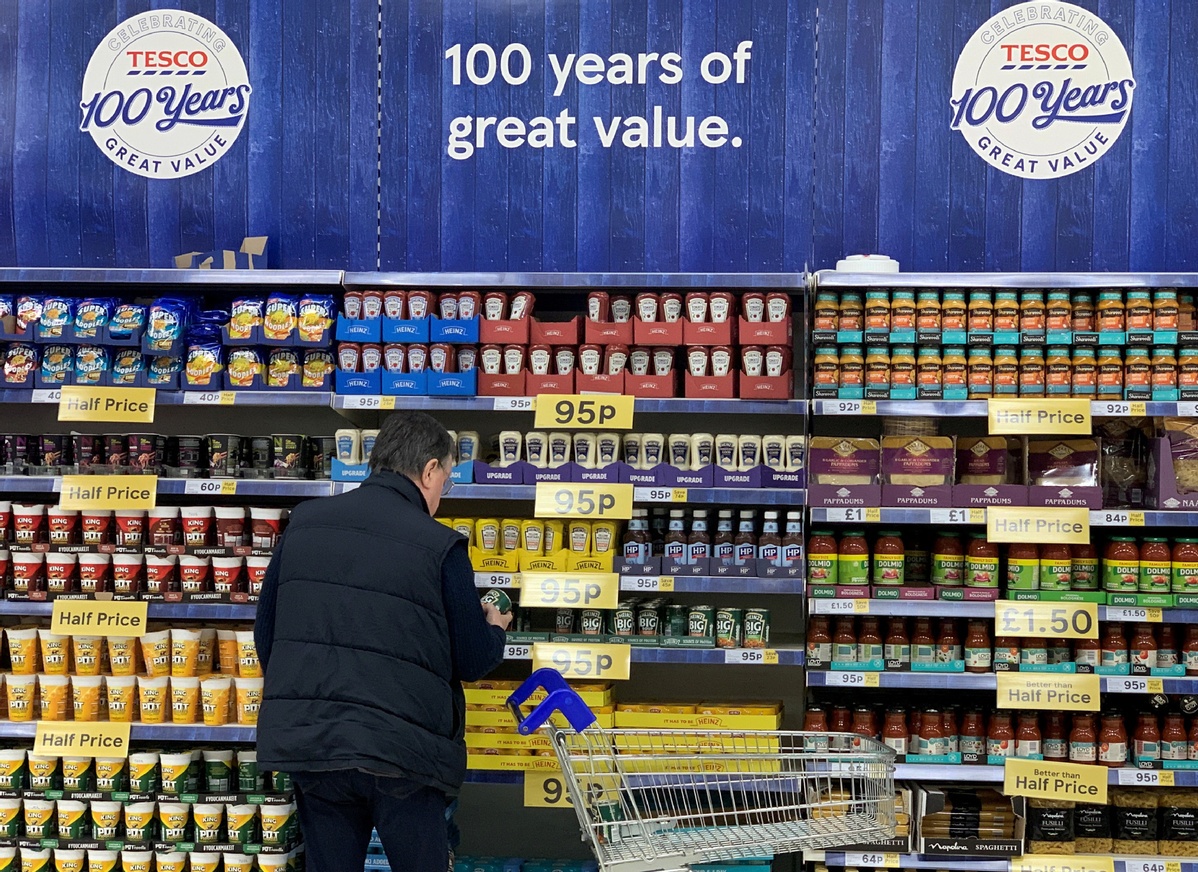 Retail experts say the impact on the industry of the novel coronavirus could last until the end of the year and that it will take some time before it is "business as usual".
"Global supply chains will be severely impacted," said Karl McKeever, a retail analyst and director of retail agency Visual Thinking. "The extended factory shutdown in China, and other global city hotspots, will have caused immense problems in supply chains."
According to a new survey from consultancy Retail Economics and global law company Squire Patton Boggs, almost a quarter of the United Kingdom's retailers surveyed-in sectors including food, fashion, health, and beauty-say supply chain disruption is having a significant impact.
However, around 7 percent of them have supply chains that are flexible enough to allow them to switch suppliers.
"Whilst there is stock 'in the system' for now, summer and autumn ranges will clearly be a scramble to pull together," McKeever said. "Fastfashion retailers will be particularly vulnerable as their lead times are shorter and they rely on more precise and reliable continual supply lines."
He noted that now is a "key time", as orders are confirmed for production of Christmas goods. And he said a brake on manufacturing in China "will mean considerable disruption to normal buying cycles, logistics operations, and put immense pressure on the generally tight operation of global supply chains, which retailers rely upon".
"On the upside, there is likely to be a windfall boost for the UK or other local-to-market suppliers, operating closer to home, whose operations are currently unaffected and supply lines can be immediately accessed and new relationships formed," he said.
Consumers have also been rushing to stockpile goods because of the outbreak of the virus, and the COVID-19 respiratory disease it causes. More than a third of consumers are worried about product shortages, and 1 in 10 consumers have started to stockpile, according to the survey.
"These kinds of spikes in demand cause immense problems for retailers on a number of levels," McKeever said. "Of course, they have to manage public expectations about supply, some will face criticism about lack of availability or increases in prices-although most major chains will not seek to profiteer in such times-and ultimately the stress this places on their operations include the potential lack of staff to run their stores."
He described COVID-19 as "the biggest test to global retail marketing we have seen", but in order to mitigate long-term effects, McKeever believes retailers should act "fairly and responsibly" and not seek "to benefit from the problems".
"This includes not raising prices for related emergency supplies, restricting the sale of goods so that all citizens can benefit equally, and acting responsibly with the retail practices at this time," he said.
Matthew Lewis, head of retail at Squire Patton Boggs, said: "The situation is rapidly changing and retailers and those operating within the supply chain should ensure they stay up-to-date with the latest guidance and advice from public health agencies."
Meanwhile, the Association of International Retail, or AIR, has launched a plan to boost the future recovery of the British retail sector.
"While the outbreak has hit international travel from many countries, our retail recovery plan focuses on restoring and growing Chinese visitor numbers as the most effective way of repairing any economic damage," the association said.
The plans include making further enhancements to visa applications, creating a coordinated and targeted marketing approach with the message "Britain is open" and welcoming to investors, tourists, and students.
The AIR's UK International Retail Recovery Plan will also look into digitizing tax-free shopping, establishing an annual embassy retail event in Beijing, and improving the shopping experience by doing things such as hiring more Mandarin speakers in stores and increasing the number of shops accepting Chinese mobile-based payment systems.