Japan's new policy to revoke some visas
By WANG XU in Tokyo and CHEN WEIHUA in Brussels | China Daily | Updated: 2020-03-07 03:15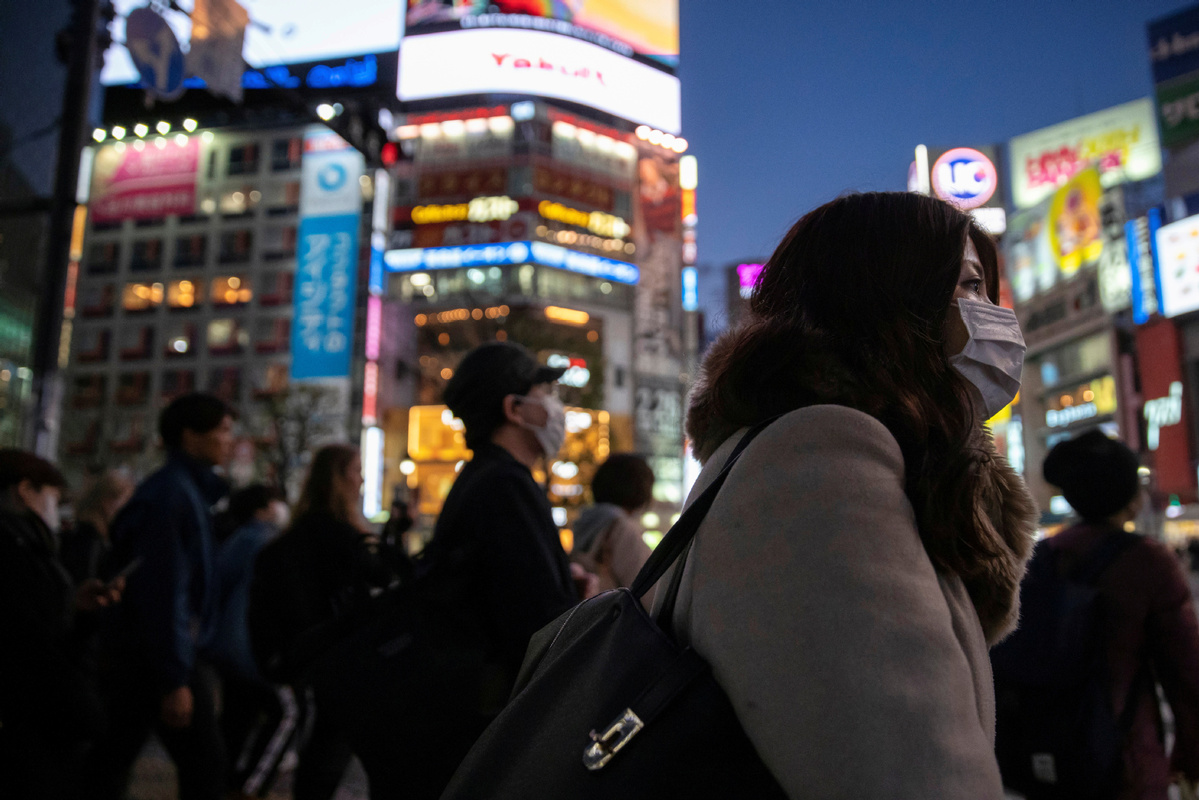 As nations race to confront the growing COVID-19 health threat, Japan's Cabinet approved a visa cancellation policy on Friday that lets the government revoke the visas of people arriving from China and the Republic of Korea to curb the spread of the virus.
Under the new policy, all foreigners coming from China and the ROK will be denied entry to Japan starting on Monday if they don't have a residence card or a newly approved visa.
People from the Hong Kong and Macao special administrative regions as well as the ROK who are currently exempt from visa requirements will have to obtain a new travel document before entry.
Tokyo said visas for foreign visitors already in Japan will become invalid once they leave and the policy will be in effect until the end of March, but it may be extended.
Also starting on Monday, Japan will require all people arriving from China and the ROK, including Japanese nationals, to be quarantined for two weeks at designated sites.
Chinese Foreign Ministry spokesman Zhao Lijian expressed understanding for Japan's tougher controls.
Zhao said it is understandable for countries to take professional, scientific and appropriate measures to protect the lives and health of their people and those from other countries as well as to ensure regional and global public health. But he added that measures should not exceed reasonable limits.
Seoul said on Friday it will halt visa waivers for Japan in response to Tokyo's travel restrictions after containment measures ignited a diplomatic row between the nations.
"From March 9, visa waivers for Japan and the validity of existing visas will be suspended," Vice-Foreign Minister Cho Sei-young said at a news briefing.
The measures come a day after Japan barred entry to visitors from severely affected areas in the ROK and ordered two weeks of quarantine for others.
Seoul's reciprocal measures also include a travel advisory for Japan and imposing special entry procedures for foreigners arriving from Japan.
Japan, however, said its move came at a proper time.
"The decision was the result of a comprehensive review of the information available about the situation in other countries and the effects of other measures," Japan's Chief Cabinet Secretary Yoshihide Suga said at a news conference on Friday.
As of Friday, there were 1,067 coronavirus cases in Japan, with the 21 new infections reported including a doctor in his 20s in Sagamihara, adjacent to Tokyo.
The ROK confirmed 309 more cases on Friday, raising the total number of infections to 6,593. One more reported death lifted the death toll to 43.
ROK health officials said they expect the number of new cases to remain high for the near future as they complete the testing of more than 200,000 members of a Christian sect thought to be at the center of the country's outbreak, as well as thousands of other suspected cases from smaller clusters.
ROK President Moon Jae-in canceled his planned trip to the UAE, Egypt and Turkey in mid-March due to the alarming spread of the disease at home, according to the presidential Blue House. On Thursday, the Blue House said Moon exchanged letters with Kim Jong-un, top leader of the Democratic People's Republic of Korea.
Yoon Do-han, senior Blue House press secretary, said at a news briefing that Kim sent his personal letter to Moon on Wednesday to "convey his message of comfort" to the people who are fighting the COVID-19 outbreak. In the letter, Kim said he believed that the ROK would prevail over the outbreak without fail, conveying his best wishes for the continued good health of his compatriots in the South. In response, Moon conveyed his gratitude through a personal letter to Kim, officials said.
Iran on Friday announced 17 more deaths from COVID-19, raising the total number of people killed to 124.
"We have confirmed 1,234 new cases, which is a record in the past few days," health ministry spokesman Kianoush Jahanpour said at a news conference, raising total infections to 4,747. Iran's health ministry on Thursday announced a national plan under which family members thought to have symptoms will be invited to medical centers.
Also Thursday, Palestinian President Mahmoud Abbas declared a one-month state of emergency after seven cases of COVID-19 were confirmed in Bethlehem.
Tedros Adhanom Ghebreyesus, director-general of the World Health Organization, said on Thursday that WHO is deeply concerned about the increasing number of countries reporting cases, especially those with weaker health systems.
He reiterated that the epidemic is a threat for every country, rich and poor. "The solution is aggressive preparedness," he continued.
Chen Yingqun and agencies contributed to this story.
Contact the writers at wangxu@chinadaily.com.cn