Shared bike rides on roll as business resumes
By PEI PEI in Shenzhen | China Daily | Updated: 2020-03-09 09:09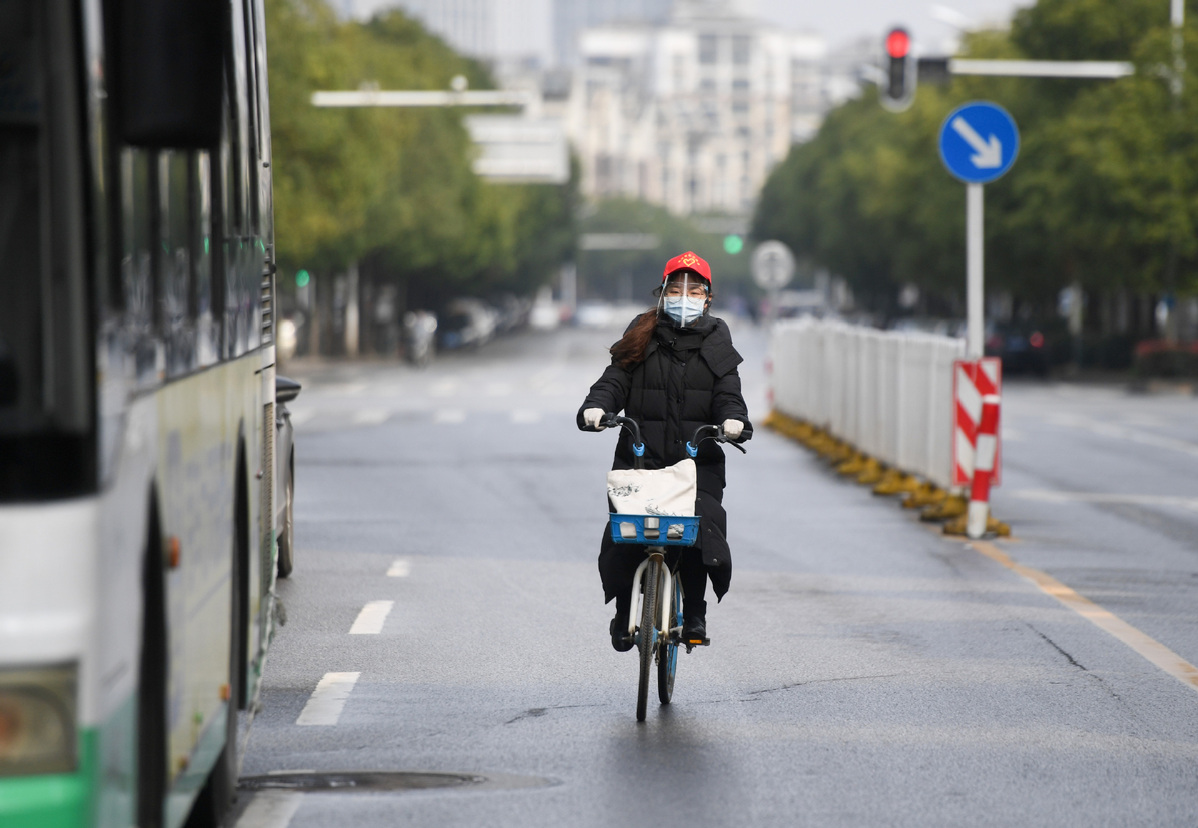 Bike-sharing is on the rise as cities get back up to speed, according to data from China's bike-sharing giants.
Rides on shared bikes have been picking up since Feb 10, when business operations began to return to normal in the wake of the novel coronavirus outbreak, Hello Global, a bicycle rental platform backed by Ant Financial, said in a report released on Feb 28.
Meituan Bike (formerly Mobike) said the number of shared bike rides on the Chinese mainland had surged by about 86 percent from Feb 24 to Feb 28 compared with two weeks earlier.
Among first-tier cities, it said rides in Beijing rose by 188 percent, the biggest increase, followed by Shenzhen at 107 percent. Shanghai saw a rise of 94 percent, while Guangzhou recorded an increase of 81 percent.
The two leading bike-sharing companies in China said central business districts, science and technology industrial parks, shopping malls and supermarkets were the places where most shared bikes were hired and parked, indicating the apparent resumption of business and social activities.
Meituan said data showed the pace of life for residents in cities that were other major sources of customers-such as Hangzhou, Zhejiang province, Changsha, Hunan province, and Nanjing, Jiangsu province-was swiftly returning to normal.
Experts said biking was a practical choice for members of the public, who could stay safe during the novel coronavirus pneumonia epidemic by sterilizing handlebars and saddles before taking a ride.
According to Hello Global, the proportion of long-distance rides-those longer than 3 kilometers-had recently doubled year-on-year. Meituan said the average distance rode was 1.5 km, up 24.7 percent from the comparable period in January, and lasted for 13.5 minutes, up 30.7 percent.
Meituan has offered shared bike services for free in Hubei province, the epicenter of the outbreak, and said more than 2 million free rides had been taken.
By Thursday, Hello Global had given out 313,000 free riding cards nationwide worth more than 30 million yuan ($4.32 million) to support the fight against the virus.
Chu Yiqun, general manager of its bike-sharing department, said shared bikes not only solved the "last mile" problem in many places, particularly in Hubei, but had also proved their value in long-distance transportation.
"Data show that shared bikes have guaranteed a necessary daily transportation alternative for people during the epidemic, especially in Hubei," he said.
For commuting distances of less than 10 km, riding a bike was a safe, healthy and efficient option given the current situation, said Liu Daizong, director of the World Resource Institute China Ross Center for Sustainable Cities.
To support the resumption of production, Meituan has offered free riding cards that can be used for half a month from Feb 24, and Hello Global has distributed seven-day free riding cards from March 2.
Qu Mingyang, who works for a State-owned shipping company, has been commuting on shared bikes every day since resuming work on Feb 3.
"Before the epidemic, I sometimes took a shared bike to go to work," Qu said. "Now I ride it more often as it is a safer transportation option compared with others. I ride about 8 km every morning.
"Meituan's recent free cards manifest the company's corporate social responsibility, and it is a win-win business strategy."
To ensure the safety of shared bike users, Hello Global and Meituan have established special teams to sterilize shared bikes, including those of other companies.
To ensure shared bikes are in good shape, Hello Global is now looking for workers to fill 8,000 job vacancies around the country.
"We encourage 'idle' workers to join us, sharing the bonus of business resumption while providing transportation services for residents," Chu said.