Universities across US shut down classrooms
By Lia Zhu in San Francisco and Julian Shea in London | China Daily Global | Updated: 2020-03-12 09:59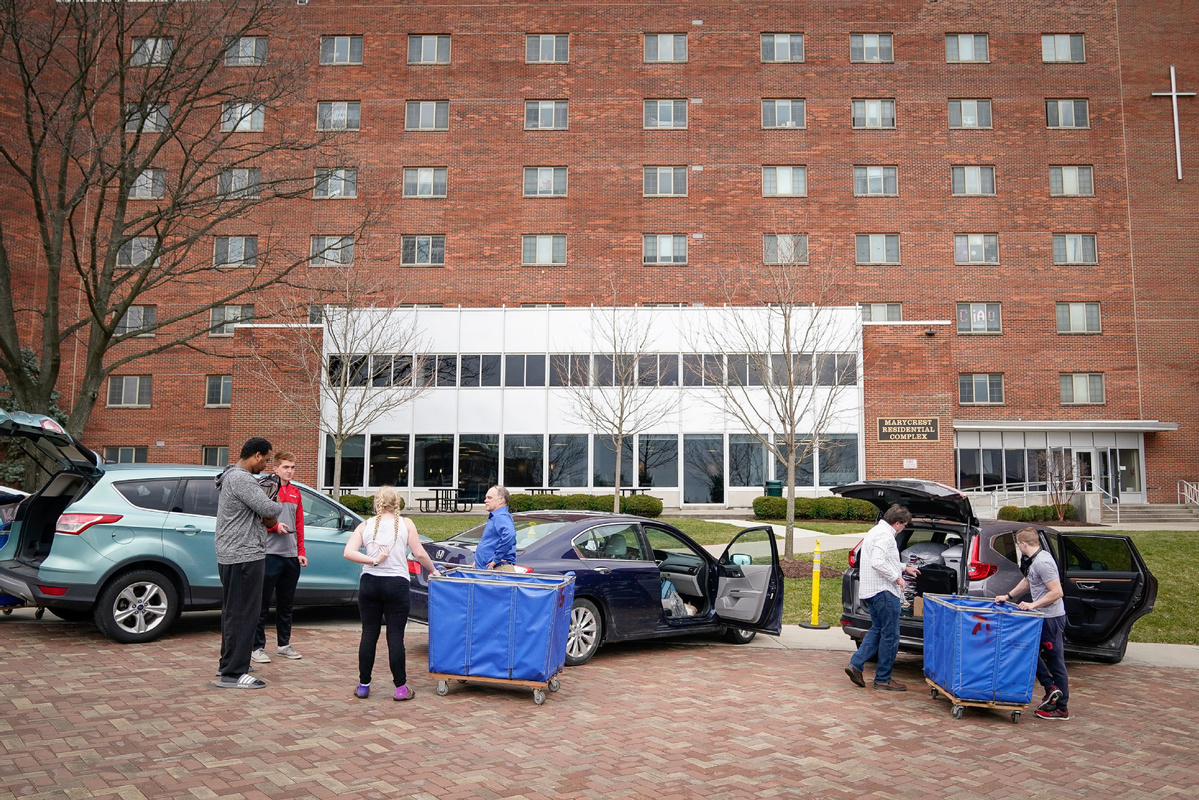 Many universities in the United States have closed classrooms as the novel coronavirus continues to spread across the country.
The cancellations were concentrated in states and areas hit hardest by the virus, including the Seattle area in Washington state and the states of California and New York, CNN reported. Ohio State University, which has more than 60,000 students, and Harvard University were among the latest to announce they were closing classrooms, CNN said.
As many students have begun or are about to begin spring break, schools are advising them to avoid travel to China, Italy and South Korea. Some are telling students to not return to campus for 14 days after their return, depending on the laws in their state.
As the coronavirus sweeps across the US, which has recorded more than 1,000 confirmed cases and killed at least 30, officials and experts there have warned that mandatory prevention measures may be necessary to stop its spread.
Anthony Fauci of the US National Institutes of Health has said that "anything is possible" given the scale of the outbreak, but added that large-scale quarantines do not appear to be on the horizon.
Many cities and states have adopted aggressive social distancing strategies to suppress the outbreak, such as employees working from home, students switching to online classes, and organizations canceling or postponing large gatherings.
New York Governor Andrew Cuomo announced on Tuesday that schools, temples, churches and other large gathering places within a one-mile zone of the city of New Rochelle will be shut down for two weeks as the state fights the epidemic. National Guard troops will help clean facilities and deliver food inside the containment zone.
Lindsay F. Wiley, a professor of law and director of the Health Law and Policy Program at American University in Washington, DC, told China Daily that so far, "social distancing"-a strategy to reduce the opportunities for a disease to spread person to person, even when individuals are not known to have been infected or exposed-"is voluntary in the US, but as the outbreak unfolds, we're likely to see more mandatory measures directed at certain types of businesses or organizations".
"If so, mandatory orders could be enforced via inspections and court orders, similar to how a fire marshal can shut down an event if it becomes too crowded or a health inspector can shut down a restaurant if food safety violations are detected," she said.
One expert said the US could eventually follow Italy's plan to quarantine a large segment of its population, but it would be very hard and would face strong opposition.
"The likelihood of that happening in the United States is extremely, extremely small," the BBC quoted Irwin Redlener, director of Columbia University's National Center for Disaster Preparedness, as saying.
"Essentially that amounts to martial law," he said.
US President Donald Trump said on Tuesday that he would ask Congress for a payroll tax cut and other "very major" stimulus moves to ease the economic pain of the coronavirus.
More than 100 countries have now confirmed coronavirus cases, with Panama, Mongolia and Turkey among the latest. Congo and Burkina Faso have also confirmed their first cases, increasing the number of infections in Africa to 105 in 11 countries. Morocco reported its first COVID-19 death, the second confirmed death in Africa, according to the Associated Press.
A British health minister became the first UK lawmaker to be diagnosed with the disease, while in the United States, several senior politicians were self-quarantined, and in Spain, a politician tested positive for the virus, AP said.
Italian health authorities announced that the death toll had jumped by 168 to 631 on Tuesday, the biggest rise in coronavirus deaths since the outbreak began in Italy, with the total number of cases topping 10,000, Reuters reported.
While Italy's nationwide lockdown shocked many small businesses, the prosperous northern region of Lombardy, which includes the financial capital of Milan, called on the government to introduce even more stringent measures, according to Reuters.
The Bank of England cut UK interest rates on Wednesday in an emergency move to bolster the economy amid the outbreak, with the monetary policy committee voting unanimously to slash the bank rate from 0.75 percent to 0.25 percent, the Guardian reported.