Sanya becoming case study for tourist cities in business recovery
By Wang Zhuoqiong | China Daily | Updated: 2020-03-19 10:07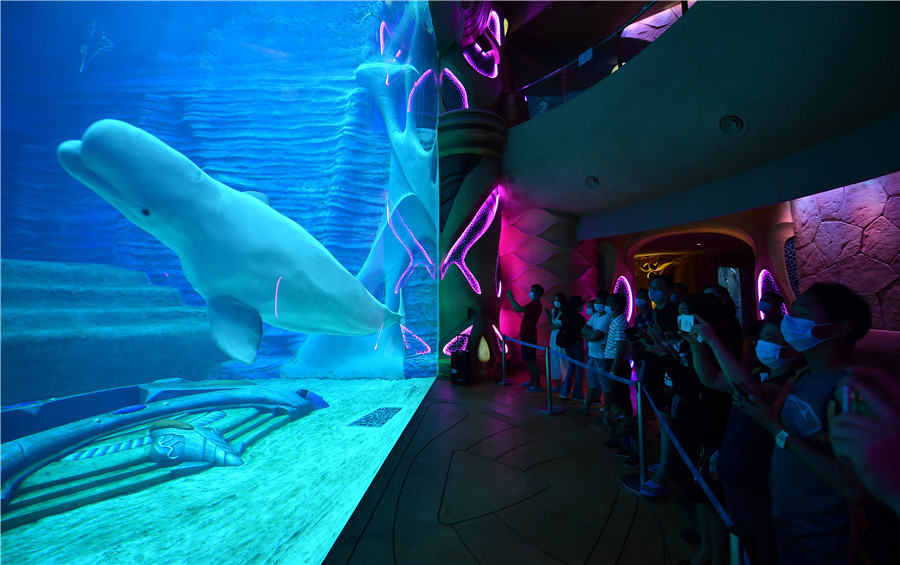 Tourism in Sanya, a tropical city in South China's Hainan province, has seen signs of recovery since early March as hotels, catering and recreational facilities gradually resume operations.
Atlantis Sanya, a landmark resort in the seaside city, has developed a series of measures to revive business step by step.
Encompassing a hotel, a water park, an aquarium and water-themed performances, the resort has resumed partial operations since the end of February and plans to open all facilities on March 28.
To boost its occupancy rate, the resort rolled out advance sales of special room rates as well as promotional ticket prices for its water park to attract vacationing families.
"So far Sanya's tourism is in recovery," said Tao Yi, senior vice-president for sales and marketing at Atlantis Sanya.
"With the virus-prevention measures that have taken place, our occupancy rate has been gradually improving," he said.
"Some products are selling quite well. The number of visitors to the Lost Chambers Aquarium, which reopened on March 6, has also been on a steady rise," Tao said.
Sanya now ranks first on the list of reopened tourism destinations in China, with the number of such venues in the city now reaching 34, according to a report from online tourism platform Ctrip.
By March 11, about 25,000 people resumed work and production in tourism sites, hotels as well as recreational facilities in Sanya.
About 74,000 people have visited these sites since their reopening, according to the Sanya Municipal Department of Culture and Tourism.
Duty-free shopping has also picked up recently in the city. According to the Sanya International Duty Free Shopping Complex, which is operated by China Duty Free Group Co Ltd, most of the complex has been reopened with modified working hours.
After a long pause, which lasted from Jan 26 to Feb 20, the complex now has staff in place to remind customers of wearing masks and keeping a distance from each other, either within the store or at pickup points at the local airport.
In addition to such precautions, the store has prepared more inventory and offers promotional prices to stimulate sales.
Rebound of consumption is most visible on its online shopping platforms-its mobile app and website-which have not been suspended from operations despite the novel coronavirus outbreak.
The second day after the brick-and-mortar shopping center reopened, its e-commerce platform achieved record sales of 44.28 million yuan ($6.32 million), the highest daily online revenue since its launch in 2016, thanks to newly added products and promotional prices.
With confidence in domestic epidemic control and prevention measures, the retailer believes tourism on the island will continue to improve.
MGM Grand Sanya, another leading hotel in the city, plans to fully resume operations on Wednesday.
Given the current circumstances of the local tourism market, the resort hotel hopes to be more flexible in terms of marketing approaches and product development to attract more guests.
The hotel has developed many promotional tourism packages for various groups of visitors including families, wedding parties and younger visitors.
Currently the occupancy rate at MGM is about 10 percent. Despite an expected decline in revenue for 2020, the hotel has confidence it will see a sound recovery in the second half of this year when there will be further relaxation on travel restrictions once the outbreak ends.
Sanya, the first tourism city that has seen sign of recovery from the outbreak, is expected to become an even more popular tourism destination for health-themed tourism options in the post-epidemic era, according to MGM.