Outbreak puts AI firms to test
By SHI JING in Shanghai and MA SI in Beijing | chinadaily.com.cn | Updated: 2020-03-24 08:58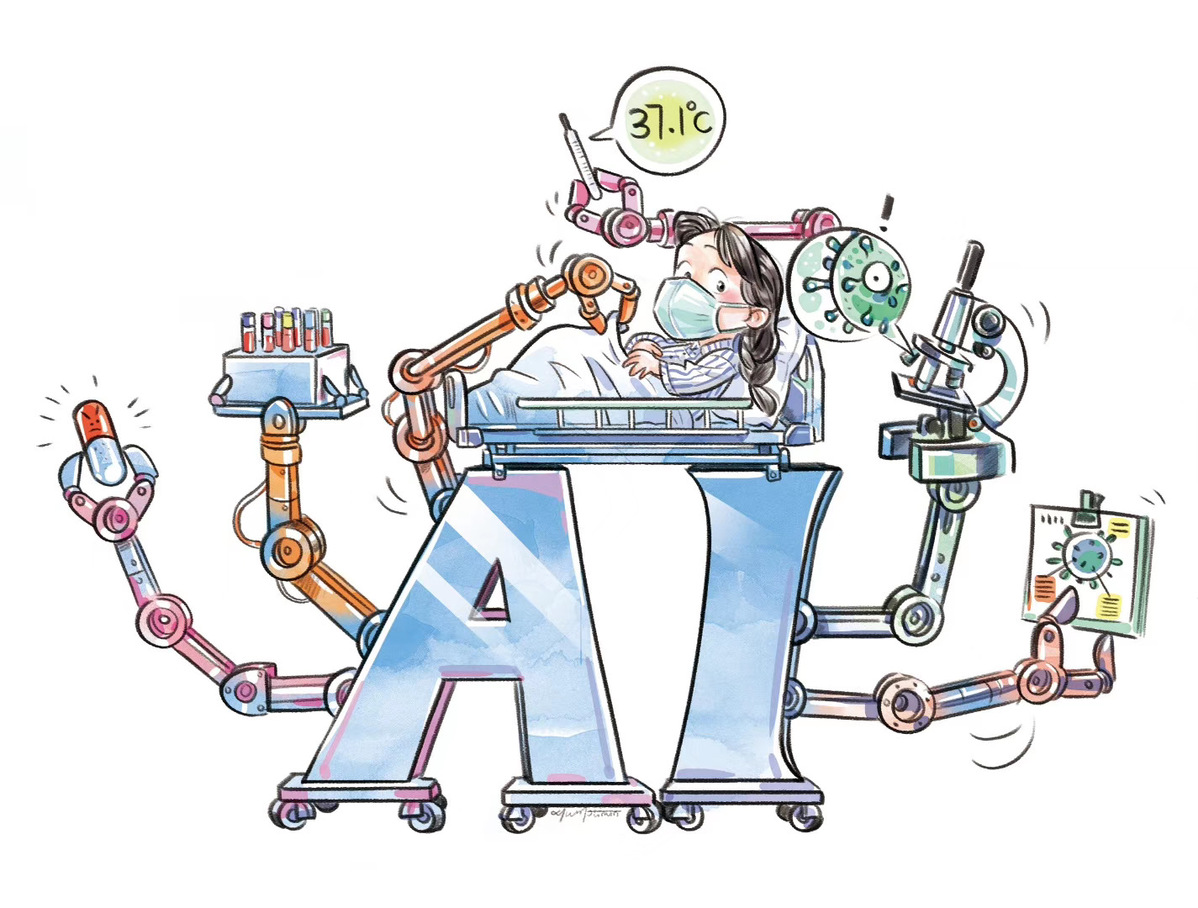 Chinese companies offer novel solutions to combat the virus
The COVID-19 outbreak has become a test of sorts for many Chinese artificial intelligence companies that were required to come up with quick solutions and prove the adaptability of their technologies on various occasions.
Zhao Yong, general manager of Beijing-based AI solutions provider Deep Glint Information Technology Co, received an emergency call from the Beijing Municipal Science &Technology Commission a day after Lunar New Year, asking for a ready-to-use fever screening system.
A team of 30 specialists was soon formed within Deep Glint. However, the delivery of necessary hardware was a problem because of the holiday combined with the outbreak. But the municipal government helped to deploy resources from other provinces, and even neighboring factories extended help in the production.
By Feb 15, a total of 150 fever screening devices were produced, each of which could be installed within one minute, said Zhao.
The infrared thermometers developed by the company were widely used in all the subway stations in China, with the exception of Mudanyuan station (line 10), to prevent the spread of novel coronavirus.
The AI-based system, which was put into operation at Mudanyuan station on Feb 4, made all the difference. Developed by Beijing-based Megvii, it supports non-contact temperature screening from a distance of 3 meters.
Fever alerts
It has an error margin of a mere 0.3 C, and it takes into account the influence of hats and face masks, said Liu Ruiwei, senior product manager at Megvii.
It can send fever alerts for up to 15 people per second.
Even at the subway stations with higher traffic, only one rail employee is required to work on-site, further reducing the risk of infection, he said.
"We had built a team of about 100 people before Lunar New Year to develop the system. With the help of AI technology, we can track the whereabouts of people with fever as well as their close contacts," said Liu.
According to the administrative committee of Zhongguancun Science Park located in Beijing, companies registered in the park have so far come up with 138 technologies and products for prevention and control of the epidemic, covering virus detection, research and development of vaccine, clinical treatment, medical protection, intelligent diagnosis and epidemic analysis.
On Feb 4, the Ministry of Industry and Information Technology suggested in a public note that AI companies should work together to come up with solutions to discover, prevent and control COVID-19.
More application scenarios should be explored and products that help in the diagnosis and rapid testing should enter mass production, it said.
The AI algorithms should be further optimized to help in the research of gene sequencing of the virus and the development of vaccines and drugs, said the ministry.
According to Beijing-based market research firm EO Intelligence, medical imaging is the sector where AI technology has been used the most. It said there were 126 active medical AI providers in the Chinese market by July 2019, with 57 specializing in medical imaging.
Shanghai-based Yitu Technology Co, which was established in 2012, started to study AI-based medical imaging system in 2016.
Since Jan 28, its intelligent medical imaging evaluation system has been operating at the Shanghai Public Health Clinical Center to help in the diagnosis of pneumonia caused by the novel coronavirus.
Faster medical decisions
The evaluation system allows doctors to make faster and more accurate medical decisions.
Shi Yuxin, deputy head of the Shanghai Public Health Clinical Center, said that CT imaging is critical in the diagnosis and treatment of COVID-19.
The recently introduced AI system can classify the pneumonia caused by the virus according to its severity, precisely calculate the burden on the lungs and provide 4D dynamic pathology comparisons.
Traditional quantitative analysis performed by humans would usually require up to six hours. The new AI system can perform the same task in just three seconds or even less.
The clinical center has used the system to diagnose more than 70 cases of pneumonia caused by novel coronavirus. The results have been highly reliable and similar to those produced by doctors.
The system has also been installed in hospitals where the contagion is relatively more serious, including the Union Hospital affiliated to the Tongji Medical College of University of Science and Technology, Renmin Hospital of Wuhan University, Zhongnan Hospital of Wuhan University and the First Affiliated Hospital of Wenzhou Medical University.
Yitu Technology Co said it was willing to provide free installations and upgrades for its imaging products at the hospitals designated to treat COVID-19 patients.
Fang Cong, vice-president of Yitu's medical business, said the applications in clinical environment are essential for the development of AI technology.
Lu Yanxia, assistant research director with global market consultancy IDC, said the application of a large number of AI technologies is at a very preliminary stage given their performance during the latest epidemic. The defect is especially noticeable in facial recognition and AI customer service providers based on dialogues.
"If we categorize the development of AI into five levels, we can say that Chinese AI industry is only at level two. It will be quite difficult for the industry to level up within a short period," she added.