Hoobiyee – a unique cultural heritage of a North American First Nation
By Zachary Wayne | chinadaily.com.cn | Updated: 2020-03-24 09:40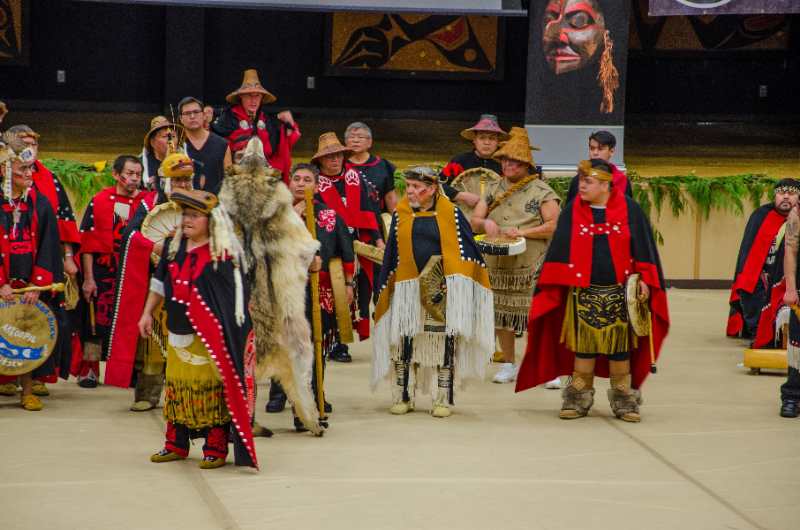 "Tsi e tsa a Hee hee − −
Tsi e tsa a Hee hee − −
Tsi e tsi e − − − −"
Women clad in red or scarlet chant in unison on one side of the gym while men in black at the far end provide the throbbing beat on their hand drums held high while shifting their bodies left and right in rhythm with the drumbeat. Seated opposite the choir are chiefs, matriarchs and elders decked out in full regalia. As the song draws to a close, the men bellow "Hoo haa" to coincide with the director's theatric thudding of his wooden staff on the floor, bringing the singing and drumming to a synchronized end. This is the cultural dance group from Laxgalts'ap, one of the four village communities that make up the Nisga'a nation in northwestern British Columbia's Nass Valley, performing their songs in celebration of the Nisga'a new year, Hoobiyee (Ho-be-yeh).
I had the privilege of witnessing Hoobiyee two years ago when I was a teacher in Nisga'a land. The powerful drumbeat and hypnotizing atmosphere of the celebration left me with a lasting impression and fond memories. The singing and dancing alone were a cultural feast for me. What made the event even more of a treat with a touch of personal connection was to watch my students partaking in the cultural dance performances alongside their fellow villagers or volunteering in the community kitchen to help prepare food, beaming in recognition when they saw me. This year I had to content myself with playing video recordings of Hoobiyee held in the village of Gitlaxt'aamiks, but footage of the celebration opened a floodgate of recollections of my first and live Hoobiyee in Laxgalts'ap.
The word Hoobiyee is derived from the Nisga'a phrase "Hoobixis hee". Nisga'a chieftains accomplished in spiritual matters, weather forecasts and astronomy keep watch of the Buxw-laks moon (the moon of February, which marks the beginning of the Nisga'a new year and a time of food rationing as winter supplies are near depletion) for the appearance of a waxing crescent moon in the shape of a Hoobix – the bowl of the Nisga'a wooden spoon with the ends pointing upward – which signifies a good season for oolichan harvesting. The oolichan, a small fatty fish, returns each spring in the millions to spawn in the Nass River. When they sight such a waxing new moon, the chieftains holler "Hoobixis hee", later changed to Hoobiyee, meaning the bowl is full, to inform the villagers. Traditionally, the villagers would hold a ceremony for the first feed of roast oolichan, singing and dancing around an open fire, with performers donning special ceremonial gear. Today, Hoobiyee is a celebration of the Nisga'a new year and bountiful harvests ahead; it falls on the fourth Saturday in February and the Friday before.
People new to Hoobiyee are invariably struck by its pulsating ambience and the dizzying motion that engulfs the celebration almost every minute of the time. The drums, whose strong beat represents the heartbeat of life in Nisga'a culture, create not only music in their own rights, but also provide rhythm, color and texture support to songs and dances throughout the day. So pervasive is the drumbeat in Hoobiyee programming that it is hard to imagine a Hoobiyee without it. An equally fascinating feature of Hoobiyee is how the floor seems to swarm with people all the time. A dance performance may begin with singers, dancers, and drummers arrayed in separate groups round the gym, but often the groups merge, with the singers and drummers joining the dancers in a prancing parade that revolves counterclockwise around the center of the floor. Though a typical program may include performances by smaller groups, storytelling by an elder, and a mock warriors' fight between two young men, most songs and dances involve anywhere between 50 and 100 people, sometimes even more, all swaying or dancing in keeping with the drumbeat. There is hardly a moment when anyone -- except the elders seated at one side -- is not in motion. This fluidity, along with the vibrant pulse created by the drumbeat, makes Hoobiyee truly an extravaganza of cadence and movement.
Preparations for Hoobiyee start months before the event. In a sense, they are ongoing all year round as cultural dance groups, whose performances make up the bulk and the climax of each Hoobiyee program, practice throughout the year. Weeks before Hoobiyee they practice more frequently. Students around this time go to those practices after school twice a week. The last two weeks' rehearsals can be so rigorous that they often return the next day with sore feet or backs. This is especially true for boys in higher grades as they usually are the dancers who practice for hours, moving their feet in lockstep with the drumbeat while keeping their bodies bent forward.
"Oh, my back and feet are killing me," once quipped my grade-10 student Patrick Guno, who was arguably one of the best raven dancers in Nisga'a land. A week before Hoobiyee each village has a dress rehearsal to go over everything a last time.
The long-range preparations underline the cultural significance of Hoobiyee. In a way, the festival is a reminder to the rest of the world that Nisga'a is a nation. During Hoobiyee, all four communities that make up Nisga'a gather to celebrate their common heritage and kinship. The tradition also is a vehicle for knowledge transfer as young people experience their own culture and learn about the history of their land and the Nisga'a language, oral tradition, and way of life through songs, dances, and stories during those months of preparation and practice. Although organizing a Hoobiyee is much less demanding and therefore takes less time, skills, or energy than negotiating one of the few modern-day treaties signed in Canadian history affirming indigenous land titles and other rights, the Nisga'a take pride in doing the necessary groundwork and not leaving things to chances. Diligent and dedicated preparations are the only means to guarantee the success of each Hoobiyee.
Hoobiyee is not only a way for Nisga'a children to learn about their own cultural identity but also an opportunity for visitors to immerse themselves in Nisga'a culture. For example, I learned through attending rehearsals and the live celebration that each Nisga'a belongs to one of the four main clans who identify themselves with ravens, wolves, eagles and killer whales (orcas), respectively. As such each person dances with a distinct gait and arm movements. For example, a raven dances with hands held down on either side and palms slightly upturned, mimicking the way ravens strut about on the ground. A wolf advances first with the left elbow pointed forward while the right arm trails behind a body bent forward, and then alternates to the other side. The eagles "glide" this way and that with arms spread wide while the orcas turn left and right raising and dropping both arms in the way a killer whale surfaces and dives in the ocean. I also learned how the Nisga'a use oral tradition to instruct their young about their culture, proper behavior, and their place in the world through the stories elders tell during Hoobiyee, such as the one about the smokehouse on the Tseax River, the boy demanding the moon as his present, and the taunting between oolichan and salmon about who saves the Nisga'a from starvation in spring.
As much a cultural fixture as Hoobiyee has always been for the Nisga'a, it is a surprise for many to learn that for a long period of time, Hoobiyee was prohibited under the Potlatch Ban instituted in 1884 by the Canadian government as part of its assimilation policies and agendas at the time. Until the ban was repealed in 1951, anyone who celebrated Hoobiyee risked being imprisoned or confined for up to six months.
"Many of our people, back in those days, were afraid to be who we were," recalled Jerry Adams, an urban Nisga'a living in Vancouver. Today, he and his daughter, Melissa, are members of a Nisga'a dance group in Vancouver and celebrate Hoobiyee with their fellow urban Nisga'a and members of other first nations. "It is not just a song and dance; we are learning about our laws, our protocols, and roles and relationship," Melissa said.
Indeed, Hoobiyee is no longer just a celebration of the new year and nature's bounty; it has become a celebration of survival, resilience, and solidarity. Despite Canada's past oppressive measures, such as the Potlatch Ban and residential school, a practice the independent Truth and Reconciliation Commission describes in its report as cultural genocide, many First Nations survived and are now rebuilding their communities and connecting with one another. The Hoobiyee program, which features not only Nisga'a dance groups but also those from neighboring First Nations such as the Gitxsan and the Wet'suwet'en, reflects this new awakening.
"I would like to encourage our people, our leaders, to bring our peoples together to speak as one voice. Not a dozen voices, not half a dozen voices, but one voice -- that is what is needed," urged Nisga'a hereditary chief Joseph Gosnell for unity among indigenous peoples across Canada.
"Hoobiyee Hee-hee, Hoobiyee Hee-hee
Hoobiyee Hee-hee, Hoobiyee Hee-hee"
Watching the ceremonial dancers from Gitlaxt'aamiks chanting and singing in celebration of Hoobiyee, I feel as if I was back in Laxgalts'ap attending live performances at that year's Hoobiyee. The rhythmic drumbeat and the unending motion that enthralled me back then still captivate and energize me. While many first nation communities here are still struggling with problems like alcoholism, drug abuse, and youth suicide, the revival of Hoobiyee offers a glimpse of hope. If the Nisga'a and other First Nations were able to survive one and a half centuries of oppression, they will surely be able to do better in the new age.
Hoobiyee!