As the pandemic rages, time for a results-based G20 remedy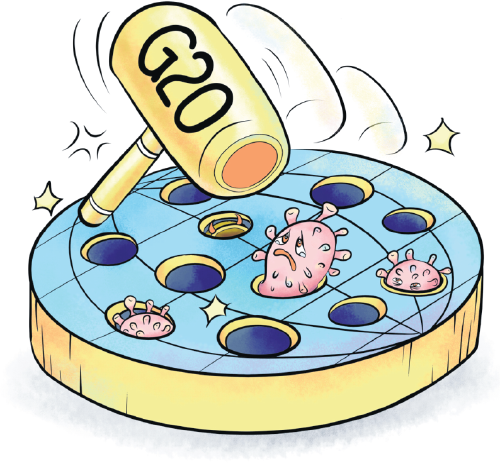 If taken ill, would you prefer a treatment based on empirical evidence or politics?
Modern clinical trials test a medicine's effectiveness based on facts and hard data. Such trials are now underway to find a cure for the deadly coronavirus. Yet when it comes to policy remedies, discussion continues to fixate on ideology and political systems.
As the pandemic intensifies, it is time to push all this to the side. Now is not the time for blame games or baseless accusations. It's time to work together and take decisive action based on what we have learned so far.
Much remains unknown about the virus, but we have gained valuable lessons from the experience of China and other countries.
The first and clearest lesson is that this virus spreads like wildfire - but can be checked with aggressive containment and social distancing measures. These include lockdowns, bans on gatherings, and remote working.
China's unprecedented, whole-of-society response helped prevent other provinces in the country suffering the same exponential transmission.
At the time, some called these lockdowns "draconian" and doubted they could be applied elsewhere. By now, the results have shown and similar measures have been applied to over 100 million people in Europe.
The second lesson is that sustained testing and contact tracing works. China had up to 1,800 teams of five people tracking and testing infected individuals, their close contacts, and people who interacted with those close contacts. Singapore and South Korea have used similar procedures to great effect, testing widely and tracking potential carriers using mobile and satellite technology.
It is encouraging that, after a slow start, more countries are applying tougher containment strategies. But these vital steps have inevitable economic and social costs. The third lesson from China's experience is that tempering these second-order effects is crucial to limit harm, fear, and support sustained compliance with necessary measures.
While lockdowns disrupted life in China, for the most part, people could always get hold of food and other daily necessities. Supermarkets remained stocked, and online shopping became a lifeline for millions. This was possible thanks to coordination between retailers and logistics firms, as well as green channel systems to smooth deliveries amidst transport restrictions. Strict rules against profiteering were quickly enforced. Such steps will help minimize panic and disruption as people elsewhere now hunker down for prolonged lockdowns.
Perhaps the most important lesson is that we are all in this together. Imported cases now exceed locally transmitted new infections in China, showing that even places that tame initial outbreaks remain vulnerable until the world is safe. No country can beat this virus alone unless it wants to isolate itself forever. And no country will be immune from effects rippling through the global economy, from oil price shocks to sudden shortfalls in supply or demand of key goods and services.
These lessons make clear the need for global cooperation. Thankfully, world leaders have finally agreed to an emergency virtual meeting next week through a mechanism that was forged and proven in a previous global crisis: the G20.
Back in 2008, the first G20 leaders' summit prescribed action to halt the contagion threatening to cripple the global financial system. It worked. Now is the time for another "G20 moment" to tackle the virus and its economic fallout.
The first priority for next week's meeting is a robust global action plan to fight the virus. This should include better sharing of information and resources, particularly for countries less well-equipped to cope. The G20 could also promote buy-in for unified standards and protocols being developed to tackle the virus, such as those that would enable drug trials on a global scale.
There are concerns that even if effective treatments are found, supply may be insufficient. This calls for planning to strengthen key supply chains.
G20 leaders should also address export restrictions some countries have introduced to hoard supplies. Unchecked, such protectionism can lead to chain reactions of reduced global supply, price jumps, and further export restrictions for essential equipment like ventilators, for which seven countries account for 70% of world exports. Poorer countries that lack their own production capacity are most at risk from this dynamic.
The second pillar, equally important pillar of the G20 response should be stabilizing the global economy. The IMF and World Bank have announced emergency financing of $50 billion and $12 billion respectively for countries in need. G20 leaders can help reassure markets and curb the worst economic impacts by agreeing to concerted macro and fiscal measures at this special time.
Companies also have a valuable role to play in the global response. In South Korea, public-private sector cooperation has been instrumental in enabling 10,000 coronavirus tests each day. In China, collaboration between retailers and logistics firms has enabled continued supplies of essential goods. Alibaba has helped source and donate testing kits and masks for hard-hit countries.
Efforts by the private sector, including developing treatment and vaccines, will be more effective if coordinated internationally to overcome potential bottlenecks. The G20 could play a role in this, using mechanisms such as the B20 for dialogue between policymakers, civil society and businesses.
Much remains unknown about the virus, but we have experience with what works and how to take action on a global scale in the face of a crisis. Time is of the essence, so let's put politics aside and prescribe a results-based course of action to defeat the virus.
The author is president of the Center for China and Globalization.The views do not necessarily reflect those of China Daily.