A dream come true
By Chen Nan | China Daily | Updated: 2020-03-25 15:28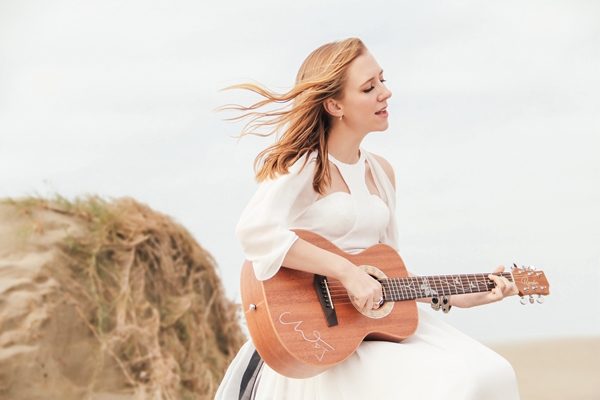 American singer, Christine Welch, has followed her love of Chinese poetry, literature and philosophy and forged a path to musical success in China, Chen Nan reports.
American singer-songwriter Christine Welch has taken the road less traveled to find fame in China. Despite being born and raised in New Mexico in the United States, she has been writing and singing in Chinese for years.
She also wrote and performed her latest single, titled Into Dream-which was released on her social media platforms on March 6-in Chinese.
The song, which evokes scenes of vast deserts, the sky, clouds and stars, is not a simple translation of lyrics written in Welch's native English. She imagined and wrote the lyrics with ideas and images from Chinese poetry and traditional Chinese philosophy.
"At first I just thought Chinese characters were pretty, and difficult, so it would be a fun challenge to learn. When I started reading Chinese literature in translation during my second year of college, it felt like a whole new world was opening to me," says Welch, who was intrigued by the language from a young age and received her bachelor's degree in Chinese and Chinese literature in 2010 from Northwestern University in Chicago.
Welch received a Fulbright Scholarship to teach English in Kaohsiung, in southern Taiwan. She spent that year brushing up on her spoken Chinese and literary reading skills, and studied Chinese at a university in Taiwan in 2011.
In 2015, Welch got married to a Taiwan local and now, she is pursuing her PhD in Chinese literature at the University of Wisconsin-Madison in the US.
It was her song, titled A Million Possibilities, that found her success in China in 2018.
Last year, Welch was invited to perform her songs on Chinese TV shows, such as Everlasting Classics, a variety show on China Central Television, which won over many Chinese fans, some of whom were simply wowed with her singing, and impressed by her Chinese speaking and writing skills.
Kang Zhen, one of the guests on the show, Everlasting Classics, who's a Chinese literature professor at Beijing Normal University, commented that Welch cannot just write and sing in Chinese, but she can also "see the world through perspectives gained from Chinese ancient philosophy, poetry and art".
Because of the outbreak of the novel coronavirus prompting cancellation of concerts in the country, Welch had to postpone a scheduled summer tour to China.
In support of her new song, however, she has planned livestream events for her Chinese fans in the coming weeks.
Chinese language and literature are described by Welch as "fantastic and magical".
"Like the Chuci, with dragons and phoenixes and flying journeys through the age, those images sparked a visual imagination that I remain intrigued by," says Welch, referring to a collection of poetry also known as Songs of Chu, written by Qu Yuan, a poet from the Warring States Period (475-221 BC).
She also likes Daoist philosophy, such as the work of Laozi, the sixth-century BC philosopher known for writing the masterpiece Tao Te Ching, which really won her over and made her realize that she had to learn Chinese so that she could read the classic in its original language.
"I could just tell that the meaning was so deep that it could not come out in translation, and so I redoubled my efforts to learn, especially to read and write. I'm a bit introverted, so reading and writing was something I could practice on my own," she says.
During her days living in Taiwan, Welch taught herself to play guitar, performing and sharing online songs that she wrote in Chinese-which was initially just a tool for her language studies.
Once Taipei-based American songwriter-producer Skot Suyama saw a video of Welch covering one of his songs, she was invited to collaborate with him on an album.
"Skot found me on You-Tube because I had unknowingly covered a bunch of the songs he had written. Since he's American, I guess I just unconsciously felt closer to the songs he wrote-closer to a style I was familiar with," recalls Welch.
They started collaborating by writing and producing original songs. At first Suyama gave Welch demos that already had lyrics, but Welch told him that she wanted to try to write lyrics of her own.
"I've always been interested in Chinese poetry and philosophy. They really inspired me to try to write lyrics of my own," says Welch.
The song, A Million Possibilities, was recorded in the winter of 2013 at Suyama's recording studio in Taipei. Suyama sent Welch a demo with just the background music and asked her to write some lyrics.
"One night coming home from a cappella practice while I was in college, I biked back to my apartment in the most silent and white of snows. Everything was still and cold and it felt so magical-as if all of the possibilities in the world were set out before me. That image was drawn forth by the demo, and so I wrote it into the song lyrics," she explains.
"I wanted to write a really positive song that would inspire people to make positive change in their lives, but also to give them the courage to go on when faced with a bad situation. I think this song is really good at giving a new listener hope, both the melody and the words."
They wrote eight more songs together, such as Searching, Into the Bamboo Forest and That's How It Is, which were recorded for Welch's debut album, titled A Million Possibilities, released in 2014.
Welch sometimes composes both melody and lyrics for a song, or just writes the lyrics, collaborating with other musicians who compose melodies.
"I would say the songs that started with a melody I wrote are probably more influenced by Chinese philosophy than the others (where the lyrics came first)," Welch says.
Under Welch's influence, her family has turned into enthusiasts of music and Chinese culture. One of her sisters, Alexa, learned Chinese, and the pair sang together on YouTube. Her family will often play her songs and sing along, Welsh says, "even my mom and dad, who don't know any Chinese".