African nations begin to take tougher measures
By OTIATO OPALI in Nairobi, Kenya | China Daily Global | Updated: 2020-03-27 09:58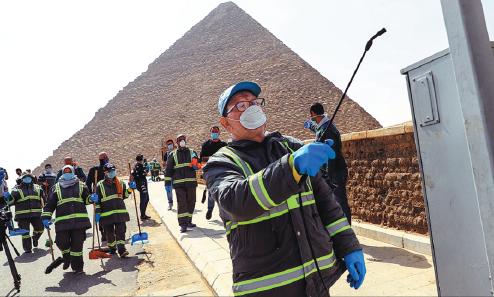 With 46 countries in Africa having confirmed coronavirus cases and the continent reporting a total of 2,475 cases with 64 deaths according to figures released by the Africa Center for Disease Control, African governments have started issuing tougher measures in a bid to curb the spread of the virus on the continent.
In South Africa, the hardest hit country on the continent with 554 confirmed cases as of Wednesday according to the World Health Organization, the government has announced a 21-day lockdown as fears mount that thousands have already been infected by the novel coronavirus.
While making the announcement on Monday, Cyril Ramaphosa, South Africa's president, said that South Africa will go into lockdown from midnight on March 26 until April 16.
"This is a decisive measure to save millions of South Africans from infection and save the lives of hundreds of thousands of people. While this measure will have a considerable impact on people's livelihoods, on the life of our society and on our economy, the human cost of delaying this action would be far greater," Ramaphosa said.
Kenyan President Uhuru Kenyatta introduced more stringent measures on March 25 while confirming three more additional cases of the virus that brought the country's confirmed cases to 25.
Among the measures Kenyatta introduced was the declaration of a nationwide curfew which will run from 7 pm to 5 am effective from March 27 to restrict social interaction. In addition, Kenyatta directed the national treasury to offer an array of tax cuts ranging from income tax to value added tax in a bid to ease the pressure the virus has on the country's economy.
"I recognize the anxiety that this pandemic has caused millions of Kenyan families who are fearful of what the future may hold for them and their children. These directives are therefore intended to protect the jobs for our people and to provide some certainty for both employees and their employers. The possibility of job losses and loss of income is weighing heavily on their minds," Kenyatta said.
In Ethiopia where 12 cases have been confirmed so far, Adanech Abebe, the country's attorney general, told state media that Ethiopia would release up to 4,000 inmates who were convicted of petty crimes, those with less than a year remaining on their sentences and women with babies. Abebe said this will be undertaken as a measure to curb the spread of coronavirus by reducing overcrowding in prisons.
In Sierra Leone, a country with a history of dealing with the deadly Ebola virus but which has not confirmed any coronavirus case yet, the government on March 24 declared a 12-month state of emergency to help deal with any possible spread of the coronavirus.
Similarly, the Democratic Republic of Congo, which was also afflicted by the Ebola virus, has declared a countrywide state of emergency and shut down national borders in a bid to fight the virus.
As the virus spreads across the continent, it has emerged that a number of West African countries are using lessons and community health systems set up after Ebola swept through the region in 2014 to fight the coronavirus.
According to the WHO, community workers in countries like Senegal, Sierra Leone and DRC who were trained to proactively check for Ebola symptoms and share health information in places where people lack access have come in handy in handling the coronavirus outbreak.
In addition, the Africa Center for Disease Control and Prevention, which was formed by the African Union in 2016 in response to the Ebola outbreak, has been instrumental in offering guidance during the coronavirus pandemic, an experience it gained by handling the Ebola outbreak.