Coronavirus overwhelms America's hospitals
By BELINDA ROBINSON in New York | China Daily Global | Updated: 2020-03-27 11:00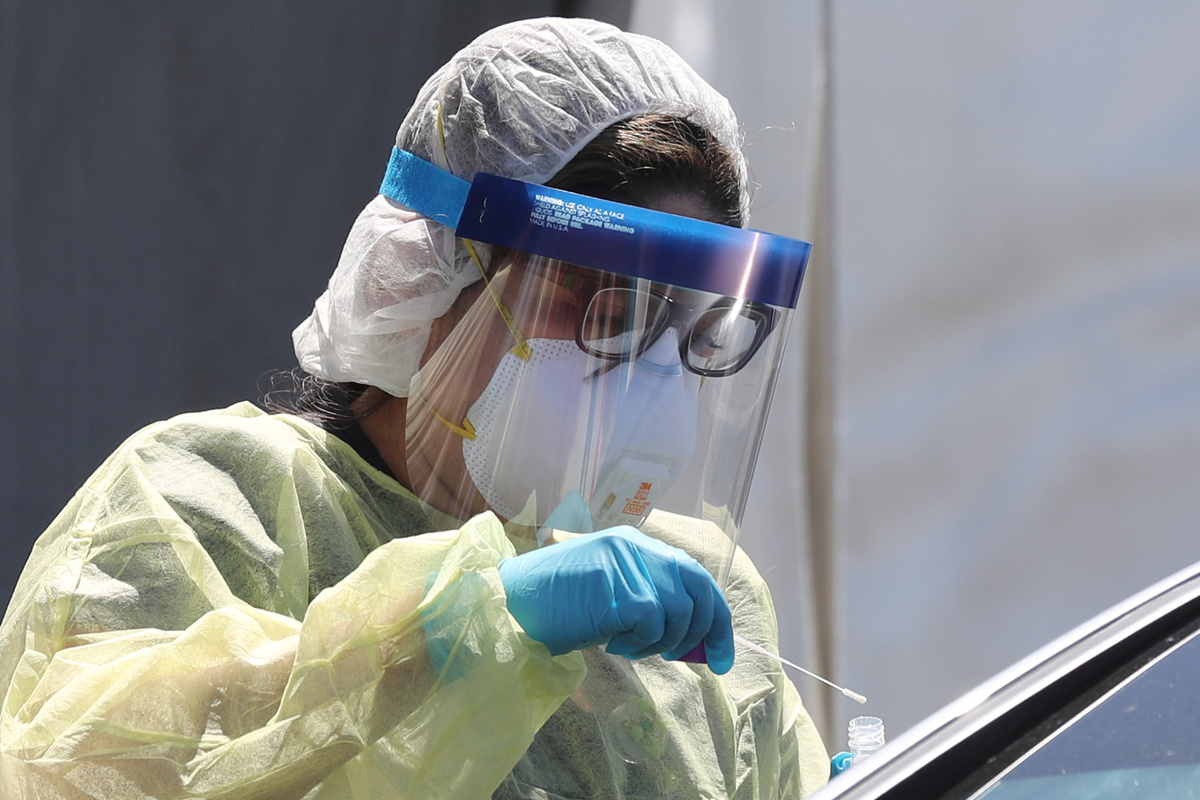 American hospitals are becoming stretched to capacity with coronavirus patients, deaths and a lack of personal protective equipment (PPE) for staff, according to the doctors and nurses on the front lines.
The number of people with the virus in the US surged above 84,000 on Thursday, with more than 1,200 dead, including Kious Kelly, 48, an assistant nursing manager at Mount Sinai West, a New York City hospital.
Nurses at the hospital took to Facebook to post a picture of themselves in trash bags showing their lack of PPE. "NO MORE GOWNS IN THE WHOLE HOSPITAL," they wrote.
"An outbreak, a pandemic like this could overwhelm any system in the world," warned Dr Anthony Fauci, director of the National Institute of Allergy and Infectious Diseases and an adviser to President Donald Trump's White House Coronavirus Task Force.
There are fewer than 100,000 intensive care unit (ICU) beds in the US, according to the Johns Hopkins Center for Health Security, forcing hospitals to create more.
In Louisiana, a COVID-19 hotspot with 2,305 cases and 83 deaths, the government is trying to secure hotels for makeshift hospitals. It also has converted three state parks into isolation sites for patients who can't go home.
Harborview Medical Center in Seattle, Washington, has turned a homeless shelter into a recovery center with 45 beds. Washington is one of the states due to get mobile military hospitals. And two US Navy hospital ships are set to dock in Los Angeles and New York.
In New York state, the epicenter of the country's outbreak with 37,258 cases and 281 deaths, Elmhurst Hospital, a public facility with 545 beds in the New York City borough of Queens, has become overwhelmed. Thirteen people died at the hospital in the past 24 hours, a spokesman for New York City's public hospital system said.
Dr Ashley Bray, a general medicine resident at Elmhurst, treated an 80-year-old woman, a 60-year-old man and a 38-year-old man diagnosed with COVID-19 on Tuesday — but all died. She described the scenes as "apocalyptic".
The hospital has transferred patients without coronavirus to other facilities and has redirected arriving ambulances to other facilities.
Colleen Smith, an emergency room doctor at Elmhurst, said that they have been relying on ventilators — mechanical breathing machines — donated from other hospitals and other less-effective breathing devices.
But some patients died in the emergency room while waiting for a bed. A large refrigerated truck has been stationed outside to store the bodies as the hospital's morgue becomes full. Many bereaved don't come to collect the bodies right away.
A recent survey by Premier, a hospital group purchasing organization, said 20 percent of American hospitals didn't have enough ventilators for patients, and 97 percent were reusing N95 masks, putting the users at risk.
Dr Rana Awdish, a pulmonary and critical care physician at Henry Ford Hospital in Detroit, Michigan, told CNN: "We just want to be protected … we have created rituals of decontamination when we go home so we don't contaminate our families. We are sleeping in garages and spare rooms just to protect our families."
Northwestern Memorial Hospital in Chicago and several hospital systems — including Geisinger in Pennsylvania — are now weighing their policy of resuscitating dying patients against their need to protect medical staff in light of PPE shortages.
Dr Sylvie de Silva, head of the emergency department at the 175-year-old Brooklyn Hospital, where she trained, told The New York Times on Wednesday: "I have so many different fears."
If the patient load increases at the current pace, the doctor said that she is concerned the emergency room will be out of space by next week. If many patients are desperately ill and need life support, she worries about having to choose between them.
In New York state, at least 5,000 people are currently hospitalized, 1,290 are in ICUs on ventilators, and about 1,500 have been discharged after being hospitalized.
New York Governor Andrew Cuomo said his state needs 140,000 hospital beds. It has 53,000. He said that all hospitals have been asked to increase capacity by 50 to 100 percent.
Cuomo plans to increase capacity by converting hotels, empty college dormitories and Manhattan's Jacob Javits Convention Center. He is also asking the federal government for more help.
New York University medical students are being allowed to graduate three months early to help. Manhattan's Bellevue Hospital has created a massive makeshift morgue.
Cuomo said at his daily morning news conference Thursday that the state has procured 7,000 ventilators in addition to 4,000 on hand but is still "shopping" for more.
Ventilators at NewYork-Presbyterian's Columbia University Irving Medical Center are being set up to serve two patients at once, "but it's not ideal" and "there is not enough to meet the national need", he said.
Normal patients on ventilators use them for three to four days. But COVID-19 patients may need them for 11 to 21 days, Cuomo said.
"Almost any scenario that is realistic will overwhelm the capacity of the current healthcare system. … We are literally adding to the hospital capacity any way we can," Cuomo said.
New York City has 1,800 ICU beds. But they are expected to be full by Friday, according to a Federal Emergency Management Agency leadership briefing obtained by The New York Times.
"The number of deaths is increasing. People are dying. That is the worst news you can have," Cuomo said.