China racing to lift output of ventilators
By Ma Si | China Daily | Updated: 2020-03-31 09:15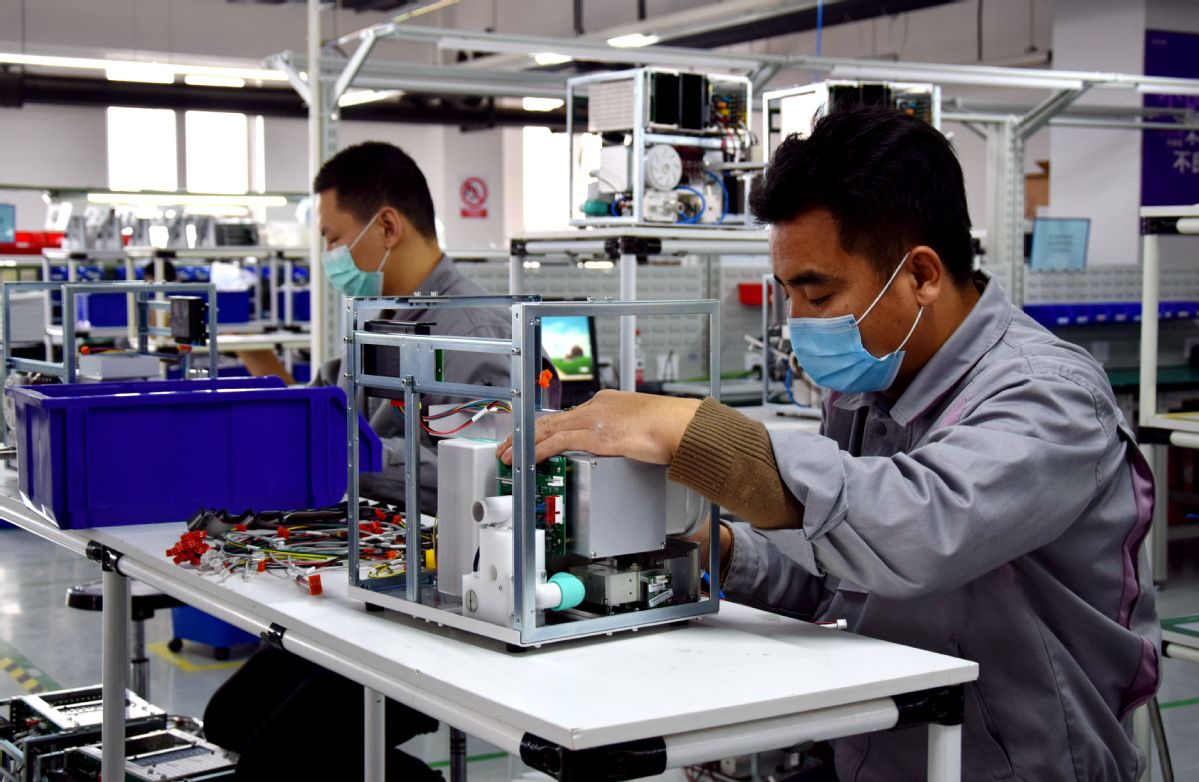 Demand for lifesaving equipment soars as pandemic spreads globally
China is racing to produce several thousands of multifunction ventilators, as demand for the lifesaving machines skyrockets across the world due to the COVID-19 pandemic, the country's top industry regulator said on Monday.
The move is also part of China's broader efforts to encourage work resumption and stabilize economic activity, as the global spread of the epidemic is likely to worsen international trade prospects.
Xu Kemin, an official with the Ministry of Industry and Information Technology, said overseas demand for multifunction ventilators is surging, and manufacturers in China are toiling day and night to meet the growing demand for their products.
"China has 21 multifunction ventilator makers and eight of them have obtained the European Union's compulsory CE marking," Xu said. The companies have already signed contracts for 20,000 multifunction ventilators, and many more are pouring in every day.
"Since March 19, these companies have provided more than 1,700 multifunction ventilators to overseas hospitals. That equals half of this year's supplies to domestic hospitals," Xu said.
The official said that it was difficult to scale up production amid the contagion, as each ventilator has more than 1,000 components, and some major suppliers of these parts are located in Europe. "It is also unrealistic to expect that China, which accounts for one-fifth of the global production, can meet the entire demand," Xu said.
Xin Guobin, vice-minister of industry and information technology, said the trade situation is likely to deteriorate as the epidemic spreads.
"China will help stabilize global supply chains by boosting support to automobile and electronics sectors and will also ramp up resources to provide foreign countries with more active pharmaceutical ingredients," Xin said.
According to him, relevant ministries are drafting policies, including capital and financial support, to help export-oriented companies survive the current difficulty.
Currently, China has made considerable progress in speeding up production and resumption of work, as the contagion is under better control in the country. As of Saturday, over 76 percent of small and medium-sized companies had restarted work.
"About 98.6 percent of large-scale companies in China have restarted production, with 89.9 percent of employees having returned to work," Xin said.
Qin Hailin, a senior industrial economy researcher at the China Center for Information Industry Development, said the nation's electronics industry is recovering rapidly, with over 90 percent of employees in the sector having resumed work.
"Sales of some high-tech products and technologies, such as smartwatches and cloud technologies, are also rising amid the epidemic, which showcases industrial resilience to some extent," Qin said.
Yang Yuanqing, chairman and CEO of Lenovo Group Ltd, the world's largest personal computer maker, said: "Smart manufacturing can reduce the outbreak's negative impacts on economic growth."
According to him, the company's factory in Wuhan, Hubei province, the hardest-hit region in China, has resumed production. As of March 27, over 6,000 workers had returned to work at its Wuhan plant. "The use of big data, the internet of things, and artificial intelligence have helped us better restart production," Yang said.