UK suffers its heaviest daily loss of life
By JULIAN SHEA in London | China Daily Global | Updated: 2020-04-01 09:07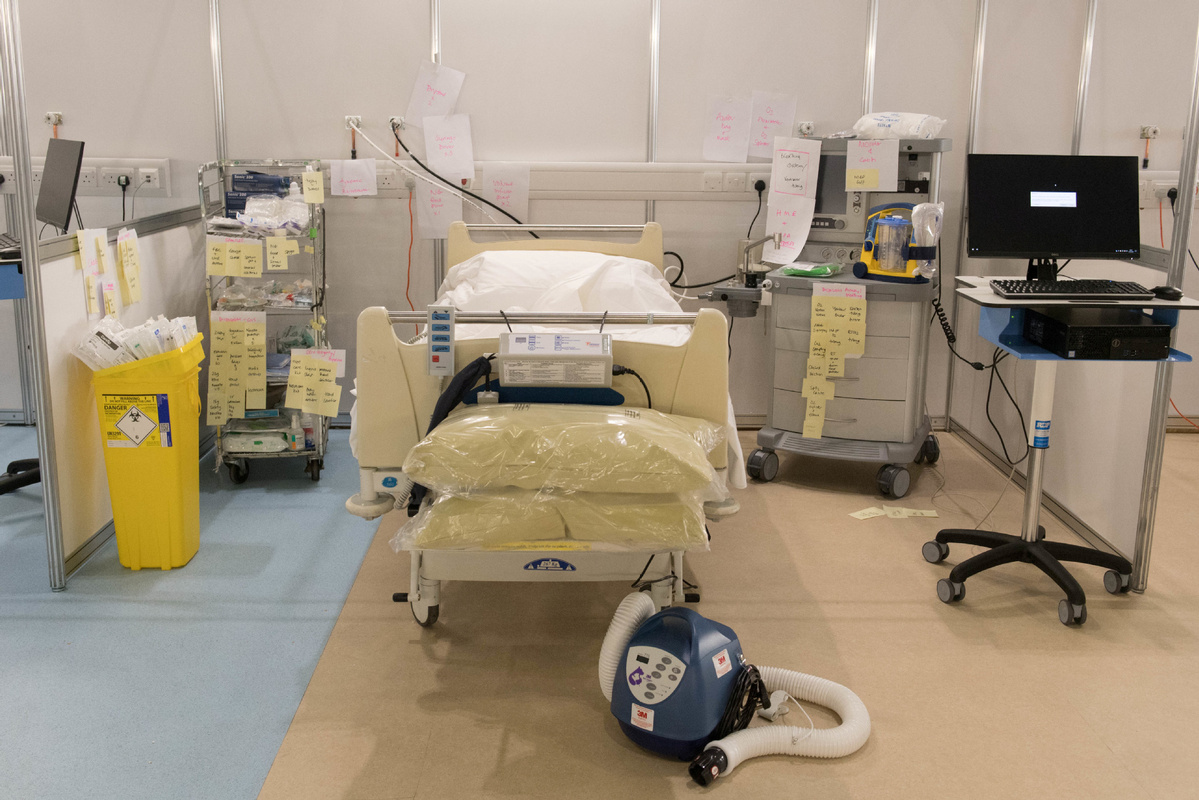 NHS workers' visas to be extended as battle against virus steps up in Europe
The United Kingdom has suffered its deadliest 24-hour period of the novel coronavirus outbreak yet after figures released on Tuesday revealed 393 people had died in the previous 24 hours, taking the total loss of life to 1,808.
Of those new deaths, 367 were in England, 13 in Scotland, 7 in Wales and 6 in Northern Ireland, with ages ranging from 19 to 98. All but 28 had existing health conditions.
Speaking at the daily Downing Street media briefing, the national medical director for National Health Service (or NHS) England, Stephen Powis, said social distancing and reduced public transport use were having a positive effect but the country is "not out of the woods" yet.
"It's early days, we're not out of the woods-we're very much in the woods-but it's very important we keep complying with those instructions," he said. "We must not be complacent and we must not take our foot off the pedal."
Senior Cabinet minister, Michael Gove, added that thousands of new ventilators would be "rolling off the production lines" this weekend and being distributed to the most needy places.
As NHS staff continue to battle with the outbreak, Home Secretary Priti Patel has announced that all overseas NHS staff members whose visas due to expire before Oct 1 will be given an automatic 12-month extension to enable them to "focus fully on combatting coronavirus and saving lives". The measure affects around 2,800 staff and their families.
"Doctors, nurses and paramedics from all over the world are playing a leading role in the NHS's efforts to tackle coronavirus and save lives," Patel added. "We owe them a great deal of gratitude for all that they do."
In December 2019, figures in a Freedom of Information request made by the Liberal Democrats revealed that more than 22,000 European Union national staff members had left the NHS since the Brexit referendum of 2016.
The full extent of public fears about the prospect of the virus has been highlighted by the news that in March, Britons made almost 80 million additional trips to the supermarket, compared to the same period last year, with takings rising by 20.5 percent.
Before social distancing and lockdown rules were introduced by Prime Minister Boris Johnson last week, shops witnessed scenes of panic buying and empty shelves, as people stockpiled items.
In the week before lockdown came into force, sales rose by 43 percent. On average, shoppers made three extra shopping trips in March, adding up to an additional 79 million visits, spending just under two billion pounds ($2.5 billion).
As a consequence of shopping habits having now calmed down, high street stores Aldi, Morrisons and Waitrose have announced that they will be easing limitations on the amounts of certain products that customers can buy.
Meanwhile in Europe, the latest daily figure of 837 more deaths in Italy means the country's toll of 12,428 is the highest anywhere in the world.
In total, Italy has seen 105,792 cases of the virus so far, but the infection rate is less than in previous days. According to government figures, 15,729 people have recovered, but 66 of the dead were doctors.
Spain has had its worst day yet, with 849 deaths, and in Belgium, a 12-year-old girl from Ghent is believed to have become Europe's youngest victim, having died after three days of fever.
"We have today a difficult message to announce, emotionally it's a difficult moment because it involves a child," said virologist Emmanuel Andre. "It's a rare event and we're very distressed by it."
Although the elderly remains the category most at risk, there have been an increasing number of younger victims, with a 14-year-old dying in Portugal last week, and a 16-year-old in France.
Poland and Sweden have introduced new measures to fight the virus. Public areas such as parks and beaches in Poland will shut and new rules about key workers' workspaces mean supermarkets will be limited to allowing in three customers at a team for each checkout that is operational.
Sweden, which has so far avoided major restrictions or lockdown measures, has changed policy in the run-up to Easter, a time that sees many city-dwellers travel to the countryside.
Gatherings of more than 50 people are now banned, as are visits to care homes for the elderly. Testing for healthcare and emergency services workers will also be increased.
In what is being seen as a thinly-veiled attack on Hungarian leader Viktor Orban, European Commission President Ursula von der Leyen has told EU countries not to use emergency measures introduced in the light of the pandemic to subvert democracy.
On Monday Hungary's Parliament voted to accept a government request for Orban to be given the power to rule by decree, with no time limit on the statute.
"It is of utmost importance that emergency measures are not at the expense of our fundamental principles and values," she said. "Democracy cannot work without free and independent media."
Measures, she added, "must be limited to what is necessary and strictly proportionate-they must not last indefinitely".
The leader of the opposition Jobbik party, Peter Jakab, said the powers being handed to Orban placed the whole of Hungarian democracy in quarantine.