UN chief calls COVID-19 'greatest test' since WWII
By William Hennelly, Scott Reeves and Zhao Xu in New York | China Daily | Updated: 2020-04-02 07:06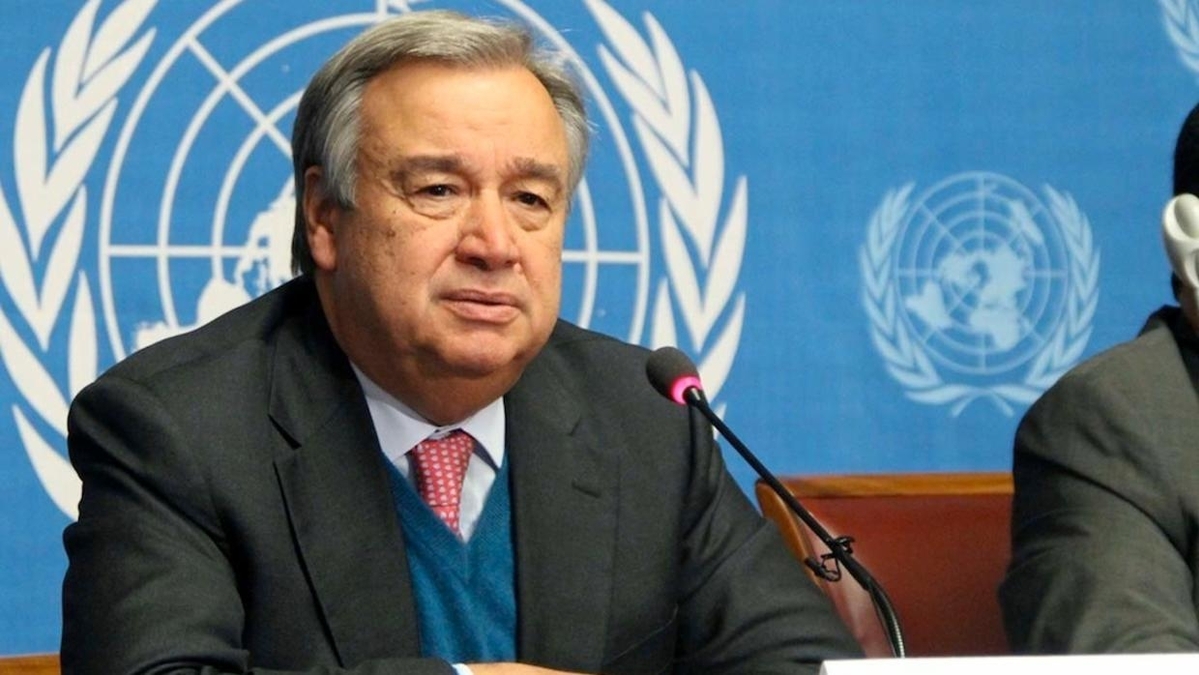 United Nations Secretary-General Antonio Guterres said on Tuesday that the novel coronavirus pandemic is the most challenging crisis since World War II.
The contagion "represents a threat to everybody in the world and ... it has an economic impact that will bring a recession that probably has no parallel in the recent past," Guterres said at a virtual launch of the UN report "Shared Responsibility, Global Solidarity: Responding to the Socio-economic Impacts of COVID-19".
"Covid-19 is the greatest test that we have faced together since the formation of the United Nations," Guterres said, calling for "an immediate coordinated health response to suppress transmission and end the pandemic".
The number of confirmed cases around the world is nearing 860,000, with more than 42,000 deaths.
The death toll in the United States is more than 4,000, higher than the number of fatalities in China, where the novel coronavirus pneumonia was first reported late last year. The total confirmed US cases rose to 189,000, up 25,000 from Monday, according to Johns Hopkins University.
At a White House news briefing, Deborah Birx, the White House Coronavirus Task Force's response coordinator, said as many as 1 million to 2.2 million people in the US would succumb to COVID-19 if no mitigating measures whatsoever were taken to contain the virus.
"There's no magic bullet, there's no magic vaccine or therapy. It's just behaviors," Birx said, urging people to act according to the administration's social distancing recommendation, which has been extended to April 30. Those behaviors, Birx added, could change "the course of the viral pandemic".
On Tuesday, US President Donald Trump also urged people in the US to follow strict social distancing measures ahead of a "tough two weeks" in the pandemic fight. Trump said that he could foresee a scenario in which the wearing of masks is recommended, in a reversal of a previous US government directive.
For the past month, the US Centers for Disease Control and Prevention has repeatedly said that healthy people don't need to wear masks.
Craig Coopersmith, interim director of the Emory Critical Care Center in Atlanta, Georgia, offered explanations for not wearing a mask.
"The government doesn't recommend it, not because there are not enough masks, but because the masks don't protect you," he said in an interview last week. "The masks that people walk around with in China do not protect you from coronavirus-you need a higher-level mask for that-it only prevents you from spreading the disease to others," he said. "And right now, we are already practicing social distancing."
But there's an underlying contradiction to that approach, according to Gao Fu, director-general of the Chinese Center for Disease Control and Prevention.
"This virus is transmitted by droplets and close contact," Gao told Science magazine last week. "Droplets play a very important role-you've got to wear a mask, because when you speak, there are always droplets coming out of your mouth. Many people have asymptomatic or presymptomatic infections. If they are wearing face masks, it can prevent droplets that carry the virus from escaping and infecting others," he said.
In other words, a person who considers himself uninfected and is therefore not wearing a mask may already have been infected and is unknowingly spreading the virus to others.
Also, while governments at various levels in the US are now requiring people to stay at home, varying levels of noncompliance have been seen, especially among young people.
Surging numbers of confirmed cases of COVID-19 are putting US healthcare systems and medical supplies under strain. In response, US carrier Delta Air Lines announced on Monday that it would restart regularly scheduled operations from China with cargo-only flights between Shanghai and Detroit, Michigan.
The first flight left Monday from Detroit. It is scheduled to return with medical supplies on Thursday.
"We know that getting surgical masks, gloves, gowns and other protective equipment expeditiously to facilities across the country is imperative to protecting medical professionals and helping address the COVID-19 situation," said Shawn Cole, vice-president at Delta Cargo.
Meanwhile, the captain of the US aircraft carrier Theodore Roosevelt has called on Navy leadership for stronger measures to save the lives of his sailors and stop the spread of the coronavirus aboard the ship.
"We are not at war. Sailors do not need to die. If we do not act now, we are failing to properly take care of our most trusted asset-our sailors," Captain Brett Crozier wrote in a memo to the Navy's Pacific Fleet, according to news agencies.
The four-page letter described a bleak situation on board the nuclear-powered carrier as some 70 sailors have tested positive for the virus.
The commander of US Pacific Fleet declined to say how many sailors aboard the nuclear-powered aircraft carrier had tested positive for the coronavirus, but said that no one had been hospitalized.
May Zhou in Houston,Pan Mengqi in Beijing and agencies contributed to this story.