Nursing homes ravaged by rising virus toll in US
By AI HEPING in New York | China Daily Global | Updated: 2020-04-15 10:43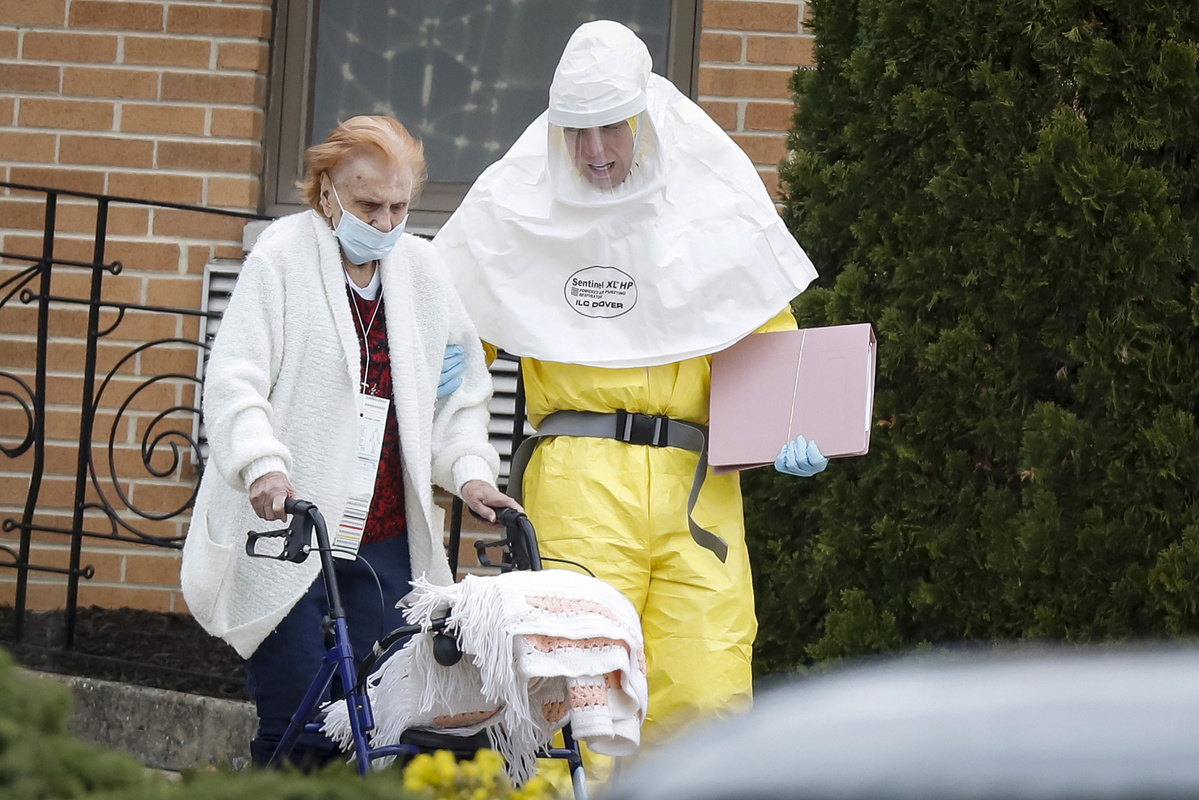 "Coronavirus in a nursing home can be like fire through dry grass," New York state Governor Andrew Cuomo said last month.
Now that very "fire" is sweeping through US nursing homes and long-term facilities for seniors. More than 3,600 deaths and tens of thousands of confirmed cases have been reported by media, and health officials say those numbers are likely undercounted.
The Associated Press said on Monday that by its count, based on media reports and state health departments, 3,621 deaths nationwide have been linked to COVID-19 outbreaks in nursing homes and long-term care facilities. The latest count is up from about 450 deaths just 10 days ago, AP said.
At least 2,300 deaths and 15,473 confirmed coronavirus cases have been tallied in 37 states at 2,100 facilities, The Wall Street Journal reported on Saturday. It said the numbers came in response to its request and that it contacted the health departments of all 50 states.
On that same day, NBC News reported that it found almost 2,500 nursing homes in 36 states are fighting coronavirus cases, an increase of 522 percent compared with federal data from March 30.
That was the closest the federal government has come to detailing the virus's full impact on nursing homes. At that time, the Centers for Disease Control and Prevention had reported that more than 400 long-term care facilities had at least one case each of the virus, a number based on what it said was a "snapshot from state health departments responding to informal outreach".
A CDC spokeswoman said the agency doesn't have a master list with the names of nursing homes responding to COVID-19.
Mark Parkinson, the president and CEO of the American Health Care Association and National Center for Assisted Living, said, "The grim reality is that for the elderly, COVID-19 is almost a perfect killing machine.
"In our facilities, the average age is 84, and everyone has underlying medical conditions," he told CNN. "So when you combine those factors together, we are dealing with perhaps the greatest challenge that we ever have had."
On Friday, the US Justice Department opened an investigation into a Massachusetts nursing home for veterans where 32 patients have died since late March. Nearly half the residents of the Holyoke Soldiers' Home have tested positive for the virus, and almost 70 members of the staff have been infected, according to the state.
In New York, the state hit hardest by COVID-19, officials said on Friday that more than half of the state's 613 licensed nursing homes, where at least 100,000 people live, had reported infections, with 4,630 confirmed cases and 1,439 deaths, according to The New York Times. Nursing homes now account for more than 17 percent of all coronavirus deaths statewide, and at least 30 percent of residents who get the virus die, according to the Times.
"The story is not about whether there's COVID-19 in the nursing homes," said Scott LaRue, the chief executive of ArchCare, which operates five nursing homes in New York. "The story is, why aren't they being treated with the same respect and the same resources that everyone else out there is? It's ridiculous," the Times quoted him as saying.
Richard Mollot, the executive director of the nonprofit Long Term Care Community Coalition, said the residents "are sitting ducks".
At the end of March, a directive from the New York State Department of Health, issued despite strong objections from nursing home operators, required the facilities to accept patients discharged from hospitals, regardless of whether they are suspected of having, or are confirmed as having, COVID-19.
"As a result of not being prepared, we're experiencing a whirlwind," said Susan Dooha, executive director at the Center for Independence of the Disabled in New York. "We're going to have so many more people die than needed to," she said, according to Gothamist, a news website affiliated with New York Public Radio.
In Washington state, where 37 people died in the country's first nursing home outbreak this year, 221 deaths have been associated with long-term care facilities.
The first long-term care facility in the US to have a coronavirus outbreak was the Life Care Center in Kirkland, Washington, where 37 people died since mid-February.
At the Canterbury Rehabilitation& Healthcare Center in Richmond, Virginia, 42 people have died and more than 100 have been infected, local television station ABC 8News reported.
In the Atlanta, Georgia, area, coronavirus cases are quickly rising, and eight nursing home residents had died as of Friday, according to the Fulton County Board of Health, NBC News reported.
"At first, it was just a trickle, and it seems like it just multiplied dramatically over the last week or so," NBC quoted Sandra Elizabeth Ford, the county's interim district health director, as saying. "We need to know where the clusters are so we can direct those resources."
In Connecticut, among the state's 215 licensed skilled nursing facilities, 92 have had at least one confirmed case of COVID-19, according to the Hartford Courant, which cited state statistics released on Thursday. Some nursing homes have had more than one case. At least 241 nursing home residents have been hospitalized and at least 116 have died-accounting for nearly a third of all COVID-19 deaths in the state, the newspaper reported.
In Pennsylvania, at the Brighton Rehabilitation and Wellness Center, about 30 miles north of Pittsburgh, all 750 residents and staffers may be infected with the virus, according to NBC. Five deaths and more than 40 infections have been reported at the home. Operators of the facility said Monday they were no longer counting cases "and presuming all staff and residents may be positive".
NBC, citing a Medicare report, said the facility was hit last year with a "below average grade" by state inspectors who warned that lax sanitary conditions could lead to the "spread of infection and diseases". In the report dated Sept 13, 2019, inspectors said the facility didn't have enough trained nurses and some patients were living in filthy conditions.
In Ohio, nursing homes across the state have been hit by the coronavirus, with at least 45 deaths linked to the pandemic, AP said. But the overall total wasn't known, and neither were the locations of more outbreaks, because many local health departments won't say.
In Illinois, Ngozi Ezike, director of the state's department of public health, confirmed on April 4 that clusters of coronavirus cases have been found in nursing homes and other long-term care facilities, The State Journal-Register reported.