GDP growth of 5.5% within reach this year
By Liu Yuanchun | China Daily | Updated: 2020-04-17 09:08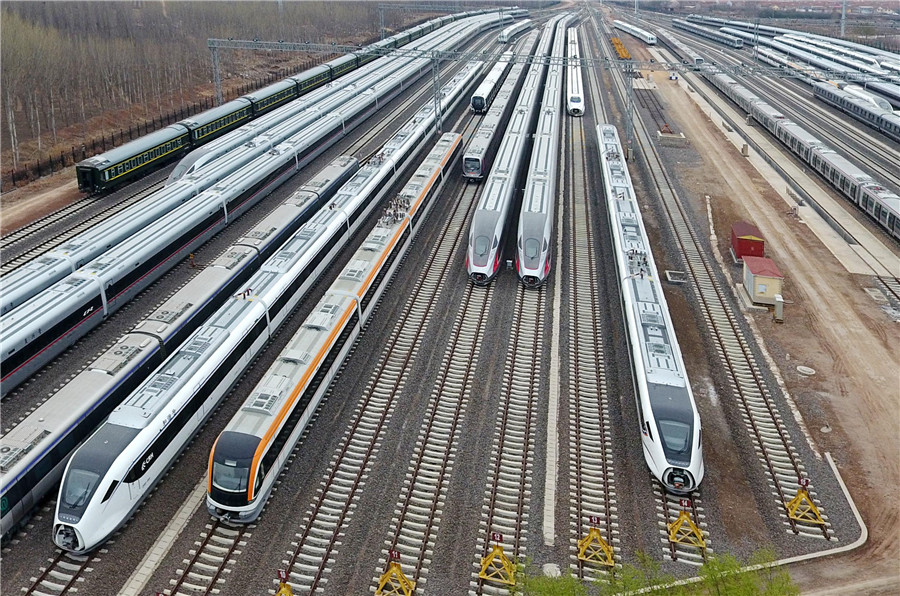 China could set its 2020 GDP growth target at between 5 percent and 5.5 percent, which is highly likely to be achieved based on our estimates.
According to the income approach to calculate the GDP, China's GDP growth in the first quarter is expected to be around negative 5 percent-well above the estimate of a contraction of 10 percent made by many market participants.
Taking the novel coronavirus global pandemic into consideration-in addition to such factors as measures taken by various countries to contain the contagion as well as their economic stimulus packages and rescue programs-we expect China's second-quarter GDP growth to contract by between 2 percentage points and 5 percentage points year-on-year due to COVID-19.
We believe the decrease is more likely to be closer to 2 percentage points, which means external demand will fall 30 percent from the previous year.
Analysts at many international institutions may have reached a premature conclusion that China's external demand will shrink by more than 50 percent and the shock to the economy from COVID-19 will be more severe than the 2008 global financial crisis. Their forecasts are based on assumptions that various countries will not roll out massive stimulus packages, and that international organizations will not effectively carry out international coordination of risk management.
If China sees a year-on-year GDP contraction of 5 percent in the first quarter and a decline of GDP growth by 2 percentage points in the second quarter, in order to achieve our growth target of 5.5 percent for the full year, the country should realize real GDP growth rates of 8.63 percent in both the third and fourth quarters. This is highly possible if various investments and consumption levels fully recover in the second half, with the assistance of economic rescue and stimulus packages.
By setting such a target, China will send a clear message to various economic entities that the government will utilize a suite of pro-growth policies to secure employment and sustain economic expansion.
As pandemics usually lead to disorder and plummeting confidence, setting a target for economic growth is more helpful for us to get through hard times than having no target at all.
Unlike a recession, this pandemic will have a short-term economic impact, which will not excessively damage the fundamentals of the economy. V-shaped economic recoveries are quite normal after pandemics, and we hope to see a strong rebound in consumption and investment.
To meet the goal of achieving 5.5 percent GDP growth for 2020, China should make plans for additional stimulus packages worth 5.2 trillion yuan ($735 billion), in addition to the 1.3 trillion yuan in stimulus and rescue programs launched by the country earlier this year.
The entire package totaling 6.5 trillion yuan can be divided into 3.5 trillion yuan in tax cuts and refunds, 2 trillion yuan in expanded infrastructure investment and 1 trillion yuan in subsidies for rescue programs.
China implemented a 4 trillion yuan stimulus package in 2008 to navigate through the global financial crisis. Aftereffects of that package caused many economists and finance professionals to be overcautious against large-scale stimulus. But we must understand that whether China adopts major stimulus measures or not depends on macroeconomic challenges and cost-benefit analysis.
Facing pressure on multiple fronts such as the economic impact of the deadly virus pandemic, resumption of work and production, the likelihood of a global recession and a cyclical slowdown in the domestic economy, we must relaunch stimulus measures decisively if the benefits of a package of expansionary policies far outweigh the costs.
Drawing lessons from the economic stimulus package of 2008, our future expansionary policies must be project-oriented, centered on fiscal expansion and buttressed by monetary policy. They should be consistent with structural adjustments in the medium term, poverty alleviation and the establishment of a moderately prosperous society in all aspects.
The package of expansionary policies ought to achieve several important goals including controlling the pandemic's spread, implementing contagion rescue plans, pushing for work resumption, hedging against downward economic pressure, securing stability and achieving growth targets.
We advise the country to focus efforts on providing financial relief to small and medium-sized enterprises and individual business owners, subsidizing low-income groups hit hard by the pandemic (especially workers who are informally employed), launching large-scale stimulus programs to boost consumption, conducting government purchasing activities, rolling out rescue packages for different types of export-oriented enterprises and accelerating the launch of investment targeting development of new infrastructure and metropolitan areas.
China could consider lifting its budget deficit target to 3.5 percent this year, up from 2.8 percent in 2019. This will increase fiscal spending by 1 trillion yuan, contributing to part of the stimulus outlay.
During the same period, the country could also raise the real fiscal deficit ratio to 6 percent, up from 3.9 percent last year, which will contribute another 1 trillion yuan in stimulus funding.
The world's second-largest economy could also issue 2 trillion yuan in special treasury bonds. With the money raised, it could help economic entities severely stricken by the pandemic by creating funds to relieve financial stress on small and medium-sized enterprises, providing subsidies to economically challenged families, launching consumption funds and replenishing the capital of State-owned China Development Bank.
The rest of the stimulus funding may come from an increase in special-purpose local government bonds to 3.35 trillion yuan this year, compared with 2.15 trillion yuan in 2019.
The stimulus package should be launched quickly to have an instant effect on China's economy by stabilizing market expectations, boosting confidence and ensuring stability, thus avoiding missing the window to jump-start the economy and hedge risks in advance. Such policies should have the flexibility to be adjusted as needed due to future uncertainties.