Mother and son promote Kazakh embroidery tradition
Xinhua | Updated: 2020-04-20 08:04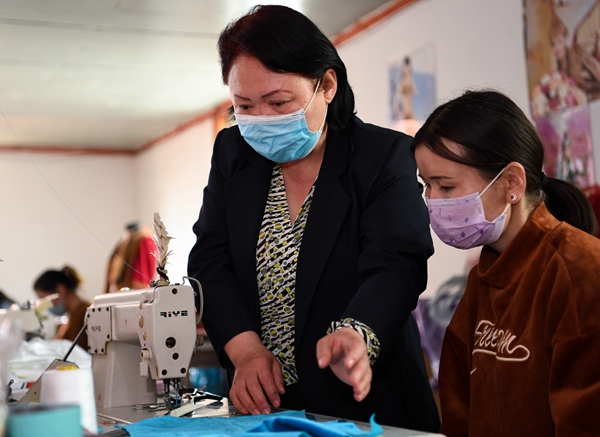 While most Kazakh people in Northwest China's Xinjiang Uygur autonomous region have bid farewell to their past nomadic life, Kinesgul Nurtanakin persists in keeping their ethnic memory alive with a craft she inherited from her family.
The 52-year-old woman runs a company in the city of Yining in the region's Ili Kazakh autonomous prefecture. She has been dedicated to designing, making and promoting Kazakh yurts and clothing for 22 years.
Kazakh embroidery is commonly adopted on carpets and tapestries found in ethnic yurts and on clothing, as well as other ornaments and articles of daily use.
A yurt is a "mobile home" for Kazakh nomads. But today, many would prefer to settle in brick-and-mortar apartments instead of clinging to their past lifestyle on the grasslands.
Kinesgul Nurtanakin says changlak refers to the skylight in a yurt's roof in the Kazakh language. It bears symbolic significance that indicates a family's vicissitudes.
"Elders in the family usually pass changlak to the youngest family member. By accepting changlak, the child also inherits all the glory, property and culture in the family," she says. "It's a solemn ceremony, and I want to protect the culture behind it."
What Kinesgul Nurtanakin inherited from her family is artistic embroidery. In her college years, she began collecting clothing patterns and Kazakh ethnic symbols, which later inspired her to join the embroidery business.
In 1998, she set up a workshop to make yurts and ethnic clothing. They sold well both in China and overseas. Her company name is Tasbulak, which means "spring water that flows out of rocks".
"I hope Kazakh embroidery culture will keep flowing just like the springs," she says.