Embassy, medics offer support to Chinese students studying in the UK
By HAN BAOYI in London | China Daily Global | Updated: 2020-04-21 09:54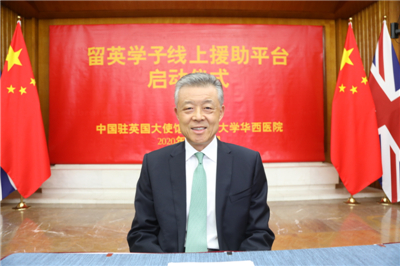 More than 300 Chinese students in the United Kingdom participated in a webinar co-hosted by China's embassy in the UK and the West China Hospital of Sichuan University on Monday, to learn about prevention and treatment of COVID-19.
The webinar invited Liang Zongan, director of the hospital's department of pulmonary and critical care medicine, who is also the leader of the expert team sent from China to Italy last month, to share knowledge about the disease and to answer questions.
The webinar was also broadcast live on several Chinese livestream platforms, attracting more the 50,000 online audiences, said the embassy.
On Monday, during the online launching ceremony of the remote aid initiative for overseas Chinese students in the UK, China's Ambassador to the UK Liu Xiaoming said that this epidemic is not only a test of the governance capacity of each country, but also a test of the willpower and the adaptability of every student.
"I believe as long as we have firm confidence, work in unity, and fight against the virus together, we will be able to overcome the epidemic," he said.
The initiative, provided by the West China Hospital of Sichuan University, includes six webinars and long-term medical and psychological online counseling services for the students, as well as e-books about the prevention and control of the disease.
At the end of January, when Hubei province was hit by the virus, the hospital sent 175 doctors and nurses to aid the epidemic control in the province, where they treated more than 600 COVID-19 patients. After completing that mission, they returned to Sichuan in early April without any team member contracting the virus.
On March 11, the hospital sent two experts, including Liang, as the members of the first team going from China to Italy to assist the country's fight against the novel coronavirus outbreak. On Thursday, seven experts from the hospital joined a medical aid team heading to Ethiopia.
Hospital President Li Weimin said that through the initiative, the team want to share the experience and knowledge it has accumulated during the pandemic, and to support Chinese citizens, especially students in the UK.
According to statistics from the embassy, there are around 220,000 overseas Chinese students in the UK, of which 15,000 are under 14 years old.
On April 2, according to the Ministry of Foreign Affairs, China's embassy in London assisted 181 Chinese citizens, including students in need, left the UK on a flight arranged by the ministry bound for China.