Unmanned taxis to hit more roads in nation as companies stepping up tests
By Fan Feifei | China Daily | Updated: 2020-04-28 10:31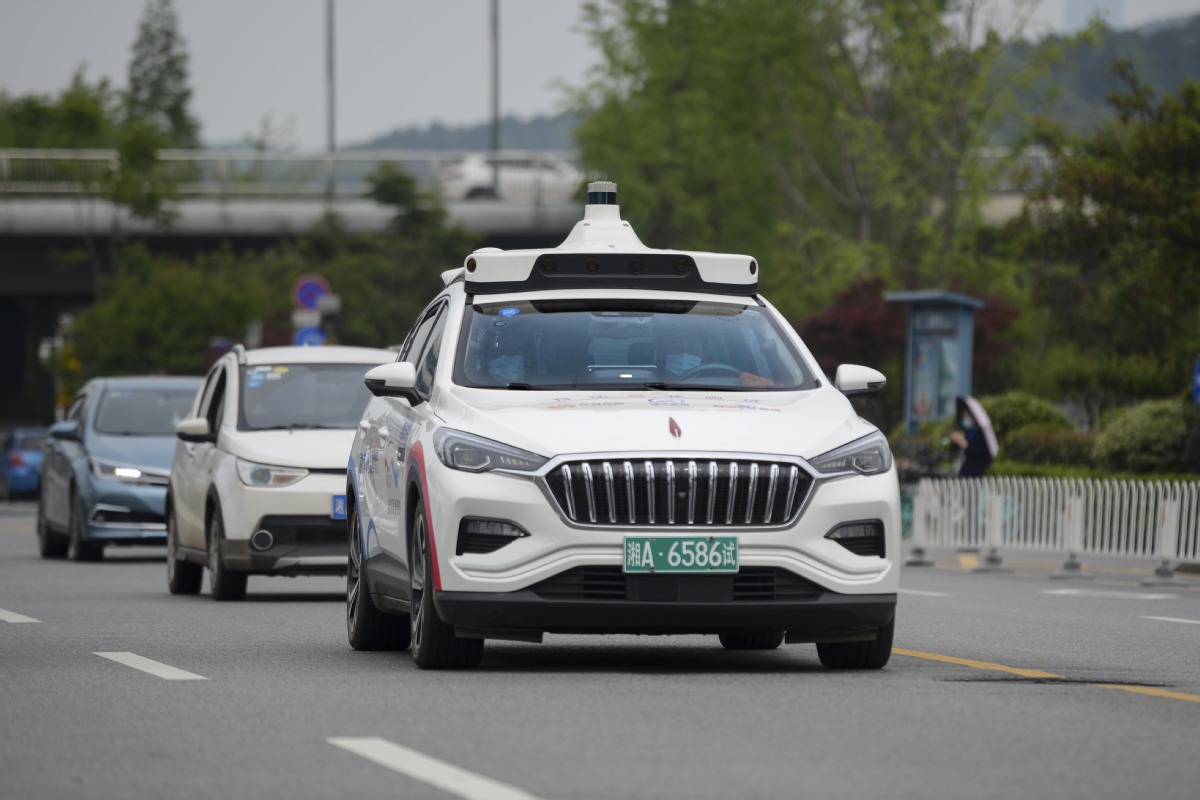 Large-scale commercial use of self-driving technologies could become a reality sooner than expected as Chinese tech companies are beefing up efforts to launch autonomous taxi services, said industry insiders.
Chinese search giant Baidu Inc announced it has fully opened its self-driving taxi service Apollo Robotaxi in Changsha, Hunan province, thus becoming one of the first companies to carry passengers in autonomous vehicles.
Residents in the city can hail self-driving taxis free of charge via Baidu's navigation app Baidu Maps. At present, the service covers an area of about 130 square kilometers, with its routes including multiple urban scenarios, such as residential areas, commercial zones and industrial parks, the company said.
It is noteworthy that each of the driverless taxies has a "security person", or a backup driver, who is ready to take manual control in the event of an emergency, in accordance with current traffic regulations.
Baidu started trials of its Apollo Robotaxi fleet in Changsha in September, with the first group of 45 self-driving taxis officially starting trial operations on urban roads. It is also China's first group of autonomous driving taxis managed by Baidu's Vehicle to Everything (V2X) system.
Li Zhenyu, vice-president of Baidu and general manager of its intelligent driving group, wrote in an internal letter to employees that the company will continue to develop "vehicle-road coordination technology", which is used to increase the interaction between smart road infrastructure and self-driving cars, and helps upgrade the urban governance system.
Apart from Changsha, the company is testing autonomous driving with passengers in Beijing, Cangzhou, Hebei province, and other areas.
Jiang Zheng, a self-driving expert at China's GAC R&D Center, said the launch of self-driving taxi services in some designated areas might be the best application scenario for the technologies due to high operating costs of private vehicles.
"Autonomous driving is definitely the future development direction of the automobile industry. It not only solves traffic safety problems, but also greatly improves the efficiency of transportation, brings about economic benefits and liberates people from repetitive driving," Jiang said.
Jiang added some countries are trying to promote implementation of relevant policies and regulations related to self-driving technology.
Baidu is just one of several Chinese tech firms that have opened autonomous taxi services to the public in the country. In November, self-driving startup WeRide launched a trial run of autonomous taxis in a 145-square-kilometer area of Guangzhou, Guangdong province. Passengers can order taxis via its app and experience a driverless journey.
Han Xu, founder and CEO of WeRide, said the company aims to launch over 100 self-driving taxis in Guangzhou this year, gain regulatory approval to remove backup drivers in designated regions in 2021 and finally achieve complete driverless operations in most areas of Guangzhou in 2023.
Officials have high hopes for the market. China expects vehicles with some autonomous functions to account for half of new vehicles sold in the nation this year, according to a guideline released by the National Development and Reform Commission.
So far, road tests for self-driving vehicles are available in more than 20 provinces and cities in China, and six cities including Beijing, Shanghai, Guangzhou, Changsha, Wuhan and Cangzhou have allowed passenger-carrying tests on autonomous vehicles.
Other companies, such as SAIC Motor, BMW, Didi Chuxing and DeepBlue Technology, also have obtained such authorization for passenger-carrying tests.
Consultancy Roland Berger said China is accelerating its development of autonomous driving and is expected to become a leader in the sector, which is seen as key to the future of the automotive industry.
"Intelligent vehicles with fully autonomous functions may account for 10 percent of the new vehicles in 2020 and self-driving vehicles will likely be part of our daily lives in 2030," said Yang Diange, dean of the Automobile Engineering Department at Tsinghua University.