Hilton manager steers hotel through epidemic storm with innovation
By Yin Ruowei | China Daily | Updated: 2020-05-09 16:17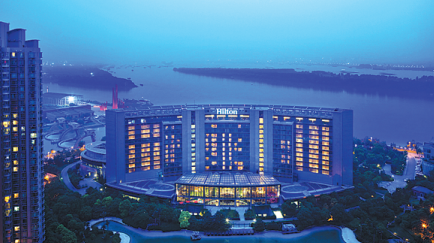 In Nanjing, capital of Jiangsu province, restaurants are now allowing sit-in diners again and more people are venturing out as they did before the novel coronavirus outbreak. This is what Chen Jun, general manager of Hilton Nanjing Riverside, had expected.
Chen is in his 20th year of working for Hilton. Before his current position, he led his team in Chongqing to win Hilton's prestigious Connie Award-named after founder Conrad Hilton-for two consecutive years.
During the novel coronavirus outbreak, he demonstrated his leadership skills repeatedly, and has developed many new marketing ideas for the hotel, which is situated on the bank of the Yangtze River and close to historic attractions in Nanjing.
"The virus has indeed brought great challenges to the hospitality industry, but it also brings opportunities," Chen said. "People's movements were restricted and their demands for our guest rooms and meals fell, so I decided to extend the service scope of our hotel to people's homes and make offline sales online. We quickly opened an online takeout channel on a thirdparty platform and adjusted our catering menu."
In addition to takeout services, the hotel provides a number of special offers. Its buffet restaurant offers a buy-one-get-one-free meal deal. Those coming to the hotel for leisure will be given a coupon worth 188 yuan ($27), as part of Hilton's Leisure Escape Campaign.
"These operating models are innovative to us, which proved to be very successful and generated good results for the hotel," Chen said. "We also extended the expiration date of these offers so that consumers can have sufficient time to plan after purchase."
At the core of Chen's work is customer interaction, he said.
"I like talking to our guests in the lobby and restaurants in our hotel, and get to know their feelings in the first place, so as to better understand their needs and improve guest experiences," he said.
On April 18, Chen and his hotel broadcast its first livestreamed wedding show. Hotel staff members gave a tour of their venue where wedding ceremonies would be held, explained the recent price discount and answered questions from viewers.
"Many newlywed couples came to us when the show was over,"Chen said, adding such a new interactive event brings new business opportunities and is worth a try.
Chen said he has prepared himself to embrace a recovery in consumption. "Industries such as tourism and weddings hit a pause button because of the novel coronavirus, but I believe that with the market recovery, consumer confidence will be restored and demands will bounce back too.
"Hotels that have managed to make timely adjustments and continuous improvements during the outbreak have accumulated enough strength for future growth," he added.