An idol travel companion
By Chen Nan | China Daily | Updated: 2020-05-20 08:27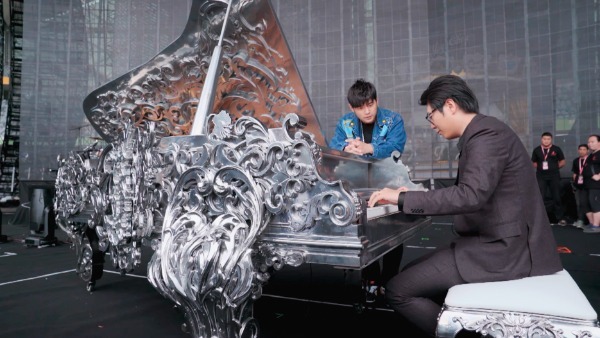 New hit reality show follows superstar Jay Chou as he explores the world with his friends, Chen Nan reports.
Ever since he released his eponymous debut album in 2000, Mandarin pop star Jay Chou has built up a massive fan base in Asia. After 20 years in the music business, Chou has grown from a naturally shy, reluctant newcomer to a household name. Now, he's the star of a reality TV show which offers his fans a fresh look at his life.
First broadcast by Zhejiang Satellite TV on March 21, the reality show, titled J-Style Trip, shows the 41-year-old Chou and his friends traveling the world-from visiting the Centre Pompidou in Paris, eating at a local food court in Singapore and meeting tribes of Australian Aboriginals to returning home to Taipei, where Chou was born, raised and started his music career.
His epic music performances and magic tricks-he's been a very capable amateur magician for years-are also featured in the show.
His musician friends, such as Singaporean singer-songwriter JJ Lin and Chinese classical pianist Lang Lang, join Chou as his special guests on the show.
"I wanted to show the warmness and friendliness of people around the world and how people connect with each other in different ways," Chou was quoted as saying in a previous interview.
According to Chen Chung, who has been working with Chou since 2001 and manages Chou's performance schedule on the Chinese mainland, the reality show has fulfilled Chou's desire to show fans a different side of him by documenting his offstage persona.
Chou is known among his fans as somewhat of a Renaissance man; he's a singer-songwriter, director and actor, "but he rarely shows himself as a traveler", Chen says. He adds that Chou loves traveling and the sense of freedom it gives him, and through his work, he gets to tour the globe. However, he has found little time to visit many places as a real tourist due to busy schedules during his tours.
"This reality show is like Jay Chou's own travelogue," Chen, who is also in charge of the reality show, explains. From 2018 to 2020, the team followed Chou during his tours, focusing on his visits to local places, as well as performances and fan meets.
"One of the most challenging parts of making the reality show was that we had to cope with lots of situations that were out of our control; shooting locations, for instance, were decided by his schedule," Chen says.
"When he traveled with his friends, Chou was very natural and real. He loves to share with his friends, and, although he has become a megastar, in his friends' eyes, Chou is still the same person they knew 20 years ago," Chen adds.