Taking e-commerce to the countryside
By Chen Nan and Yang Jun | China Daily | Updated: 2020-05-26 08:04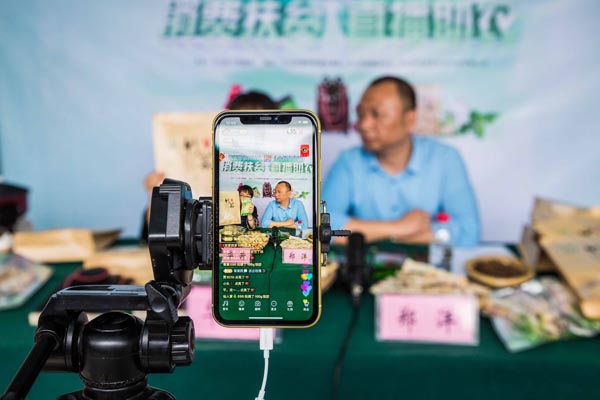 A deputy from Guizhou promotes livestreaming as a way to sell local agricultural products, report Chen Nan in Beijing and Yang Jun in Guiyang.
Hua Xi sat in front of a wooden table with teapots made of glass displayed in front of her. She spoke to her phone camera while holding a freshly brewed cup of tea, with hills of tea trees behind her.
Hua was livestreaming from a tea garden in Meituo village, Yinjiang county of Southwest China's Guizhou province, in early April. She sold over 130,000 yuan ($18,200) worth of products in two days following the hourlong livestream.
The village, which is located at an altitude of over 1,100 meters, is known for its 167 hectares of tea plantations. The remote village is home to 680 families who live in poverty.
Meituo had invited Hua to promote its tea nationwide.
"We not only sold tea products but also attracted business partners from around the country," Li Wenzhi, Party secretary of Meituo, says about the livestream.
Hua, a Guizhou native in her early 30s, has been helping local farmers sell products online such as bamboo shoots, sticky-rice liquor and cinnabar.
She also livestreams daily from 7:30 pm to midnight on major e-commerce sites such as Taobao and Kuaishou, which has brought business to many.
"Every day, we have about 800 to 1,200 orders online that sell over 200 types of local products around the country," says Hua. "It helps farmers to raise their incomes and promote entrepreneurship."
E-commerce is not new to Hua. After graduating from Zhongzhou University in Central China's Henan province in 2008 with a degree in tourism management, she moved to Wenzhou, East China's Zhejiang province, and launched her first online shop, selling honey.
By the end of 2010, along with her husband, a former classmate, she started working in the field of delivery and opened another online shop to sell clothes.
As the country's logistics industry grew, so did e-commerce. Hua worked from morning to night, only taking meal breaks.