Fresh, green impetus for new energy transport in urban areas
By ZHONG NAN in Beijing and LIU MINGTAI in Changchun | China Daily | Updated: 2020-05-29 08:32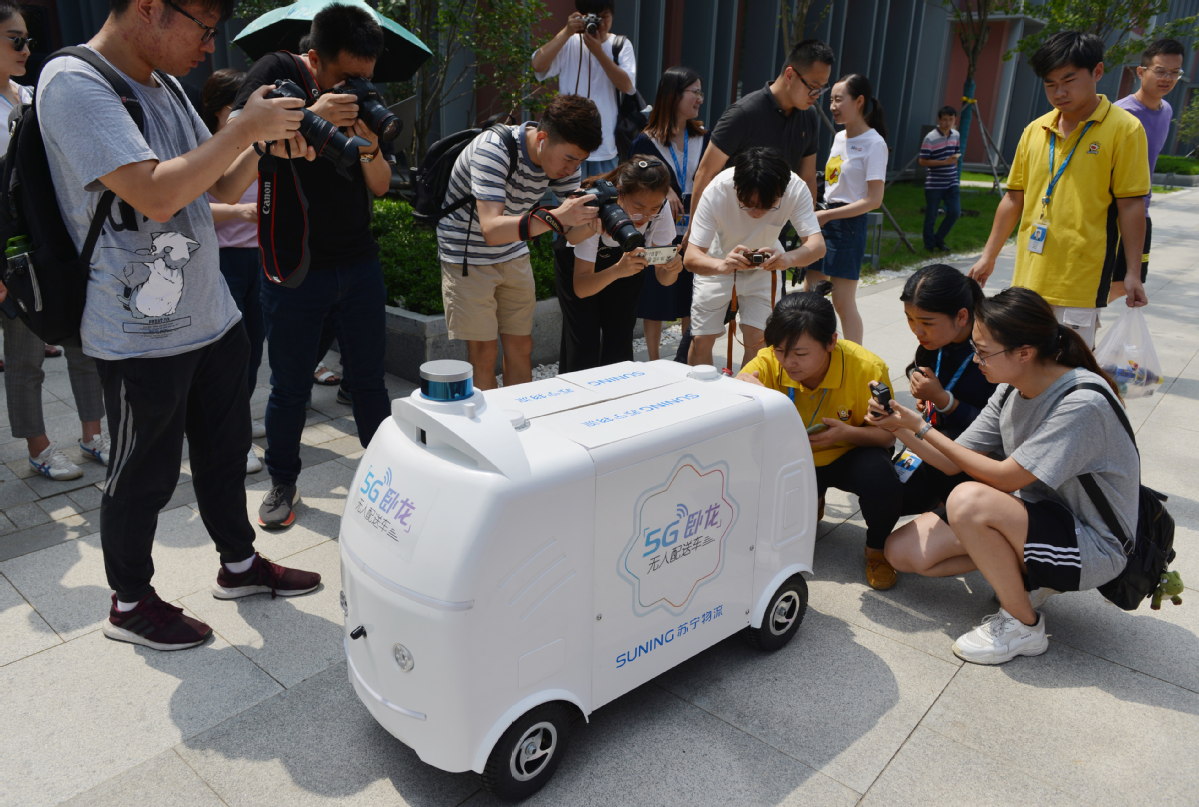 More new energy-powered light trucks and digital solutions will be introduced in China's urban areas to cut pollution, and facilitate the growth of the express delivery and automobile industries in the next stage, said national legislators.
Zhang Jindong, chairman of retail giant Suning and a deputy to the 13th National People's Congress, said due to the pollution control measures, many Chinese cities, especially big ones, only allow fuel-powered trucks to be driven on the streets during the night or within certain hours. This has caused much inconveniences to companies, in particular firms from catering, exhibition and retail sectors to gain food, operational materials and commercial products.
Under such circumstances, courier service providers have to rely on vans, passenger vehicles, motorbikes and electro-tricycles to deliver the goods to the customers, he said, adding they can only carry between 300 to 1,200 parcels each time with low efficiency and potential traffic risks, many times less than a light truck's capacity.
The deputy urged the government to grant new energy light trucks with corresponding license and road access rights to offset the shortcomings caused by insufficient and limited transportation service capacity.
It is also necessary for policymakers to accelerate the pace of building green logistics distribution demonstration projects within major cities, establish a management and service platform for new energy trucks to solve the issues including limited road access during day time, high costs of warehousing and distribution facilities, he said.
Xu Liuping, another NPC deputy and chairman of Changchun-based China FAW Group Co, said since China's automobile market encountered slow growth in 2018, it is vital for the government to create more room for the sales of new energy vehicles as this segment involves a large number of upstream and downstream industries with millions of industrial workers in domestic and global markets.
"As the Chinese economy changes gear to high-quality development, Suning is undergoing the evolution from quantitative expansion to efficiency enhancement," said Zhang from Suning, adding the company will increase infrastructure investment for its smart retail system in the second half of this year.
Suning plans to add 30,000 jobs this year and has invested in several big-ticket projects since the beginning of the year, such as the ones in East China's Jiangsu and Anhui provinces, Zhang said.
To maintain solid economic fundamentals, the government has emphasized the importance of focusing on the "six priorities" of safeguarding employment, people's livelihoods, the development of market entities, food and energy security, the stable operation of industrial and supply chains and the smooth functioning of society.
Beike, a major housing service platform in China, plans to recruit 440,000 estate agents this year, including 180,000 of them with advanced academic background, to accelerate its growth.
Zuo Hui, Beike's chairman, said to effectively alleviate the country's employment pressure this year, the company will build partnership with 1,000 universities and make 100,000 recruitment offers to graduates at these institutions. Through designed training courses and field operation tests, they will not only enhance the supply chain of quality estate agents across China, but also further transform and upgrade the real estate brokerage industry.
With services covering areas such as the sales of new houses and secondhand houses, house renting, decoration and community service, Zuo said that consumers' demand for estate agents will only get stronger and tougher in the future. It requires service providers to be proficient in using various digital tools and understanding the functions of derivatives of the housing trading industry, he said.
As the country will implement city-specific policies to promote steady and healthy development of the real estate market this year, he said the application of new infrastructure solutions will become the "base" of industrial evolution for residential services, and assist the digital transformation of small and medium-sized enterprises.