S. Korea tightens curbs in bid to check wave of cluster cases
China Daily | Updated: 2020-05-29 10:12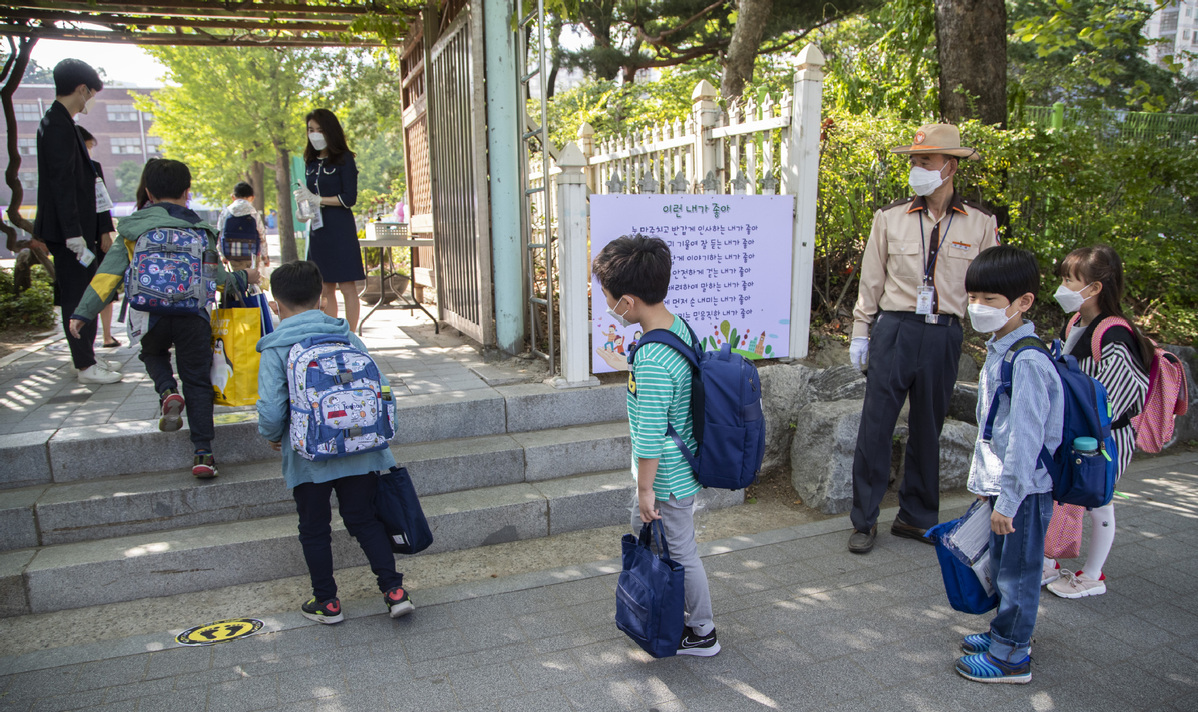 SEOUL-South Korea reimposed a sequence of coronavirus social distancing measures on Thursday, as a series of clusters threatened to challenge its success in containing the epidemic.
Museums, parks and art galleries in the Seoul metropolitan area will all be closed again for two weeks from Friday, said Health Minister Park Neung-hoo, while companies were urged to re-adopt flexible working practices, among other measures.
"We have decided to strengthen all quarantine measures in the metropolitan area for two weeks from tomorrow to June 14," he said.
The decision came as South Korea on Thursday reported its biggest spike in infections, at 79, in nearly two months, taking the country's total cases to 11,344.
An outbreak at a warehouse of e-commerce firm Coupang in Bucheon, west of Seoul, has seen 69 cases, said the Korea Centers for Disease Control and Prevention.
Around 4,100 workers and visitors to the building were under self-isolation, with more than 80 percent tested so far, Vice-Health Minister Kim Gang-lip said.
The new infections caused concerns as the phased reopening of schools has begun and a second round of students returned to school on Wednesday. Park urged school officials to double-check their preventive measures.
Separately, South Korea's central bank on Thursday cut its benchmark interest rate to a new record low of 0.5 percent to tackle the economic fallout from the outbreak across the world.
11-week lockdowns
Elsewhere in Asia, the Philippines' coronavirus task force has recommended President Rodrigo Duterte ease one of the toughest and longest lockdowns in the world for residents in the capital Manila, who have endured nearly 11 weeks of restrictions on activity.
Under the more relaxed rules that will be in place from June 1 to 15, if approved, local officials can still place communities deemed as high risk under lockdown.
Under the recommendations, gatherings of up to 10 people will be allowed, workplaces, shops and some public transportation will reopen and movement in and out of Manila will be permitted.
In the Middle East, Israel on Wednesday opened restaurants, coffee houses, bars, swimming pools and tourist attractions as the number of infections kept declining.
However, businesses are obliged to keep their clients safe by placing signs with health guidelines, marking floors with required distance, regulating the number of visitors, and obeying all the regulations.
Also, people are required to keep physical distancing, wear masks and follow the rules of hygiene.
In Turkey, the country began operating intercity trains on Thursday after a two-month gap, as it gradually eases coronavirus curbs in a bid to restore normal life and reopen an economy facing the threat of recession.
Trains will make 16 trips daily, running at half capacity with no ticket price hikes. Separately, passengers will be monitored for virus symptoms, but individuals aged 20 or less and 65 or older cannot travel.
In Africa, South Africa on Wednesday reported its highest daily increase, at 1,673 cases, as the country prepares to ease its lockdown from level four to level three, starting from June 1.
Level three will allow 8 million people to return to work with the reopening of most of the economy.
As of Wednesday, the country's caseload had reached 25,937 with 552 deaths.
Xinhua - Agencies