Volkswagen to raise stake in Chinese JV
Li Fusheng | Updated: 2020-05-30 07:20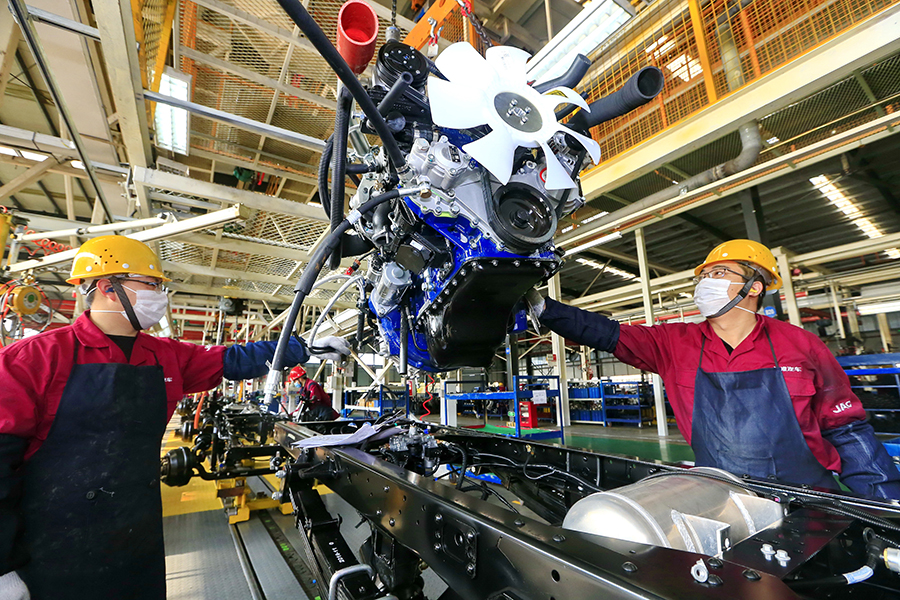 German giant will hold 75 percent equity in electric car alliance with JAC Motors

Volkswagen AG is planning to increase its stake in its electric car partnership with JAC Motors from 50 percent to 75 percent, the German company said on Friday.
The move will make Volkswagen the second foreign carmaker to have a controlling stake in a Chinese joint venture after BMW. The equity change in JAC Volkswagen is part of the company's 1 billion euro ($1.1 billion) deal signed on Friday in Beijing to acquire a 50-percent stake of Chinese partner JAC Motors' parent Anhui Jianghuai Automobile Group Holdings.
"By opening up the market, China is giving Volkswagen new business opportunities," said Volkswagen Group China CEO Stephan Woellenstein, referring to China's decision in 2018 to gradually lift the equity cap in the auto industry.
Volkswagen said the deal with JAC will be closed before the end of this year. In a separate deal on the same day, it spent 1.1 billion euros to acquire a 26-percent stake in Gotion High-Tech Co, becoming the largest shareholder of China's No 3 battery maker.
"These investments shape the character of Volkswagen in China, making it a more localized, more sustainability-focused mobility company," said Woellenstein.
The two deals are the largest foreign investment in China's new energy vehicle market, which is the largest worldwide since 2015. Last year, sales of such vehicles totaled 1.2 million units in the country.
Volkswagen AG CEO Herbert Diess said: "The electric car segment is growing rapidly and offers a great deal of potential for JAC Volkswagen."
JAC Volkswagen, which was established in 2017, is dedicated to producing and selling electric vehicles. Volkswagen said it will introduce five new models by 2025. JAC said in a regulatory filing on Friday that Volkswagen will also introduce models under its mainstream brands into the joint venture, which will have an annual capacity of 350,000 to 400,000 units by 2029.
Volkswagen plans to produce around 30 new energy vehicle models in China by 2025 and sell 1.5 million units a year, with most of them pure electric ones.
Besides JAC, it has joint ventures with SAIC Motor Corp and FAW Group, and both have built plants for electric vehicles as well.
China is the largest market for the German carmaker that has brands like Volkswagen, Audi and Porsche, accounting for around 40 percent of its global sales.
Thomas Fang, a partner in the China office of global consulting firm Roland Berger, said Volkswagen's deals show the importance of the Chinese market.
"The Chinese market is huge, so leading carmakers will try to do more when opportunities emerge, like BMW did two years ago and now Volkswagen."
China decided in 2018 to phase out the equity cap in the automotive industry. In the same year, BMW became the first international carmaker to acquire a majority stake in its car-making joint venture.
As the world's largest car market, China is home to more than 260 million vehicles now, including 4 million new energy cars. There is still vast potential for further growth, as the number of vehicles per 1,000 people hovers around 185, while the figure in the US is around 800.
China is expected to overtake the US in terms of total number of vehicles by the end of this year, said Cai Ronghua, a senior official at the National Development and Reform Commission, during a media briefing in April.
Yale Zhang, managing director of Shanghai-based consulting firm Automotive Foresight, said Volkswagen's two deals are a farsighted move in a go game.
He said the investments will prove to be a good bet when electric cars are more popular two or three years later. They will prove useful when Volkswagen has to face competition with Tesla, whose Chinamade electric cars are gaining in popularity as their prices are falling, he said.
"They show Volkswagen's firm commitment to electrification, at least in China. The demand is here, so there comes investment," said Zhang.
The arrival of international carmakers will also help improve the overall level of the new energy vehicle sector in China. "They are like reminders to Chinese players that if you do not work hard, there will be no place in the market," said Zhang.