Country plans extra measures to boost use of electric cars
By Li Fusheng | China Daily | Updated: 2020-06-01 10:50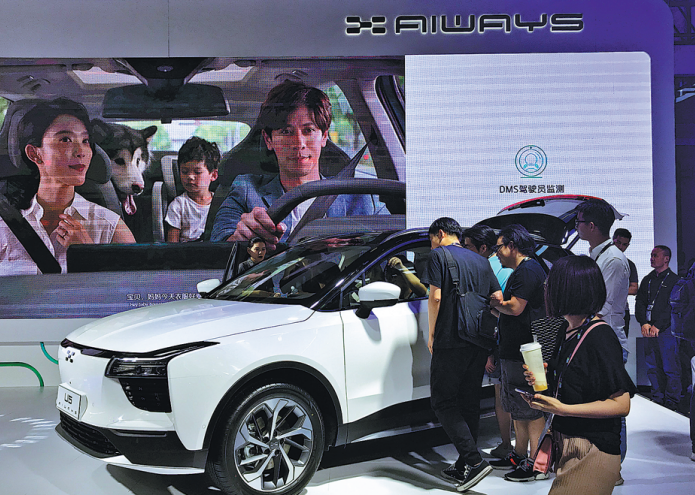 Subsidies for drivers, relaxed rules for manufacturers and battery swapping stations to help sales, production and ownership, says minister
China is planning to further stimulate the new energy vehicle sector-in terms of their demand, supply and use-and is confident in its long-term prospects, said a senior official at the Ministry of Industry and Information Technology, which supervises the automotive industry.
Miao Wei, minister of industry and information technology, made the remarks on Tuesday at the sidelines of the annual session of the National People's Congress, the country's top legislature, which concluded on Thursday.
Both gasoline and new energy vehicle sales have been gravely hit by the COVID-19 pandemic. In response, the government has come up with a number of measures including the decision to extend subsidies by two years to the end of 2022, said Miao.
The overall vehicle market saw a 4.4 percent rise in April from the same month in 2019, but the sector of electric cars and plug-in hybrids has not recovered.
In April, new energy vehicle sales totaled 72,000, down 26.5 percent year-on-year. In the first four months of 2020, their combined sales reached 205,000, a 43.4 percent slump.
Miao added: "But their production capacity has basically recovered to the level of last year. We are confident in the sector's prospects."
He said the government will relax the limit on production outsourcing and allow capable carmakers to test products themselves to cut unnecessary and repetitive procedures.
Nio is producing its vehicles at a plant it built with JAC Motors. Also, vehicles of Xpeng, which has recently received the license to built its own plant in Guangdong province, once rolled off Haima's assembly line.
Analysts say outsourcing production makes it easier and cheaper for startups to produce cars and allow established carmakers to make better use of their factories. After all, building a car plant takes years and costs billions of yuan.
Miao said the ministry will encourage battery-swap technologies to alleviate mileage anxieties and introduce more new energy vehicles into public-service sectors including buses, street sweepers and logistics vehicles.
Nio and BJEV are building vehicles with swappable batteries, which can replace their empty batteries for fully-charged ones in minutes.
William Li, Nio founder, said such vehicles allow car owners to continuously benefit from advances in battery technology.
Batteries, which account for roughly half of an electric car's cost, have seen rapid progress in recent years as companies try their best to extend driving ranges.