President calls governors 'weak'
By AI HEPING in New York | China Daily Global | Updated: 2020-06-02 14:12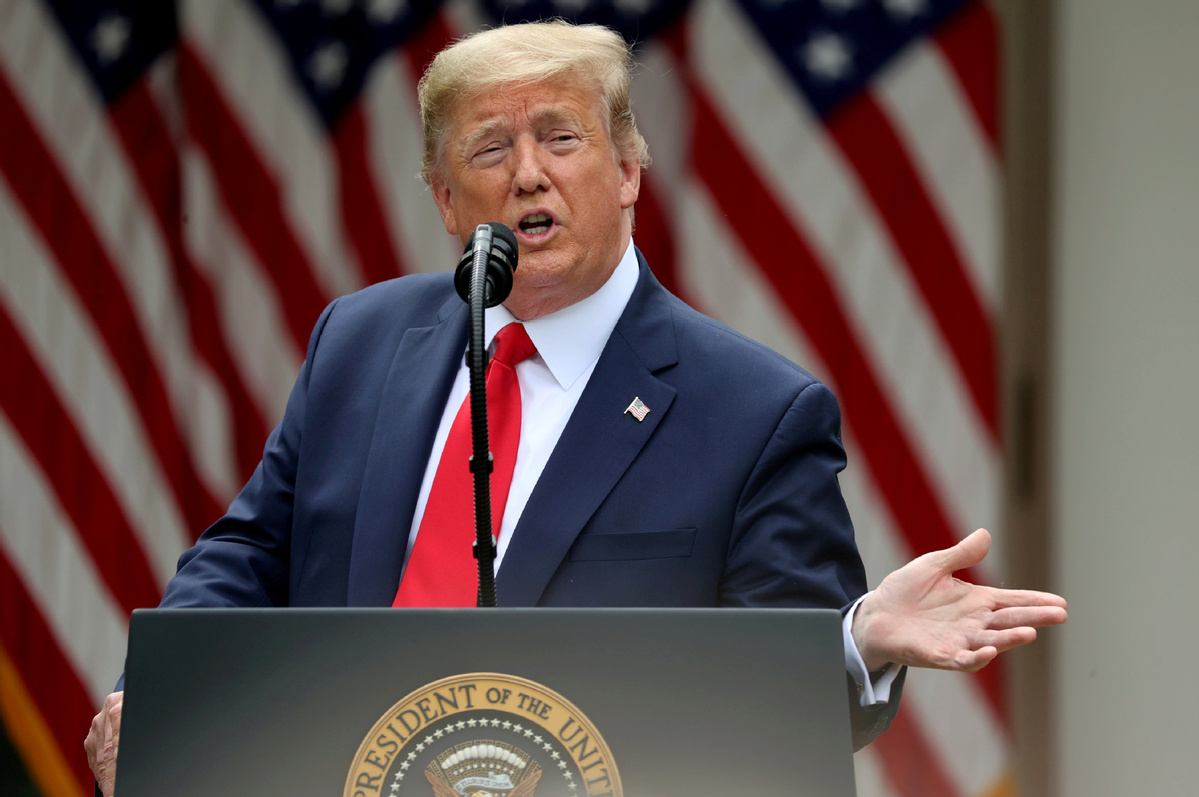 As cities across the US cleaned up Monday after a sixth night of demonstrations over the death of George Floyd, which in many cases have escalated into looting and vandalism, US President Donald Trump lashed out at governors for how they have handled the protesters, telling them that "most of you are weak".
And with five months to go before the presidential election, Trump used the protests to attack his likely opponent, former vice-president Joe Biden.
Some governors participating in the hourlong videoconference call with Trump pushed back against his criticisms, while Democrats and members of Trump's own party on Monday called on him to tone down his rhetoric.
Senate Majority Whip John Thune of South Dakota said on CNN he believed that Trump should take a different "tone" when addressing the country on the unrest.
"I think the country is definitely looking for healing and for calm," Thune said. "And I think that's the tone the president needs to project when talking about what's happening around the country. I think leaders right now need to have empathy and humility and respect."
Republican Senator Tim Scott of South Carolina said on Fox News Sunday that he had spoken to Trump over the weekend about his inflammatory tweets, which the senator described as "not constructive".
Trump said in the Monday call with governors that "radicals" and "anarchists" are behind the unrest, and he urged the governors to crack down on them. He said that other countries watching the situation unfold think Americans are pushovers.
"You have to dominate," Trump said, according to audio of the call obtained by The New York Times. "If you don't dominate, you're wasting your time. They're going to run over you, you're going to look like a bunch of jerks. You have to dominate."
During the call, Trump claimed to have intelligence showing who the "bad actors" and professional instigators are, though he didn't elaborate.
Earlier Monday, Trump spent the morning on Twitter blaming the unrest on anarchists and accusing Biden staffers of "working to get the anarchists out of jail".
An ABC News-Washington Post poll released Sunday revealed that 53 percent of registered voters would vote for Biden while 43 percent said they would cast a ballot for Trump. The poll — which was conducted before the protests began — also showed that Trump's approval rating slipped from 48 percent in March to 45 percent.
Trump unleashed a string of Twitter attacks against Biden on Monday.
"NOVEMBER 3RD," Trump tweeted, referring to Election Day.
"Sleepy Joe Biden's people are so Radical Left that they are working to get the Anarchists out of jail, and probably more," Trump tweeted about protesters arrested in the past week, without providing specifics.
At least 13 Biden campaign staff members posted on Twitter on Friday and Saturday that they made donations to the Minnesota Freedom Fund, which opposes the practice of cash bail, or making people pay to avoid pre-trial imprisonment, according to Reuters. The group uses donations to pay bail fees in Minneapolis.
Biden campaign spokesman Andrew Bates said in a statement to Reuters that the former vice-president opposes cash bail as a "modern day debtors prison".
Later Monday, Trump told the governors that "most of you are weak".
"You've got to arrest people, you have to track people, you have to put them in jail for 10 years, and you'll never see this stuff again," Trump said, according to a source.
Trump was described by one person on the call as "losing it," with another saying the president called the governors "fools" and expressed anger with Democratic mayors in particular over the unrest ravaging cities nationwide.
Several governors pushed back on Trump's comments, the source said, including J.B. Pritzker of Illinois, a Democrat, saying he was "extraordinarily concerned" by the president's rhetoric.
"We have to call for calm. We have to have police reform called for," Pritzker said, adding that the rhetoric from Trump "is making it worse".
Trump shot back that he was unhappy with Pritzker's comments on the coronavirus, complaining that the governor "could've done a much better job".
The president said he felt Floyd's death in Minneapolis, Minnesota, last week was a "disgrace" and insisted that he had spoken about the incident and at length and would continue to do so, according to the person familiar with the call.
"But I also have to speak about law and order," Trump said on the call. "We need law and order in our country. And if we don't have law and order, we don't have a country. So we need law and order."
Michigan Governor Gretchen Whitmer, a Democrat, later said at a news conference that Trump "repeatedly and viciously attacked governors who are doing everything we can to keep the peace while we're working to save lives in a once-in-a-generation pandemic".
She continued: "It was galling because we are at a point in time where people need hope and unity and a strategy to pull people together and to save lives.
"Instead of offering support or leadership to bring down the temperature at protests, President Trump told governors to put it down' or we would be 'overridden'."
In a briefing with reporters after the call, Minnesota Governor Tim Walz, also a Democrat, said he thanked the president for his support but disagreed with his assessment.
"I said, 'no one is laughing here,'" Walz said. "We're in pain, we're crying. We saw a man lose his life.
"I also shared with the president that a posture of a force on the ground is both unsustainable militarily — it's also unsustainable socially, because it's the antithesis of how we live."
Republican Senator John Cornyn of Texas said he believed Trump should address the nation sooner rather than later and that it's important for Trump to offer more of a unifying message.
Trump's remarks to the governors followed a sixth day of clashes Sunday between police and protesters in cities across the nation that erupted in the wake of the death of Floyd, a 46-year-old black man.
Floyd was held face down on a Minneapolis street by a white police officer, Derek Chauvin, who pushed a knee against Floyd's neck for more than eight minutes even as he repeatedly said he couldn't breathe. Chauvin has been charged with third-degree murder and second-degree manslaughter in the case.