Locusts feast on India's woes as swarms spread
By ARUNAVA DAS in Kolkata, India | China Daily | Updated: 2020-06-09 09:36
Hit by disease and wild weather, country stretched in battle with insect invaders
As if the coronavirus outbreak, the resultant lockdown and Cyclone Amphan that recently ravaged parts of the country were not enough, India finds itself imperiled by thick swarms of desert locusts.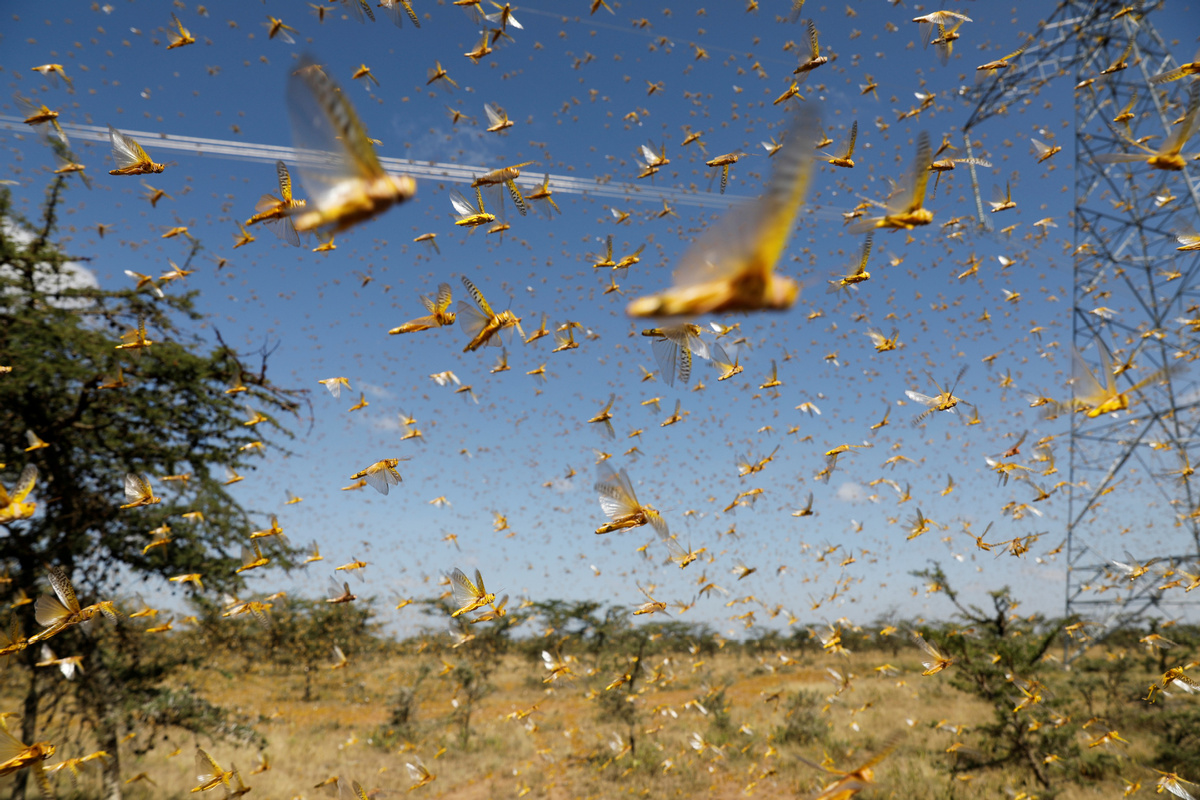 Swathes of farmland in the states of Rajasthan, Madhya Pradesh, Gujarat, Maharashtra and Punjab are being invaded by millions of the pests on a crop-devouring spree, potentially ruining food supplies.
Keith Cressman, senior locust forecasting officer at the Food and Agriculture Organization, or FAO, of the United Nations, said there have been movements of adult locusts in India, Oman, the United Arab Emirates and Uganda in recent days.
"Successive waves of invasions can be expected until July in Rajasthan (bordering Pakistan) with eastward surges across northern India followed by westward movements and a return to Rajasthan on the changing winds associated with the monsoon," Cressman said.
Much of these movements were associated with strong westerly winds from Cyclone Amphan in the Bay of Bengal, he said.
India has struggled to curb the spread of the pandemic. It has reported fresh highs in the number of confirmed infections, of about 9,000 a day over the past days, pushing the total to 258,090 by Monday, according to a tally kept by the Johns Hopkins University.
The locusts, though not a new phenomenon, worry experts this time because of the frequency and ferocity of their attacks.
The swarms, which are the thickest and the largest in two and a half decades, are aided by frequent cyclones, unusually warm weather, and more rain-all offshoots of climate change, said Sunita Narain, director-general of the New Delhi-based research organization Centre for Science and Environment, also works as a think tank.
"We must try and understand what is happening, and why it is happening … why this huge scourge of locusts is linked to climate change," Narain said.
Noticeable change
"In fact, there has been a noticeable change in the way invasions are happening. Much of this can be ascribed to unseasonal rainfall, not just in India but in other breeding grounds."
More rain in deserts, and more vegetation, make a perfect breeding ground for these creatures, she said. "And the monsoon was quite prolonged last year."
FAO Director-General Qu Dongyu has warned that things will get worse. Juvenile locusts will become voracious adults in June just as farmers begin to harvest, compounding an already bleak outlook for food security.
Qu also noted that recent heavy rains have created ideal conditions for the pest's reproduction in several countries, including India and Pakistan.
Increasing cyclone activity in the Indian Ocean could be a trend that will result in heavy rains in the Arabian Peninsula and parts of Africa, and that, in turn, is leading to more desert locust upsurges, he noted in an FAO statement.
In a highly interdependent world, Narain said, "we urgently require a global consensus and framework to combat the menace".
Cressman called for coordinated and concerted action.
He said national locust authorities in Iran, Afghanistan, India and Pakistan are in touch through weekly video calls under FAO guidance.
Meanwhile, pesticides are being used for controlling the movement of locusts, prompting some experts to point out that a few pesticides are extremely toxic. "Not only can they harm humans, they can also impact soil fertility and crops," said G.V. Ramanjaneyulu, executive director at the Hyderabad-based Centre for Sustainable Agriculture.
Ashok Gulati, professor for agriculture at the Indian Council for Research on International Economic Relations, an economic policy think tank, said that fortunately, most of the crops have been harvested, which means less severe losses.
The writer is a freelance journalist for China Daily.