Thousands bid farewell to George Floyd
By ZHAO HUANXIN in Washington and CHEN WEIHUA in Brussels | CHINA DAILY | Updated: 2020-06-10 07:39
Democrats propose police overhaul as White House rejects idea of defunding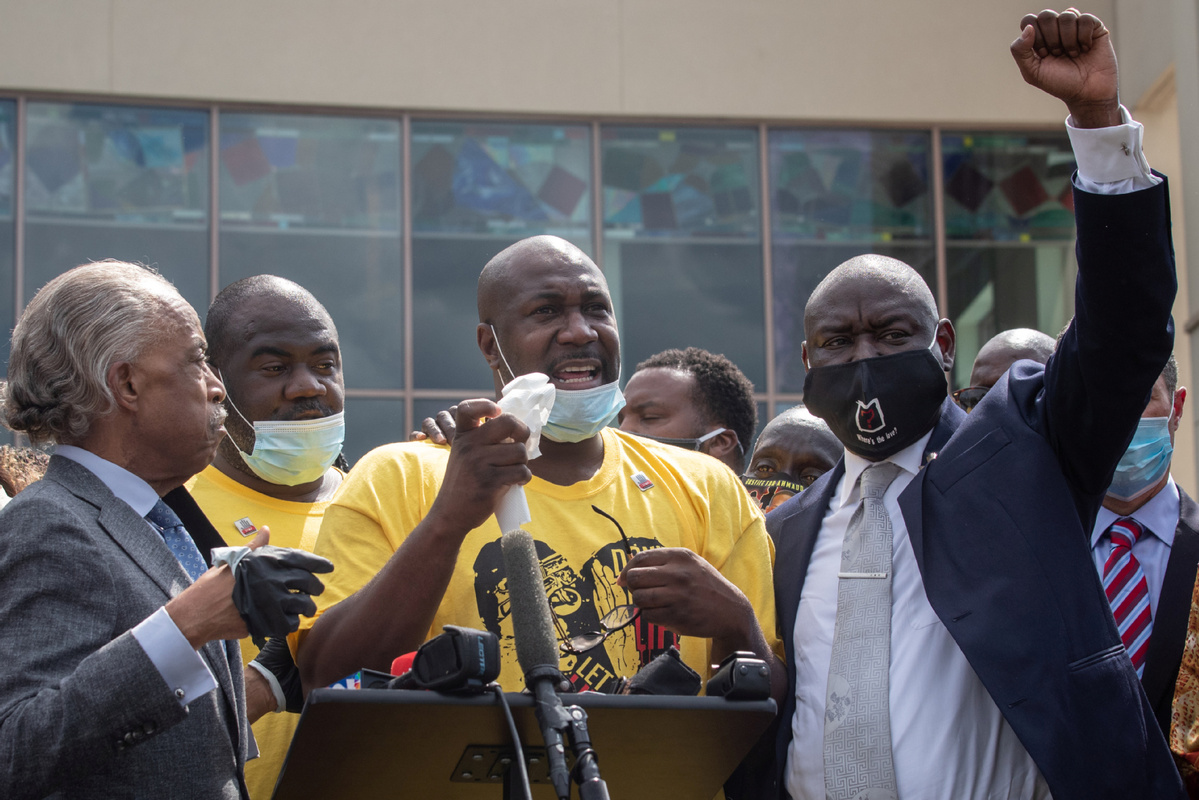 George Floyd's funeral was scheduled to be held in his native Houston on Tuesday after mourners paid their respects to the African American whose death ignited global protests against police brutality and racism.
Floyd, who was 46 when he was killed, was to be laid to rest next to his mother. On May 25, as a white Minneapolis officer pressed a knee on Floyd's neck for several minutes, the dying man cried out for his mother.
A public memorial service was held on Monday in Houston. Nearly 6,000 people attended.
Under a blazing Texas sun, mourners gathered wearing T-shirts with Floyd's picture or the words "I Can't Breathe"-a statement he cried out repeatedly while pinned down by the police officer Derek Chauvin.
Chauvin, the 44-year-old white officer who was filmed pressing his knee on the handcuffed Floyd's neck for nearly nine minutes, made his first court appearance on Monday. He faces up to 40 years in jail if convicted on charges of second-degree murder, third-degree murder and manslaughter.
Floyd's death sparked international protests and drew new attention to the treatment of African Americans in the United States by police and the criminal justice system.
"Defund the police", a rallying cry from protesters angry at Floyd's death in Minneapolis police custody two weeks ago, seemed to have hit a wall at the White House and on Capitol Hill on Monday, as Democratic lawmakers proposed sweeping legislation to combat police violence and racial injustice.
Some demonstrators and activists clamoring for an end to police brutality have called for law enforcement budgets to be slashed, while in Minneapolis, the City Council voted on Sunday to dismantle the police department and create a new system of public safety.
"There won't be defunding, there won't be dismantling of our police," US President Donald Trump told a roundtable of state, federal and local law enforcement officials at the White House on Monday.
According to The Associated Press, on Monday, relatives of Floyd and three other black people who were killed by police have joined nearly 600 rights groups to demand the top UN human rights body urgently convene a special session to look into a rise in police violence and repression of protests in the United States.
High in-custody death rate
In a data analysis on Monday, CNN reported that the rate of in-custody deaths in the US is more than double Australia's and about six times that of the United Kingdom's.
A media review by the Bureau of Justice Statistics found a total of 1,348 potential arrest-related deaths in the 10 months from June 2015 through March 2016, an average of just more than four per day, according to the report.
It also said that of those confronted or arrested by police, African Americans are more likely to be subjected to force, a key complaint of the protesters marching across the US.
In a direct response to the mass protests, US congressional Democrats unveiled a 134-page bill on Monday that would allow victims of misconduct and their families to sue police for damages, eliminate the "qualified immunity" for both police and corrections officers, prohibit racial profiling and ban choke holds.
The legislation would not cut or abolish funding for police departments. US House of Representatives Speaker Nancy Pelosi suggested that "defunding" was not an issue for Congress.
Also on Monday, World Health Organization Director-General Tedros Adhanom Ghebreyesus said that the WHO fully supported equality and the global movement against racism.
But he advised that if people did attend a protest, they should keep at least one meter from each other, clean their hands, cover coughs and wear masks, adding that those who were sick should stay home and contact a healthcare provider.
Pan Mengqi in Beijing, May Zhou in Houston and agencies contributed to this story.