Early arrival of virus under debate in UK
By Wang Mingjie in London | China Daily Global | Updated: 2020-06-18 10:00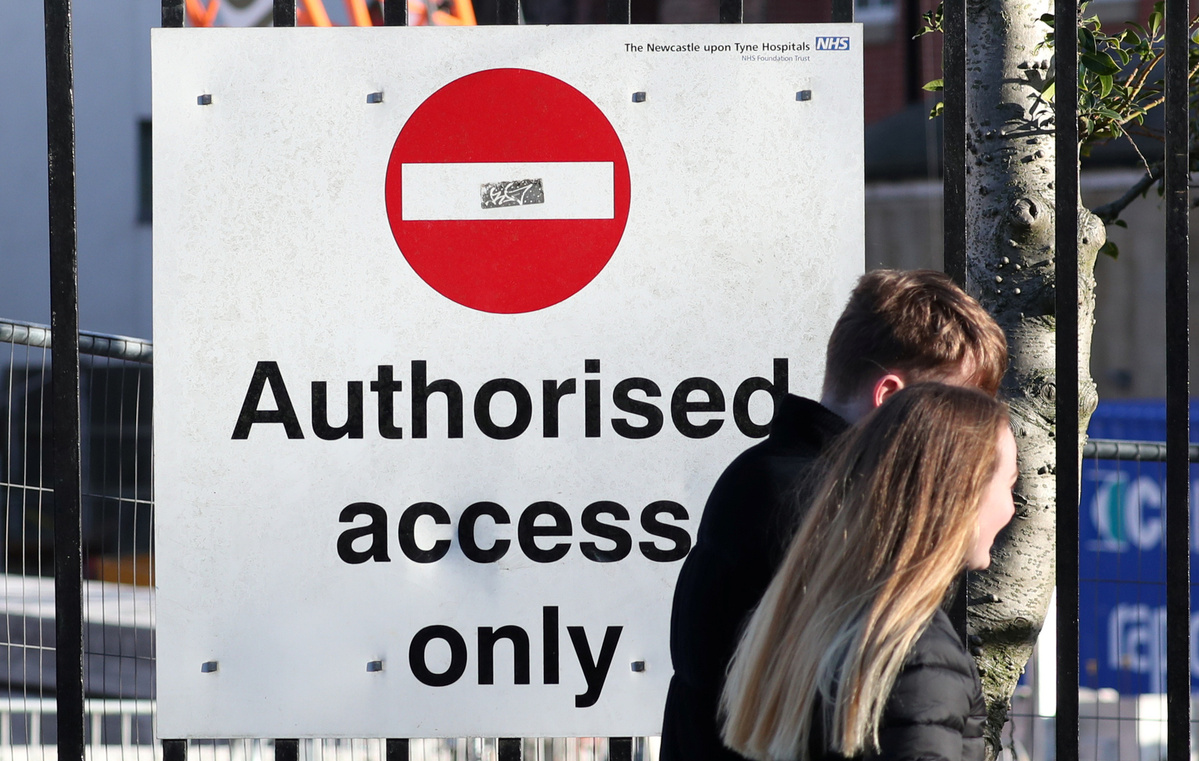 Reports of telltale symptoms in people dating to December sway some experts
Symptoms more compatible with COVID-19 than with seasonable flu that were reported among people from late December and January have prompted questions about when the novel coronavirus arrived in the United Kingdom.
In line with increases in understanding about the virus, some believe that it began circulating in the country much earlier than the first confirmed case.
Tim Spector, a genetic epidemiology professor at King's College London, is one of those who are convinced that the coronavirus was spreading in the UK weeks before the first case was detected and that antibody tests are reasonable evidence of that.
Spector, who runs the COVID-19 Symptom Study app with 3.9 million participants registered, said: "Since the app was launched at the end of March, I have received hundreds of reports from users who had COVID-related symptoms, some as early as the New Year. As we knew very little about coronavirus in the early months, I feel it is very likely that it was in the UK much earlier that we initially thought."
Officially, the first Briton to be diagnosed with COVID-19 was Steve Walsh, who tested positive on Feb 6 after he had attended a business conference in Singapore and then stopped over for five days at a French ski resort.
However, this might not appear to be the case anymore.
According to the Sunday Times, 53-year-old Susannah Ford from west London might have contracted the coronavirus much earlier than Walsh, after she came back from a skiing trip in the Austrian resort of Obergurgl, near the Italian border.
Ford said she became ill with terrible muscle and joint pain on Jan 6, two days after her New Year holiday. She went to the doctor and asked for a blood test for dengue fever and leishmaniasis, but was advised that she had a vitamin D deficiency.
The Sunday Times reported that weeks later, as she started seeing reports of the coronavirus, she began to question whether she had COVID-19, despite not having a cough or fever, as all other symptoms aligned with the illness.
As a result, Ford paid for an antibody test, and the result came back positive, indicating she previously had the virus, although from when remains unknown.
Ford said she is convinced that she had the virus when she was ill in January as she has not been unwell since or come into contact with COVID-19 patients, although it was tricky to prove it.
'Isolated small pockets'
Karol Sikora, dean of medicine at Buckingham University, said it is possible that the virus might have been around in the UK a lot longer than the British government and the Scientific Advisory Group for Emergencies acknowledged.
"It is likely that the coronavirus has been here at least in December, not in pandemic form but in isolated small pockets," Sikora said. "The trouble is there are no specific features of the clinical syndrome it produces to guide us and obviously there were no PCR test kits available for this specific virus before January."
The question also arises as to why the number of infections did not escalate from late December and only did so in February.
The question is put in sharper relief by what experts now know about the high transmissibility potential of this virus.
Fan Chung, professor of respiratory medicine at Imperial College London and consultant physician at the Royal Brompton and Harefield NHS Trust, said one possibility might be that this early strain of the virus had low infectivity and might have subsequently mutated to become more transmissible.
Chung pointed out that the genetic analysis of recent UK virus samples obtained from infected patients in February and March conducted at University College London indicated recurrent genetic mutations of the virus. "This might indicate a process of adaptation of the virus in the infected person," he added.
According to Sikora, the reason there was no spike in hospital admissions before February was simply because the numbers were so small initially. The disease was not in its pandemic phase and little bursts of activity went unnoticed as we went into winter in 2019.
"One would have expected a range of viral infections to cause chest illnesses especially in older people-we call them winter pressures in the NHS. Nothing was noted above the normal statistical noise of hospital activity," Sikora said.
However, the trouble remains that it is easy to attribute symptoms retrospectively; it is much more difficult to actually validate these cases.
Ian Jones, a virology professor at the University of Reading, is not convinced by the theory, saying it is impossible to ever know unless samples were stored at the time of these reports.
"Respiratory infections are very common, so it is much more likely these were other virus infections," Jones said. "To test (positive with COVID-19 antibodies) doesn't tell you anything as they could have had the infection subsequently. Until there is really solid data, I think the simpler explanation that the first COVID-19 in the UK did not occur until early in 2020 is likely to be correct."