Why America seems on the verge of collapse
By Gregory K. Tanaka | chinadaily.com.cn | Updated: 2020-06-19 17:27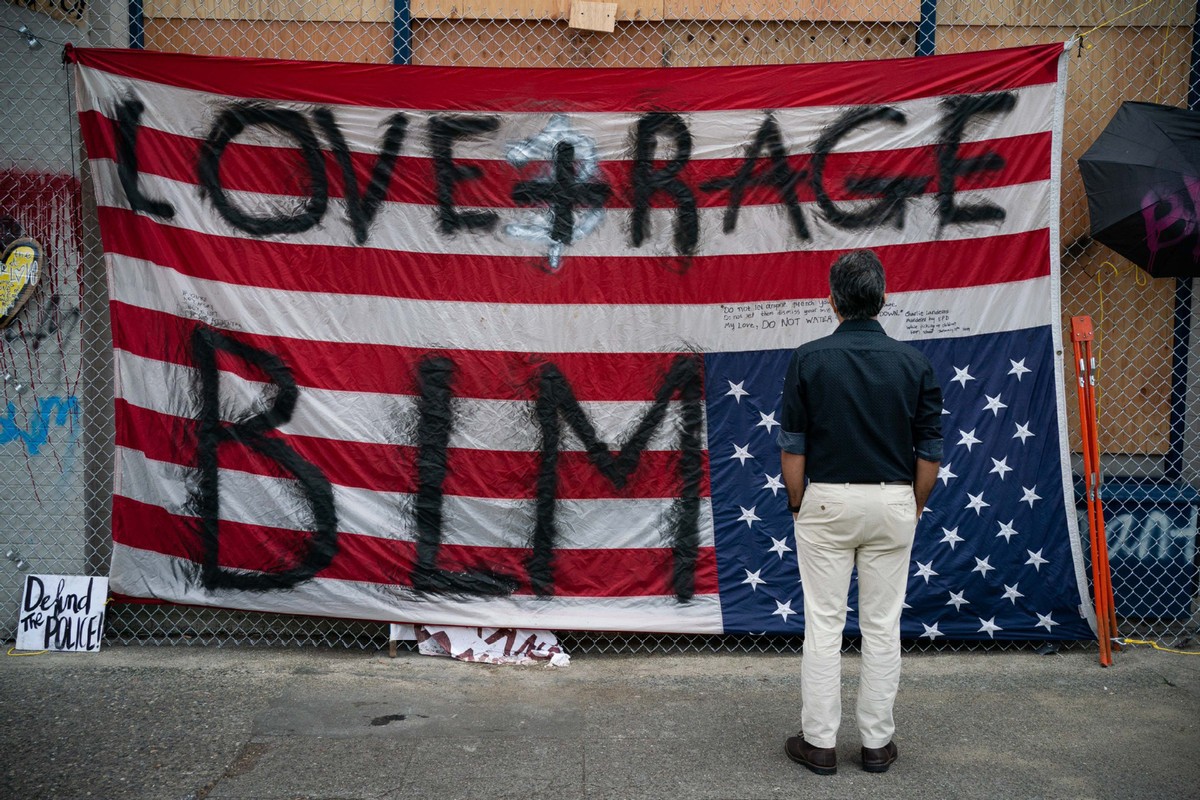 With social and economic disarray on display every night for the world to see, one may ask what underlying problems might be nudging America toward potential systemic collapse. Several are now appearing.
With the recent death of a black man, George Floyd, at the hands of the police in Minneapolis, Minnesota, protests in Seattle, Portland, Philadelphia, Los Angeles, Washington DC, Chicago, Atlanta, Oakland, and elsewhere have led to vandalism, police cars being burned and even police stations being taken over and looted. It all began when a video went viral showing a police officer who was pinning Floyd to the ground during an arrest with his knee placed on Floyd's throat and the detainee yelling, "I can't breathe!" Floyd subsequently died.
I have been writing about inequities in the US economy and democracy for many years, and always sought to move the country and its education system toward a new model that gives every American a fair chance to succeed in life and raise families that do not live in fear. The sad reality is the George Floyd killing by the police represents one of a continuing litany of shocking events that demonstrate freedom from racial oppression has not yet been achieved in America. And these events seem to be driving the US directly into the jaws of collapse, rather than resolution and renewal.
Economic fallout from the federal decision to lock down the economy to slow the spread of the coronavirus is now being shown to disproportionately harm the bottom 80 percent of Americans who are middle class, working class or poor. The resulting loss of jobs has led to a 39 percent unemployment rate in the US, surpassing the 25 percent unemployment rate during the Great Depression.
So on top of race discrimination and race conflict, you now have the systemic problem of a national economic shutdown and the onset of a deadly virus no one in the US seems to completely understand. The cumulative harm being registered today to the American public is tangible and debilitating.
More and more Americans are beginning to conclude US democracy is failing. Designed to represent the people, the "representative democracy" created by the Constitution is no more.
Whether it be "chemtrails" that spew toxins into the air above America or genetically altered food, or fluoride in the water, or 5G electromagnetic waves emanating into a section of New York City now reporting the highest incidence of Covid-19–or the connection shown between autism and the increase in inoculations for babies from 5 in the 1950's to almost 20 today—the evidence is mounting that the US government is failing to care for and take care of its people.
While there are many factors contributing to this loss of the "representative aspect" of the US democracy, the one that shocks me most is the US Supreme Court decision of Citizens United (2010) which gives the ultra rich the go ahead to make unlimited campaign contributions to support candidates of their choosing. This means that their chosen candidate can outspend rivals by a factor of 10 or even 100.
It was a little over 40 years ago I was granted the opportunity to work in the Office of Chief Justice of the United States Supreme Court. What shocks me today is how far the US Supreme Court has wandered from its duty to protect the US Constitution —shown through their ruling that any amount of money could be spent by wealthy campaign backers and guarantee only the richest candidates would be elected to Congress and the Presidency.
We are now reminded of the words of the revered historian Alexis de Tocqueville, who wrote in 1842 that America needed to be careful or the community-based approach to democracy he saw throughout New England and the Eastern seaboard could easily come to an end and be replaced by a democracy "governed by rich men."
One might ask if there's something that might explain all these maladies collectively. Vincent Crapanzano once wrote it is "a loss of values" that leads to "breakdowns in the moral order of a society", and a breakdown of moral order seems to be occurring before our very eyes in the US today. Instead of having clear norms and duties that tell us right from wrong or how to treat each other, we are left struggling with an "every man for himself" standard rather than extending even a modicum of care toward each other.
How else do you explain elected officials who stuff millions in their back pockets while voting against the interests of the people they represent back home?
It is "culture" that helps a people make judgments about events that appear unexpectedly and for which there is no precedent. Without the norms and duties set forth by culture, elected officials lack the means to know by what standards to conduct themselves vis-a-vis the people who elected them.
So what's to become of a country that lacks culture? Will it slip away into the night, or will it seek to sacrifice a confident interdependence and mutuality between nations in favor of the false sense of certainty that comes from war?
I believe there is a third path. I believe education in the US can launch a massive effort to rebuild shared meaning—culture—and in this way inculcate a new moral compass into the next generation of leaders.
But there isn't a moment left to lose.
Gregory K. Tanaka is a foreign correspondent, anthropologist and author of Systemic Collapse and Renewal. The opinions expressed here are those of the writer and do not represent the views of China Daily and China Daily website.