Scholars try to steer US virus response
By LIU YINMENG in Los Angeles | China Daily | Updated: 2020-06-20 15:17
Pointing to China's success, academics argue in media report for similar tactics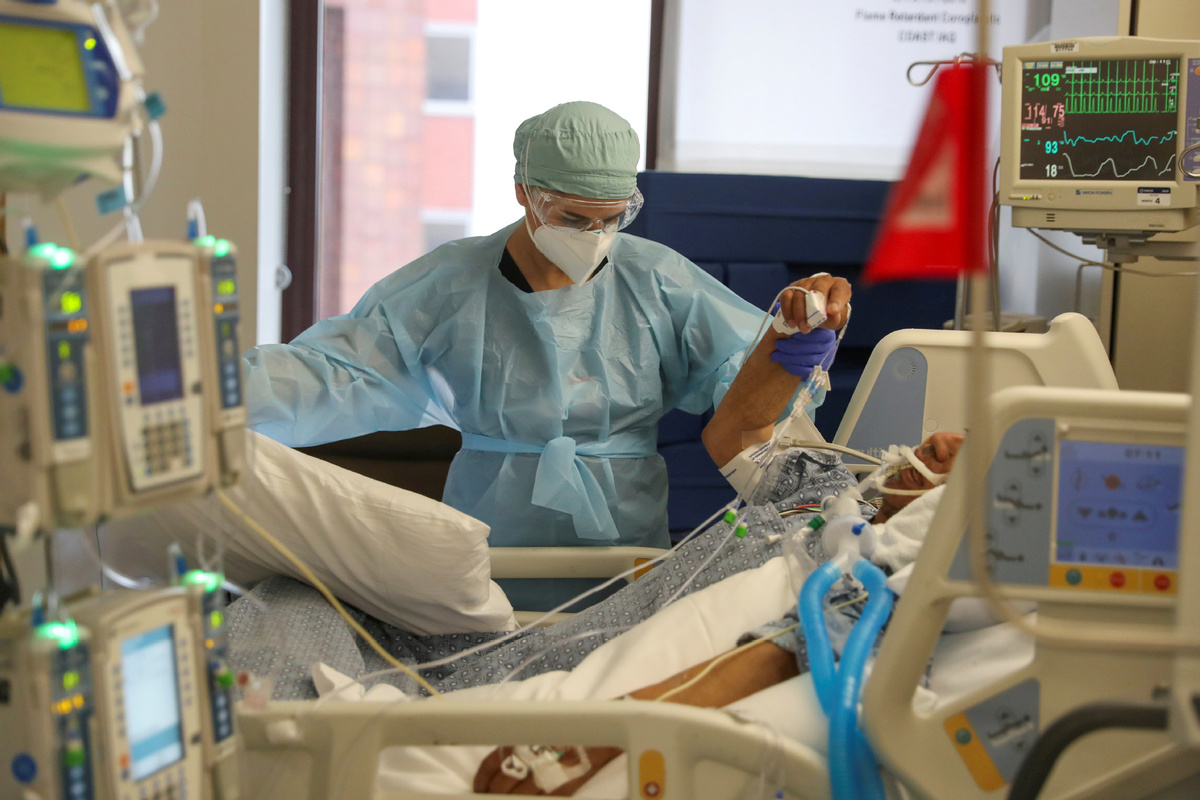 Doctor Dean T. Jamison watched with apprehension as the death toll in the United States from the COVID-19 outbreak continued to surge. When the number of confirmed deaths in the country soared past 340 per million residents, or 100 times the rate in China, he realized that it was time to take action.
"Gavin Yamey and I thought that is a very visible number, and we wanted to take advantage of that unfortunate milestone to push the American policy in the right direction, and to add to the many voices trying to do that," said Jamison, referring to Doctor Gavin Yamey, a global health and public policy professor at Duke University.
Jamison is an economist and the Edward A. Clarkson emeritus professor in the Institute for Global Health Sciences at the University of California in San Francisco.
He and Yamey co-wrote an article in Time magazine that examines the disparities between the US response to the pandemic and those of countries that have fared well in managing their outbreaks.
The purpose of the article-The US response to COVID-19 is worse than China's. 100 times worse, published on June 10-was also "to help improve understanding of China's efforts that are not fully appreciated in this country and actually in Europe either", Jamison added.
By pointing to China, as well as Austria, Germany, Greece, Australia, South Korea and New Zealand, which have all managed to keep their mortality rates significantly lower than that of the US, the two professors argued that countries that acted early and aggressively on available information were able to keep the pandemic under control.
While saying that although China had made missteps in its response to the outbreak at the beginning, they acknowledged that the world benefited from some of China's swift early actions.
China has done well in keeping its death rate low, and there are steps that it took that were very helpful, such as its sharing of the genetic sequence of the virus with the world by Jan 12. That meant "we could all go ahead and develop COVID-19 tests and start looking for vaccines, for example, and that's what motivated us to write the piece", Yamey said.
Jamison said that China alerted the World Health Organization of the outbreak on Dec 31.
He also noted that top Chinese health officials made their counterparts at the US Centers for Disease Control and Prevention, or CDC, aware of the contagion, just two days after the country notified the WHO.
"That informal scientific communication, and the formal government communication, I think China did everything you could reasonably expect with the international community," Jamison said.
He pointed to the lockdown of Wuhan, capital of Hubei province, as well as strict stay-at-home measures, as important steps in helping China shut down the outbreak in the country.
Time bought for others
By taking the virus threat seriously, China bought time for other nations to better prepare for their own battles against the coronavirus, Jamison argued. "You can think those measures weren't necessary, but I think if you were a political leader, that's not necessarily a gamble you want to take, and obviously the US is taking that gamble to not react very seriously. I think the world has been done a favor by the very strong Chinese reaction."
China's other actions, which included the ramping up of testing and contact tracing to isolate new cases, the rapid construction of temporary hospitals to treat patients, as well as the deployment of some 42,000 medical workers to Wuhan, enabled the country to largely control the virus' spread within Hubei.
While the US failed to take the "urgent, nationwide, coordinated approach that is needed to reverse current trends", other countries that paid attention to what was happening in Wuhan were successful in saving lives by employing varying strategies early on in the pandemic.
"So success is possible, if a country acts early," Jamison said.
Yamey said another objective of the article was to correct a false narrative by the administration of President Donald Trump, which has stoked a blame game for the coronavirus against China, the WHO, as well as figures such as former president Barack Obama. "It's the US government that is largely to blame for the fact that we have the largest number of cases and number of deaths worldwide," Yamey said.
The WHO made it very clear on Jan 23 that countries should prepare for containment by taking such steps as active surveillance, early detection, isolation and case management, as well as contact tracing. The countries that acted on that information were able to keep their death rates low, Yamey said.
"For at least six weeks, the federal government took practically no action in the US. The virus was given a free pass to spread nationwide, and many other countries were able to avoid catastrophes by taking swift actions," he noted.
The US is in a very difficult situation right now because it's a patchwork of states with varying state policies. Some states have reopened their economies quickly before a sustained reduction in the number coronavirus cases, and before having proper testing and contact tracing in place, Yamey said.
"We know that because in many of those states, hospitalizations are rising. If you see rising cases and hospitalizations, it does mean more people are genuinely getting infected. The rising cases are not just because you are testing more," he said.
"You have great variation between states in whether they are mandating masks in public, great variation in states in how much capacity they have for testing and tracing, so we are in a very difficult and very precarious situation here in the US, which worries me."
Jamison said a key difference between the US and China is the former's lack of an isolation strategy.
In China, patients who are symptomatic were put in hospitals, and instead of letting those who were asymptomatic be quarantined in their homes, they were sent to special facilities in a residential community to be isolated and monitored, Jamison said. Then, depending on their conditions, they were either moved to hospitals or sent home.
"The isolation part of the Chinese strategy, and of some of the other East Asian countries' strategies, was really critical in getting those infectious people forcibly separated from the rest of the population," Jamison said.
"Those weren't the United States' policies, but those might be policies that would work in the US, and then it becomes voluntary, but without a strong incentive to voluntarily do the right things, we are not doing that," he said.