China is the world's factory, more than ever: The Economist
chinadaily.com.cn | Updated: 2020-06-29 17:02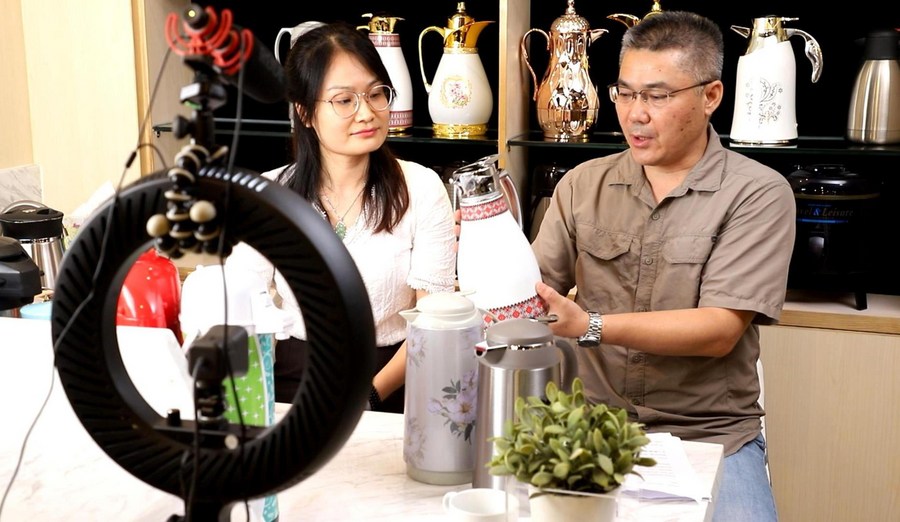 China's Canton Fair, the world's biggest trade show, has demonstrated the country's resilient export capability in spite of economic downturn brought by the novel coronavirus outbreak, and China's manufacturing sector, has been playing an unparalleled status in the global market, said a report by The Economist on June 23.
Although the Canton Fair was entirely conducted online this year, the overall effect was still powerful as about 25,000 exhibitors hosted livestreams from factories simultaneously, to chat with global buyers about their products.
"Chinese businesses are resilient and retain a well-honed ability to adapt," The Economist said. Faced with online migration of Canton Fair, exhibitors showed great adaption to the new technology.
"Here," the Canton Fair proclaimed, "is China: Home to 28 percent of the world's manufacturing—nearly as much as America, Japan and Germany combined—and, despite all the dislocations from the coronavirus crisis, still going strong," The Economist noted.
China has two big advantages as a manufacturing power, according to the business magazine, with its industrial base unparalleled in breadth and depth, and the country's vast domestic market.
Face masks, a necessity for everyone during the pandemic, offered the world a vivid illustration of China's strength.
"Any country hoping to make masks on its own needs companies with expertise in textiles, chemicals, metallurgy and machining, along with sufficient supplies of raw materials, factory space, trained workers, engineers and capital. It cannot just be done from scratch," said The Economist, while China, has the world's most complete supply chain, contributing about half of the global supply since February, with the output recording nearly 120 million pieces per day.
As the magazine highlighted, China's own vast market with a 1.4 billion population is the second advantage of a manufacturing giant, and also a big attraction for foreign firms looking forward to reaching Chinese customers.
The Economist quoted the Rhodium Group, a research firm, that the value of foreign mergers and acquisitions in China reached its highest in a decade during the past 18 months. And there have also been several high-profile projects with billions of dollars in investment. For instance, Tesla opened its first gigafactory in Shanghai last year to cater to the Chinese market.
The Economist also praised China's success in slowing the spread of the coronavirus and stabilizing the foreign trade environment.
As China has taken multiple measures to contain the virus outbreak and ensure work resumption in an orderly manner, the country's economy is expected to be one of the few likely to grow this year.
Also, the earlier resumption of industrial activity has allowed domestic exporters to gain market share while most other countries are still in varying states of lockdown.
In Japan, goods from China accounted for a record 30 percent of total imports in May. In Europe, they made up 24 percent of imports in April, also a record, The Economist said.