Fuel price hikes to help refiners recover
By Zheng Xin | China Daily | Updated: 2020-06-30 07:00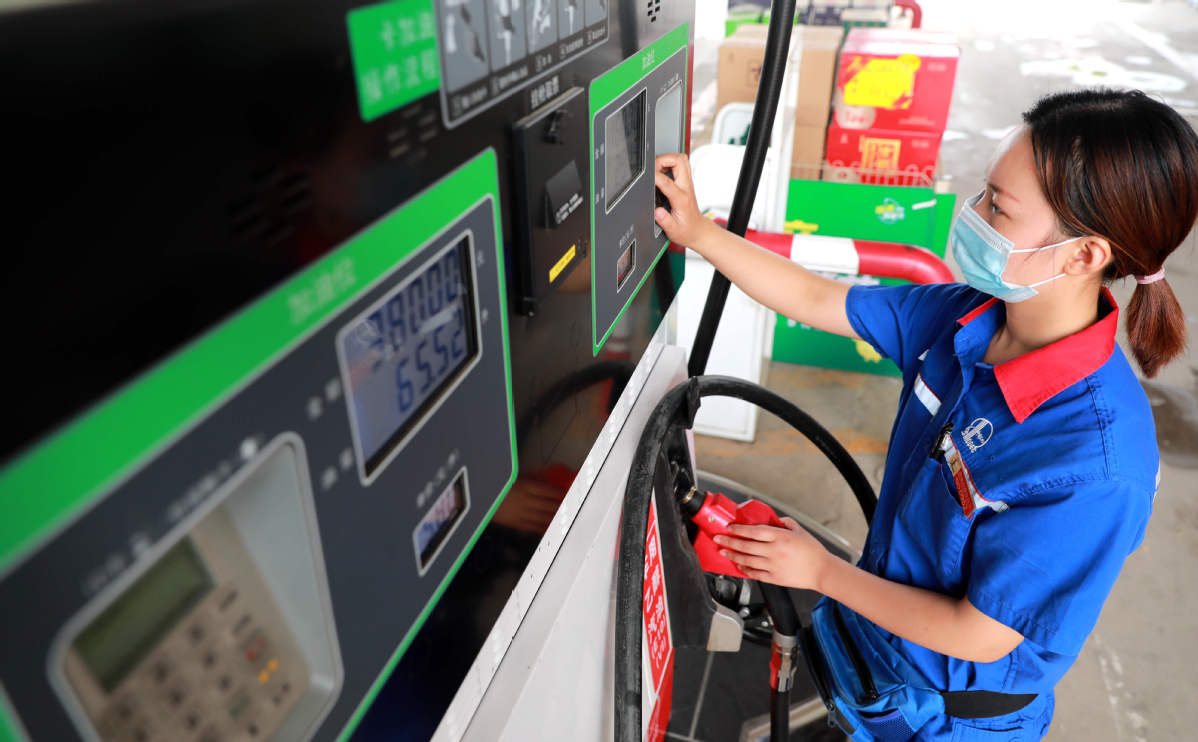 China raised the retail prices of gasoline and diesel for the first time this year from Monday, with gasoline prices going up by 120 yuan ($17) per metric ton and diesel by 110 yuan per ton, the National Development and Reform Commission said.
Under the current pricing mechanism, China will adjust domestic prices of refined oil products when international crude prices translate into a change of more than 50 yuan per ton for gasoline and diesel over a period of 10 working days, but will not do so if the international prices go below the floor of $40 or above the ceiling of $130 a barrel.
As the global oil price has rebounded to $40 per barrel recently and is expected to stay there, gas stations and refiners in China will benefit from the oil price rebound, said experts.
Tang Sisi, an analyst with research firm BloombergNEF, said the higher crude oil costs have prompted Chinese regulators to raise retail fuel prices above the regulated floor level.
"This will help State-owned refineries to boost their utilization rates, as they no longer need to submit their windfalls, 'excess margins' from low oil prices and regulated fuel prices, to the Ministry of Finance," she said.
"State-owned refiners had been running at lower rates than their independent peers in the past three months, and a higher run rate will help them secure more profits from the oil demand recovery."
According to research team with China Merchants Securities, involuntary reduction in oil production in the United States, together with the rapid recovery of demand, have caused the global oil price to increase in recent days.
Oil prices are set to recover and possibly inch back to $50 per barrel. However, considering the spread of COVID-19 in the US, as well as regions in South America and India, and valid concerns that the world is in for a prolonged period of dealing with its consequences, oil prices will continue their up trend, but with twists and turns, it said.
While the low oil price is beneficial for the country's economic operation, it dealt a major blow to the country's oil and chemical majors.
The country's major oil and gas players, including China National Petroleum Corp, China Petrochemical Corp and China National Offshore Oil Corp, have posted losses for the first quarter and cut capital expenditure for this year as the oil price collapse and the fuel demand crash dented their revenues.
S&P Global Platts Analytics has adjusted its 2020 global oil demand growth outlook down to 860,000 barrels per day, marking the weakest forecast since 2011. Asian refined products demand is expected to grow by 380,000 b/d in 2020, "posting its weakest growth since the Global Financial Crisis in 2009", Platts said.