Face-to-face Brexit talks mark start of intense stage
By EARLE GALE | China Daily | Updated: 2020-06-30 07:04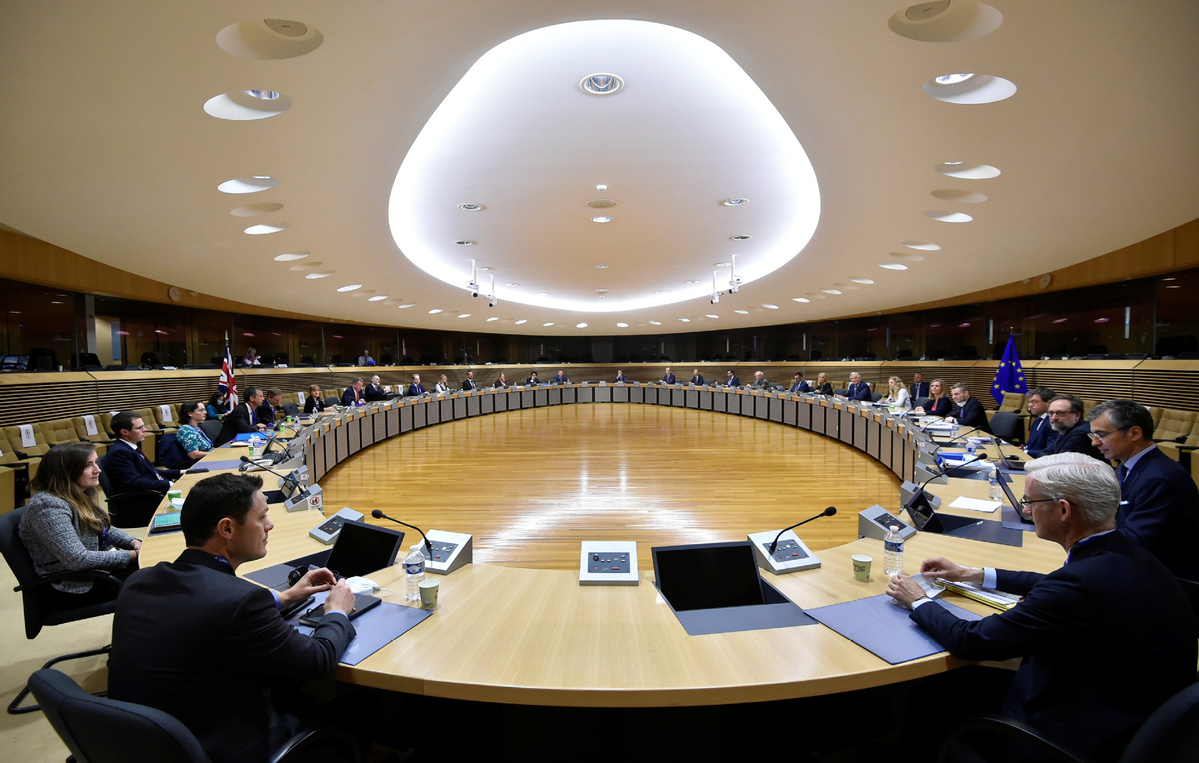 Negotiators from the United Kingdom and the European Union rekindled talks on Monday about their future, post-Brexit relationship.
This week's discussions were the first of real significance for months and mark the start of an intense eight-week schedule that will include weekly meetings in both London and Brussels.
They began with the first face-to-face encounter between officials since the coronavirus pandemic began in Europe.
The current acceleration followed a vow by British Prime Minister Boris Johnson and European Commission President Ursula von der Leyen to do all they can to find an agreement before the fall.
The Financial Times said the biggest sticking point may be the future mechanism through which the UK will distribute international aid and domestic subsidies, something Johnson has said will be changed.
Michel Barnier, the EU's chief negotiator, said Brussels needs clarification about that change, and will want to know that the UK will not use the aid and subsidies program to undermine the EU's economy by creating a so-called uneven playing field.
The issue is one among many to have cropped up during talks aimed at finding a trading relationship that will start when the UK leaves a transitional period at the end of December.
Barnier said London seems to want to be "able to diverge substantially from current EU rules on data protection, on financial services", and on state aid.
The EU wants the UK to follow the bloc's state-aid regime after the transition period ends but such an arrangement is unattractive to many British politicians because it would mean the EU's Court of Justice would have the final say over elements of UK economic policy.
'No indication from UK'
Barnier said: "The UK has given us no indication of the future framework it plans to put in place."
The UK's Department for Business, Energy and Industrial Strategy said in a statement the nation was continuing to develop a new way of allocating subsidies that will work "in the interest of our businesses" after the end of the transitional period.
David Frost, the UK's chief negotiator, acknowledged that the issue will be on the table in the latest round of talks, saying on Twitter: "We have noted carefully what the EU has said in recent days on this subject and look forward to discussing it."
The Express newspaper said a deal is within reach and that David Frost and Michel Barnier were confident when they entered the European Commission's headquarters in Brussels, Belgium, on Monday after a hiatus that included time during which Barnier came down with COVID-19.
The talks began by focusing on not only state aid but fisheries policy and criminal justice.