National security legislation tailored to safeguard 'one country, two systems': China Daily editorial
chinadaily.com.cn | Updated: 2020-07-01 20:48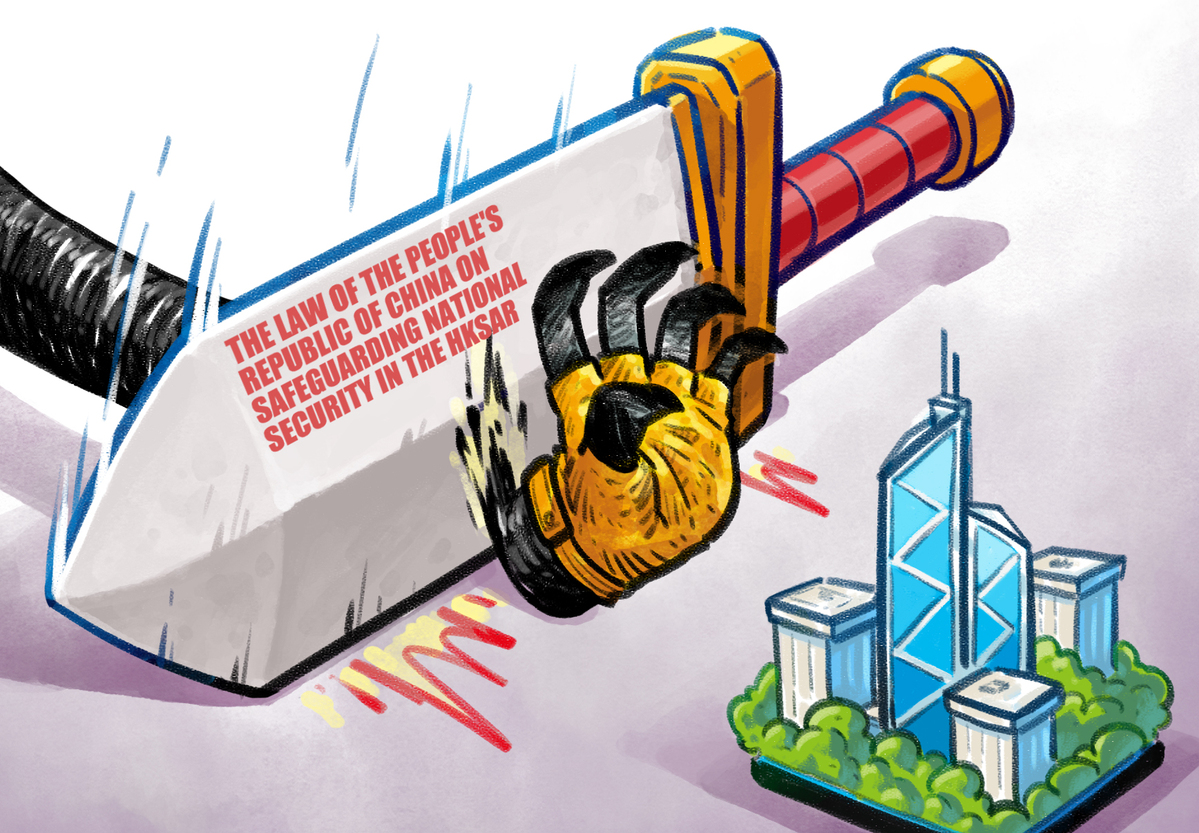 The masterminds, bankrollers, instigators and perpetrators of the violent anti-government activities in Hong Kong have been jolted out of the illusion that they would succeed in achieving their outlandish political objectives after the national security law was promulgated by the government of the special administrative region on Tuesday.
As the Hong Kong police made clear with a banner they employed on Wednesday, those "displaying flags or banners/chanting slogans/or conducting (themselves) with an intent such as secession or subversion" may be arrested and prosecuted for offenses under the national security law.
It is no wonder that many once eager attention seekers with such intents are now scrambling to distance themselves from their past activities, although there is a stipulation in the law that it cannot be applied retrospectively.
The reaction to the law coming into effect by those advocating the four types of criminal behavior that threaten national security should leave no doubt that it is a sine qua non.
As Chief Executive of the HKSAR Carrie Lam Cheng Yuet-ngor said, enactment of the law marks a turning point for Hong Kong. By putting an end to the chaos that had pushed the SAR to the brink of an abyss, it will enable it to get back on the right track of socioeconomic development and tackle the deep-rooted problems that were the dry tinder to which the radical elements applied sparks.
Those foreign governments and politicians who are hostile to China have of course taken issue with the law. They are seemingly inured to how preposterous their posturing is.
But whatever these detractors claim to the contrary, the enactment of the national security law is a natural development for the implementation of "one country, two systems", as it closes loopholes in the SAR's legal framework.
If the central authorities had wanted "one country, one system" as the law's detractors claim, then it would have been simple for national laws to be imposed upon Hong Kong, as Zhang Xiaoming, deputy head of the Hong Kong and Macao Affairs Office of the State Council, said at a news conference.
"Why would we need to put so much effort into formulating a national security law tailor-made for Hong Kong?"
And as he said, it also demonstrates the central government's political tolerance, as its purpose is not to target Hong Kong's opposition camp "as the enemy".
Indeed, any impartial observer should have no difficulty in seeing that the law is aimed at strengthening Hong Kong's legal framework and bringing an end to the violent rampages and social unrest that have plagued Hong Kong for over a year, becoming ever more destructive.
The enactment of the law heralds the dawn of a new era for Hong Kong.