UN warns of pandemic's impact on global security
By HONG XIAO at the United Nations | China Daily | Updated: 2020-07-04 10:13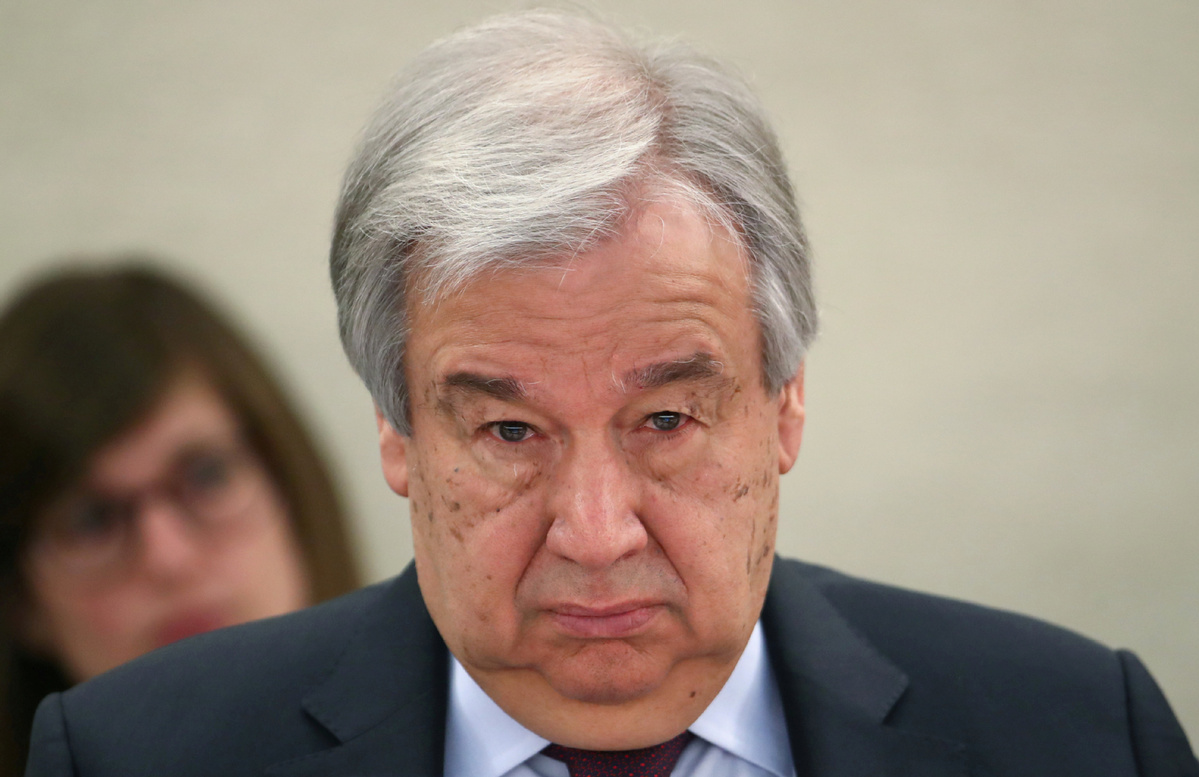 UN Secretary-General Antonio Guterres on Thursday reminded the Security Council of the multifaceted implications of COVID-19 on international peace and security.
"The COVID-19 pandemic continues to profoundly affect peace and security across the globe," he told the Security Council.
"The risks are diverse. More than 1 billion children are out of school. More than 135 million people could be on the brink of starvation by the end of this year. Routine immunization services are being disrupted on an unprecedented scale, raising the likelihood of major outbreaks of diseases, and healthcare workers and humanitarian personnel have themselves been targeted for unconscionable attacks."
The consequences can be seen even in a number of countries traditionally seen as stable. But the impacts are particularly apparent in countries already experiencing conflict or emerging from it-and may soon engulf others, he said via a video link.
Tensions are rising as a result of the severe socioeconomic fallout of the crisis. Trust in public institutions is being eroded further in places where people perceive that authorities have not addressed the pandemic effectively or have not been transparent about its impact, said Guterres.
As preexisting grievances and vulnerabilities become more accentuated and entrenched, the potential for instability and violence only grows, he warned.
Zhang Jun, China's ambassador to the UN, said as COVID-19 continues to spread across the world, countries are facing the daunting tasks of fighting disease, saving lives, stabilizing economies and ensuring livelihoods.
"We must put people and life first, do our utmost to protect people's safety and health, and minimize the impact of the virus," Zhang said.
Global cease-fire
He asked the Security Council to push for positive responses to the UN secretary-general's appeal for a global cease-fire amid the COVID-19 pandemic.
As it has adopted a resolution endorsing the appeal, the Security Council should work to accelerate its realization, said Zhang.
The international community should seize the opportunity to encourage the parties to conflicts to respond to the appeal, immediately cease hostilities, jointly fight the pandemic, save lives and seek peaceful settlements through political and diplomatic means, he told a high-level debate on the implications of COVID-19 on international peace and security.
Zhang also asked the Security Council to step up humanitarian assistance and make every effort to ensure the safety and security of peacekeepers.
The Security Council should urge relevant countries to immediately lift unilateral sanctions that might affect a country's capacity to respond to COVID-19, he said. The Security Council should also explore ways to eliminate unilateral coercive measures so as to lessen people's sufferings in affected countries, the Chinese ambassador said.
Xinhua contributed to this story.