Drinking behavior a concern as UK eases off lockdown
By JONATHAN POWELL in London | China Daily Global | Updated: 2020-07-06 03:29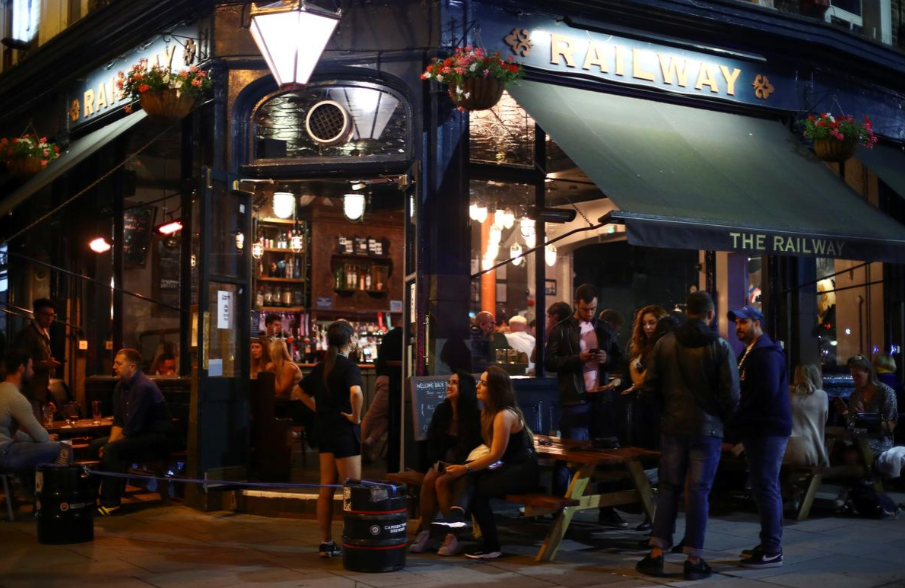 Britain's Health Secretary Matt Hancock claimed pub-goers in England appear to have "acted responsibly" as drinking establishments reopened on Saturday, despite concerns from police that social distancing guidance was not adhered to in some areas.
Thousands flocked to pubs, restaurants and bars around England as large parts of the hospitality sector reopened for the first time since March.
But the chief of the Police Federation of England and Wales has said it was impossible to enforce distancing rules on drunk people. In a social media post, John Apter said: "What was crystal clear is that drunk people can't/won't socially distance."
He added that in Southampton, where he had been on shift, he had seen, "naked men, possession of class A drugs, happy drunks, angry drunks, fights (and] more angry drunks".
The rule changes apply only to England as the devolved nations in the United Kingdom have set their own timetables for easing restrictions, with Wales and Scotland waiting until next week. Northern Ireland reopened hospitality on Friday.
Hancock has said the vast majority of people who went out on Saturday were "doing the right thing" and following social distancing, despite the contradictory reports from the police.
"I think that from what I've seen, although there's some pictures to the contrary, very, very largely people have acted responsibly," Hancock told Sky News.
Pictures showed crowding in the streets outside of pubs and bars in London's Soho, Newcastle and Leeds. Some pubs in Nottinghamshire decided to close after alcohol related anti-social behavior.
Hancock also said he is concerned about poor social distancing in clothing factories in the Midlands city of Leicester as some were confirmed as having outbreaks. Leicester has also had to remain in a local lockdown, after a surge in infections.
Speaking on Sky's Sophy Ridge on Sunday, Hancock said: "We've seen outbreaks in clothing factories and in food factories and there are some quite significant concerns about some of the employment practices in some of the clothing factories in Leicester, they are important problems to deal with.
"We also have the authority to shut down the business if it doesn't follow the guidance."
British Prime Minister Boris Johnson addressed the nation on Friday about the easing of the lockdown, telling people "not to overdo it".
Some had criticized the government for lifting the lockdown while the number of daily COVID-19 deaths was still relatively high compared to other countries in Europe. The UK's COVID-19 death toll increased on Sunday by 22, bringing the total to 44,220, according to the latest government figures. Overall, a total of 285,416 positive cases have been confirmed.
Elsewhere, the government in Spain has re-imposed novel coronavirus controls in two areas, after a sharp rise in infections.
More than 210,000 residents in the county of Segria, which includes the city of Lleida, in the Catalonia region, were told by authorities not to leave the area.
The outbreak have been linked to agricultural workers in the rural area.
"We have decided to confine Segria due to data that confirms too significant a growth in the number of COVID-19 infections," Catalan regional president, Quim Torra, told a news briefing.
On Sunday, the northwestern region of Galicia ordered the lockdown of about 70,000 people amid fears of a new outbreak, believed to be linked to several bars in the area.
All residents of La Marina, 140 kilometers east of La Coruna, will now be unable to leave the area, and gatherings of more than 10 people are banned.
Spain has registered 205,545 novel coronavirus cases and 28,385 deaths.
Portugal's foreign affairs minister has said his country's exclusion from a list of countries for which quarantine will not apply for people returning to England is "absurd".
So-called air bridges, or travel corridors, which come into effect on Friday, allow people returning from certain countries to England, to avoid 14 days of self-isolation.
Almost 60 countries are on the list including popular travel destinations such as Greece, Spain and Australia. But Portugal has been left off the list alongside the United States, China, the Maldives and Sweden.
Augusto Santos Silva told the BBC: "We are very disappointed with the decision of the British authorities. We think it is senseless and unfair.
"It is quite absurd the UK has seven times more cases of COVID-19 than Portugal so we think this is not the way in which allies and friends are treated."
Meanwhile, a court has launched an inquiry into the French government's handling of the novel coronavirus response. The investigation focuses on three senior figures, including outgoing prime minister Edouard Philippe, following complaints from unions and doctors.
Greece's prime minister has said he will not accept strict European Union conditions on the use of novel coronavirus emergency aid, in a sign of the difficult negotiations ahead for the bloc's leaders on its proposed 750 billion euros ($843 billion) recovery fund.
Prime Minister Kyriakos Mitsotakis told the Financial Times newspaper in an interview published on Sunday that Greece had a very "aggressive reform agenda" that would focus on "the green transition", "the digital transition" and encouragements to investments in part through a privatization program.