Draft seeks to close transplant loopholes
By Wang Xiaodong | CHINA DAILY | Updated: 2020-07-06 09:11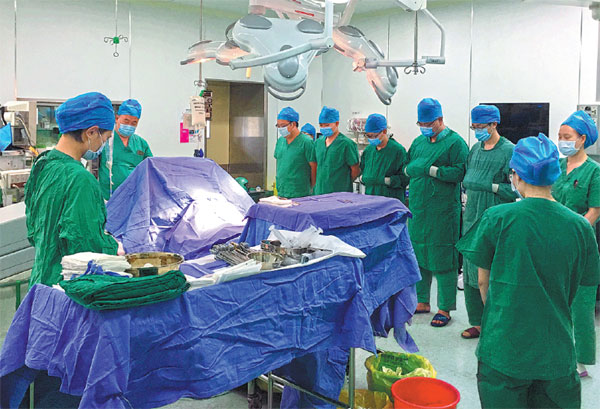 Transplant surgeries using organs from unknown sources will be banned, and distribution of organs should be fair and transparent, according to a draft regulation recently released by the National Health Commission.
Detailed measures, including establishing a national system for tracking the distribution of organs donated by people after death, will be made so all transplant surgeries using such organs can be tracked, it said.
The draft, a revision of the existing regulation on organ transplants, was released by the commission on Wednesday. It is soliciting public opinion until Aug 1.
The revision is aimed at closing legislative loopholes found in organ donations and transplants in China in recent years, the commission said in a statement.
Since the existing regulation was implemented in 2007, an organ donation and transplant system that suits China's conditions has been primarily put in place, and China has ranked second in the world in the number of organ donations and transplant surgeries, it said.
The government encourages organ donations after death from the public, although strict procedures must be followed, the draft said.
Recipients of organs donated by people who are alive will be limited to their spouses or close relatives. No organization or individual will be allowed to acquire organs from living minors for transplant surgeries, the draft said.
Violators of the draft regulation will be held legally accountable, with punishments including fines, revocation of certifications and removal from posts. They may face criminal penalties in serious cases, such as acquiring organs against the will of their owners before death and performing transplant surgeries using organs from unknown sources.
Organ donation and transplantation has developed rapidly in China since 2015, when the country banned the use of organs from executed prisoners, making voluntary donation the only legitimate source of organs for transplantation.
Last year, more than 5,800 people donated organs upon their deaths in China, ranking No 1 in Asia, according to the China Organ Transplantation Development Foundation.
To ensure the open, fair and transparent allocation of donated organs among recipients, the China Organ Transplant Response System, a computerized system that can automatically match donated organs with potential recipients and distribute organs based on defined principles such as urgency, was put into use in China in 2013.
The system is also linked with health authorities at the provincial level and above for effective supervision, the foundation said.
Despite the increased availability of donated organs, there is still a severe shortage of organs in China due to the demand from patients with terminal illnesses, Huang Jiefu, director of the China National Organ Donation and Transplantation Committee, said in an earlier interview.
In 2018, about 60,000 patients registered in the computerized system were waiting for transplant surgeries, but only a third of them received an organ that year, he said.
Meanwhile, he said, only 173 hospitals in China are certified to perform transplant surgeries, and more are needed.