Robots safeguard students' health
By ZHONG NAN | China Daily | Updated: 2020-07-13 09:27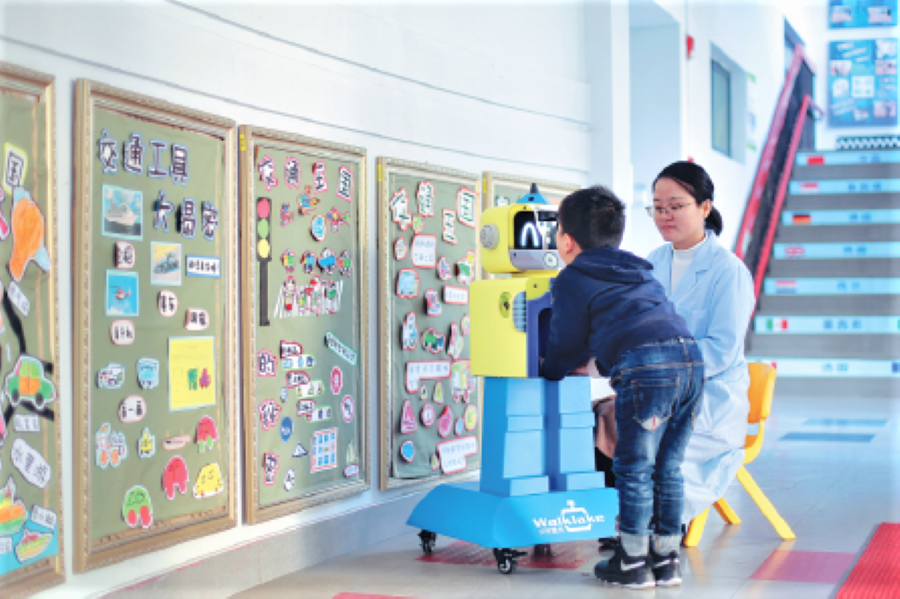 COVID-19 pandemic sparks demand for Walklake's products across world's schools
COVID-19 may have pushed many of China's troubled export-oriented firms to sell their products in the domestic market for sheer survival, but Suzhou Walklake Smart System Co Ltd, a Jiangsu province-based robot manufacturer, is a glorious exception, its top executive said.
The company has made notable inroads into overseas markets by exporting its health-screening robots used in schools.
With precise and medical-grade sensors, the robot can check students' body temperature, and examine their eyes, hands and mouth in seconds.
The novel coronavirus outbreak has brought new growth points for the sales of this product. But it has also created several challenges for the company.
Suzhou Walklake has received a large number of buy orders from overseas markets such as Russia, Spain, Turkey, India, Nigeria and the United Arab Emirates over the past four months.
Consequently, shipments have surged as many countries stepped up efforts to buy more epidemic prevention and control supplies, including face masks, ventilators, pharmaceutical products and service robots, said Zhang Ziyang, chairman of Walklake.
"We didn't expect to enter the international markets at such short notice because the commercial potential in the home market itself is big and attractive. So, we were trying to go global step by step," he said, adding the unexpected pandemic has forced educational institutions in both China and other parts of the world to raise their budgets for anti-epidemic materials and buy more intelligent products, in order to safeguard students' health.
Established in 2015, Walklake originally conducted research and development, and manufacturing activities for children-related healthcare service robots and solutions. Its customers were kindergartens and primary schools in provinces and municipalities in China, including Hubei, Henan, Beijing, Shanghai, Zhejiang and Fujian.
Strong domestic demand has led to the use of the company's robots in over 30,000 kindergartens across China.
Before the outbreak, morning inspections using its robots were a routine at many Chinese kindergartens. Now, that routine is a global practice, said Zhang.
"China's measures to adopt AI-enabled robots to detect abnormal health parameters in staff and students have helped them to either resume work or return to school. Such measures have drawn the attention of many foreign clients over the past four months," he said.
Overseas institutions remain interested in emulating China's methods of epidemic prevention and control and want to keep up with the country to prepare for re-opening of schools.
After some re-opened, a video of Walklake's robots assisting school nurses in morning routines emerged and went viral overseas. It has been viewed over 20 million times on global social media platforms such as Twitter and Facebook, the company executive said.
The robot boasts many new technological breakthroughs, and can be customized. For instance, Zhuyuan Kindergarten of Suzhou Foreign Language School has configured Walklake health-screening robots to help test abnormalities in children and prevent the spread of various infectious diseases, not just COVID-19.