Optimism seen for recovery of outbound travel
By Yang Han in Hong Kong | China Daily Global | Updated: 2020-07-14 09:19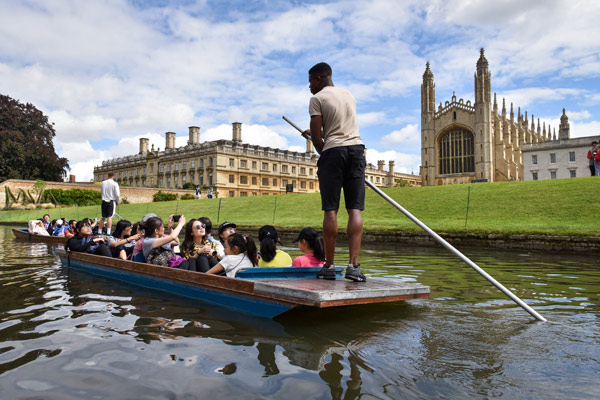 Tourism industry insiders say many Chinese likely to venture abroad once pandemic ends
Chinese tourists' appetite for traveling overseas will prevail despite the ongoing pandemic, which, according to experts and industry players, will be a positive signal for the recovery of global tourism.
"Just like nobody would have ever imagined China to be the world's largest outbound tourism market, one cannot make the judgment now that Chinese tourists will lose their interest in traveling abroad," said Wendy Min, director of international affairs at Trip.com Group, a leading online travel agency in China.
In a report in August last year, the National Bureau of Statistics said the number of outbound Chinese travelers had maintained the top spot globally since 2013.
Min said she is optimistic about the recovery of Chinese outbound tourism after the pandemic. "People will go overseas if their safety and health can be ensured," she said, noting the demand for travel remains high among Chinese.
A case in point is a livestreamed program on July 1 hosted by Trip.com and the Seoul-based Korea Tourism Organization. Aiming to promote and sell tourism products in South Korea, the show attracted more than 2 million viewers. A number of hotel vouchers were sold out on the same day, according to the country's Yonhap News Agency.
Similarly, a report by Rentals United - a short-term rental platform based in the United Kingdom - predicted that Chinese travelers will be the first to resume traveling after lockdown restrictions are lifted within the nation and worldwide. The prediction came after an impressive tourism recovery during the four-day Labor Day holiday in May and the Dragon Boat Festival in late June.
"A similar rebound might take place in the outbound tourism sector, because many travel lovers have been waiting for a long time to go overseas," said Min of Trip.com. "The industry may see 'revenge travel' after the pandemic, when there is a vaccine and when international flights are resumed."
Wolfgang Georg Arlt, CEO of the China Outbound Tourism Research Institute, said the desire of Chinese to see the world has not changed because of the pandemic.
"China is the biggest (tourist) source market, so the faster Chinese visitors can travel again internationally, the better for the global tourism industry," Arlt said.
In Asia, China is among the largest tourist source countries, if not the largest, for many popular regional destinations, including Thailand, Japan, Vietnam and Indonesia.
Recently, however, "the flights between Indonesia and China have been almost completely suspended, bringing our travel and exhibition-related businesses to a full stop," said Cindy Yao, managing director of Indonesian travel agency Travindo Multi Express.
"Everything related to tourism, from airlines, hospitality to tour guides and duty-free shops, has been heavily hit," she added.
Yao said she had to switch the company's focus to domestic tourism in the hope of surviving. However, she believes Chinese tourists will return to drive market recovery once the pandemic is over.
"The Chinese outbound tourism market has gone through ups and downs over the years, and it is now a very resilient one," said Yao. "Even though the tourism sector, as a whole, has been hit hard by the COVID-19 outbreak, in the long run, it will rebound fast along with Chinese tourists' strong demand for overseas travel."
Many countries in the region have expressed their willingness to attract Chinese tourists after the pandemic.
After resuming international flights July 1, Thailand has reopened to medical and wellness tourists, according to a government announcement. The Ministry of Tourism and Sports said in early July that it will launch a campaign targeting specific provinces in China to attract visitors, according to a report in the Bangkok Post.
In Cambodia, Top Sopheak, secretary of state and spokesman for the Ministry of Tourism, said the country will continue to promote its "China Ready" strategy and prepare to receive tourists from China in the post-pandemic era.
But the recovery of international travel will require baby steps, said Trip.com's Min, adding that countries can only open their borders and reconnect through joint efforts.
For example, the "travel bubble "plan, now mainly limited to essential business trips, can be gradually expanded to accommodate leisure tourists when cross-border travel becomes safer, Min said.
Since China eased restrictions on international flights in early June, South Korean airlines are reportedly planning to add more regular routes to China. On July 7, Asiana Airlines announced on Chinese microblogging platform Weibo that it will resume the route between Incheon and Nanjing, Jiangsu province - the first resumption of a flight route between the two countries.
South Korea's Ministry of Land, Infrastructure and Transport said on Sunday that the country is in talks with China to increase the number of flights to China to from three to 10 a week, according to Yonhap.
"During the severe acute respiratory syndrome, or SARS, outbreak, many Chinese people also chose not to travel, but the industry soon rebounded when the outbreak was under control," said Min.
Arlt of the China Outbound Tourism Research Institute said that after the pandemic, the way that Chinese tourists travel might change.
Some people may look for more meaningful journeys as opposed to vanity trips, while others might travel more with their family, seek out natural destinations and activities, or slow down and become more interested in local culture, he said.
Arlt expects to see a wave of Chinese outbound tourism in the last quarter of 2020.
"Many surveys showed that trips have not been canceled, but just postponed," he said.