White House, 'AOC' clash over rising NYC crime
By HENG WEILI in New York | China Daily Global | Updated: 2020-07-14 11:20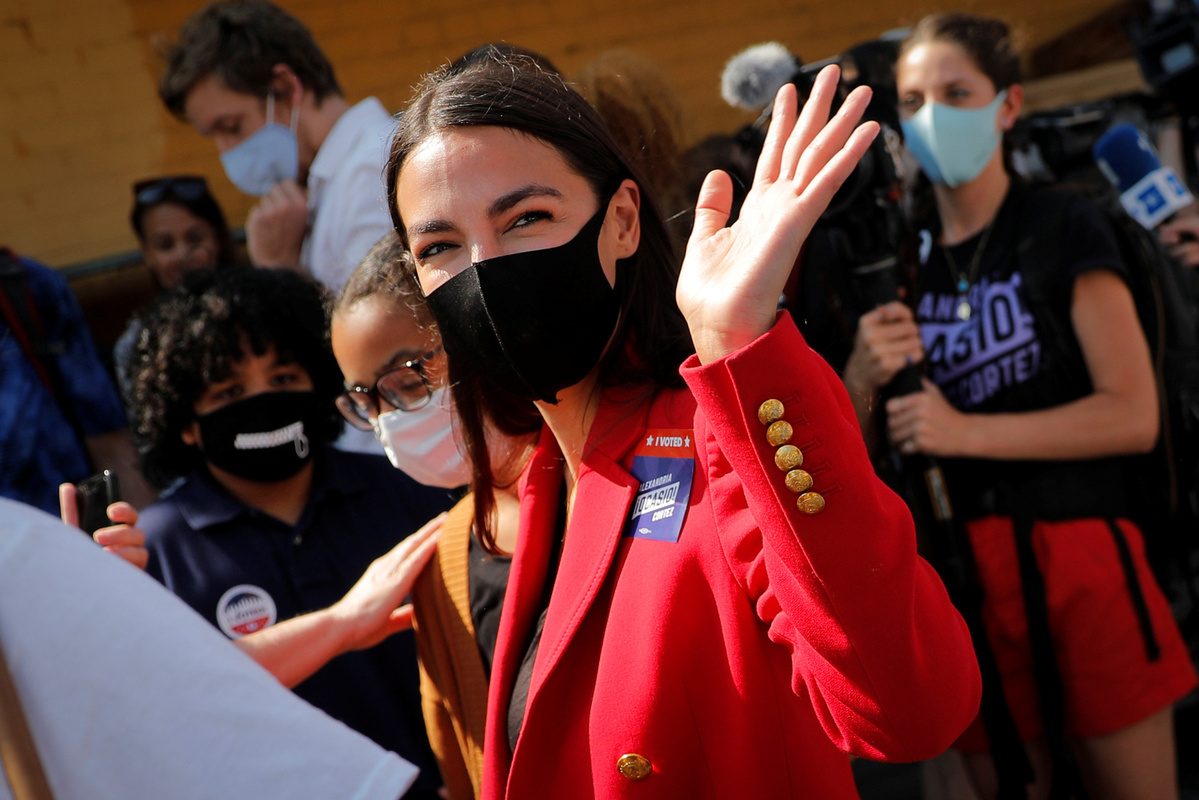 The recent rise in violent crime in New York City was grounds Monday for a heated exchange involving the White House, Republicans and US Congresswoman Alexandria Ocasio-Cortez, a New York Democrat.
Ocasio-Cortez, 30, known as "AOC", a rising star in the Democratic Party from New York City, reiterated Monday that high unemployment and economic problems caused by the novel coronavirus pandemic are a factor in an increase in crime in New York City, which the White House called "preposterous".
"I do think that even when you talk about violent crime, I don't think that poverty and economic desperation are separate from that either," Ocasio-Cortez said during a campaign-sponsored food-distribution event outside Our Lady of Sorrows Church in Corona, Queens, the New York Post reported.
"When families don't have money, a lot of times young people and teens that feel like they need to support their mom, sometimes they'll turn to selling drugs, which can then lead to an escalated level of trouble, to what police label as gang activity," the Bronx native said.
She also noted that 25 percent of New Yorkers were unable to make their rent payments in recent months.
"I take this issue seriously," Ocasio-Cortez also tweeted. "Unlike many of GOP pundits theorizing from suburban homes, I've had multiple family members shot, shot at, stabbed, etc. Crime + community violence isn't some thought experiment to project your thoughts & theories abt communities you've never met."
White House spokeswoman Kayleigh McEnany blamed the congresswoman and other political progressives for moving to limit the role of police.
"You have, most egregious of all, really, Congresswoman Alexandria Ocasio-Cortez saying defund the police means defund the police. She criticized of course the announcement of $1.5 billion being taken down from NYPD [that the cut wasn't enough]," McEnany told reporters at the White House.
"And this weekend, when faced with 28 shootings in New York, a 600 percent increase from this time last year, you have Representative Ocasio-Cortez saying this is just because people are trying to get food with their families," McEnany said.
"That is preposterous," the spokeswoman for Republican President Donald Trump said at a media briefing.
"The reality is 63 percent of Americans in this country fear that criticism of our police departments will lead to no public safety in their streets. And 69 percent of black Americans," McEnany said. "This is a real issue when you call our police cancer, when you talk about dismantling them. And then this weekend in New York, you see a 1-year-old killed in his stroller. His name was Davelle Gardner Jr and that 1-year-old will be in our prayers."
The NYPD on Monday reported that a total of 35 people were shot in the 28 shootings over the weekend. The only fatality was that of young Davelle Gardner Jr, who would have been 2 years old in September, He was shot and killed while at a cookout in Brooklyn. Three other men also were shot at the scene.
At a news conference Monday, Mayor Bill de Blasio said of the rising crime: "So many people don't have anything to do. They don't have anywhere to go. They don't have a job, they can't go to school, they are dealing with so many challenges."
The mayor was asked why the NYPD could not control an outbreak in shootings compared with previous years.
"The NYPD has been overloaded in so many ways, and it just keeps adding up. And most importantly, the criminal justice system is not functioning yet, and we need it to," he said. "And we're very, very hopeful that next month, we're going to finally see that, but it really is a perfect storm."
The mayor supported Police Commissioner Dermot Shea's announcement on June 15 that 600 members of an undercover unit that was charged with, among other duties, getting illegal guns off the street would be reassigned.
"He (Shea) came to the decision that the anti-crime unit, that work could be done a different, better way — a way that uses modern technology, a way that uses the skills of officers to achieve the same outcomes and get those guns off the street, but in ways that also don't disrupt the relationship between police and community," de Blasio said.
In the same period in New York City last year, there were five shootings, but also five deaths in those shootings.
Ocasio-Cortez also took to Twitter on Monday to say, "Republicans are all upset that I'm connecting the dots between poverty and crime. I know most of them haven't experienced or seen these issues first hand, but I have. This may be hard for them to admit, but poverty and crime are highly linked, both violent & nonviolent alike."
The 30-year-old congresswoman also has disputed claims that the NYPD's elimination of the plainclothes unit is behind a jump in the shootings.
"Each precinct has a detective, they have investigatory units. There's not just the anti-crime unit that is responsible for gun investigations and other shootings," she said.
Ocasio-Cortez also clashed Monday with Dana Loesch, a talk-radio host and former spokesperson for the National Rifle Association (NRA), who said on Twitter: "Crime is up because you and others pushed for a reduction in both policing and penalties. Also, whenever you want to talk about poverty, I'm happy to tell you about how hard it was for my single mom and me when I was growing up — and it wasn't in tony *Westchester.*"
In response, Ocasio-Cortez wrote: "None of these policing reductions have even *happened yet.* So a spike is happening WITH a $6 billion dollar NYPD budget. You either know this & are intentionally lying, or you're a bad spokeswoman & haven't verified your claims. Given your work with @NRA it's probably both."
Ocasio-Cortez coasted to a Democratic primary election victory last month with more than 70 percent of the vote. She will face Republican John Cummings, an ex-police officer and teacher, in the general election for the 14th Congressional District that comprises parts of Queens and The Bronx.