Top economies urged to avoid inciting hatred
By CHEN YINGQUN | China Daily Global | Updated: 2020-07-23 09:22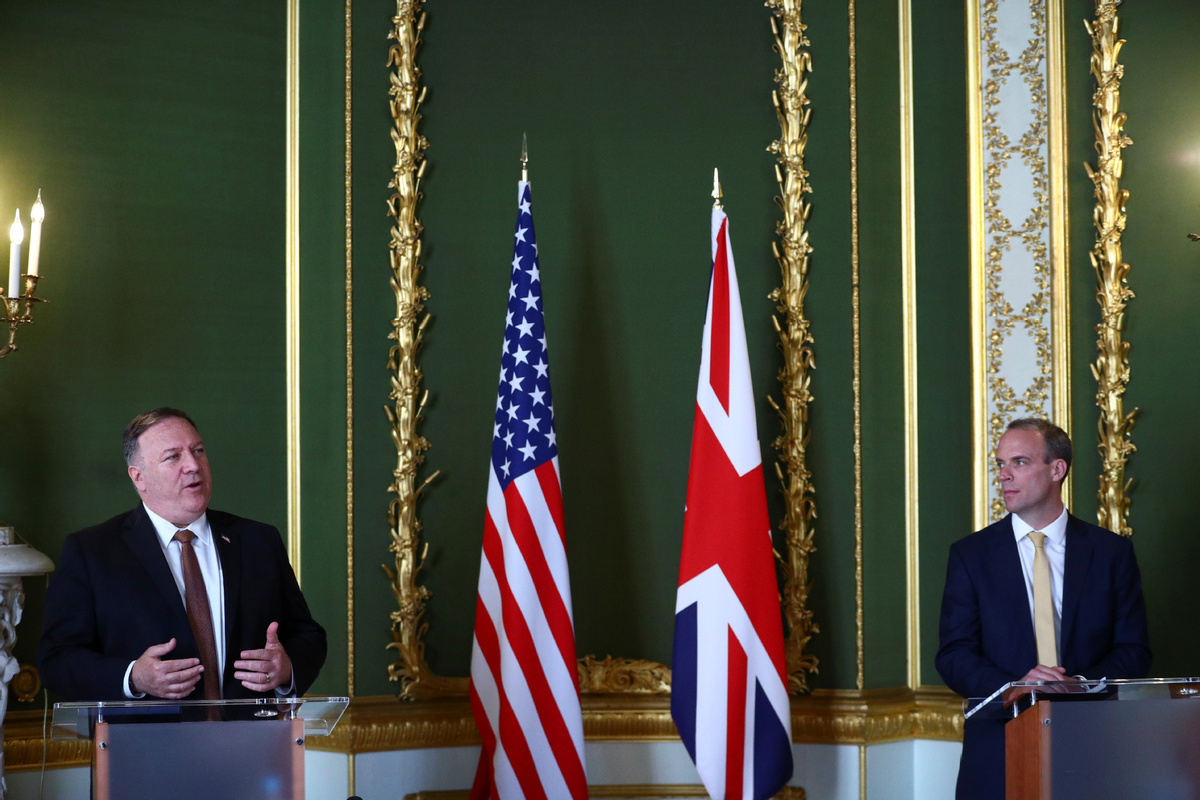 Analysts call for more cooperation as Pompeo seeks to build a global coalition against China
Major economies should strengthen cooperation rather than inciting rifts and hatred, analysts said as US Secretary of State Mike Pompeo seeks to build a coalition against China during his visit to the United Kingdom.
During his visit to London on Tuesday and meetings with British Prime Minister Boris Johnson and other senior government officials, Pompeo said the United States wants to build a global coalition against China. He also criticized China's handling of the COVID-19 pandemic and praised the UK government for stripping out the Chinese telecoms firm Huawei from its telecommunications network.
Downing Street said that Pompeo and Johnson also "spoke about shared global security and foreign policy issues, including China's actions in Hong Kong and Xinjiang, the situation in Iran and the Middle East Peace Process".
Pompeo described his talks with Johnson as "constructive" and "ranging from 5G telecommunication to our negotiations for a US-UK free trade agreement" on Twitter on Tuesday.
Chinese Foreign Ministry spokesman Wang Wenbin said on Wednesday that Pompeo has recently spared no efforts to attack and discredit China. His rhetoric, which is full of lies, shows that the US has made severe false judgments in its policy toward China.
Pompeo was unable to present any pieces of evidence when he made claims such as that coronavirus was from Wuhan or that China is using the virus to benefit.
"His words are self-contradictory and full of loopholes, not because he cannot see the truth, but that he takes advantage of the epidemic to make political maneuvers and cover up one lie with another," he said.
Wang said that the US has been inciting rifts and hatred among different countries in the world, which is against the trend of peaceful development and cooperation and the willingness of most countries in the world. The aim is doomed to fail.
Xu Liping, a researcher at the National Institute of International Strategy of the Chinese Academy of Social Sciences, said that while the world is fighting the common enemy, COVID-19, global economies should work together rather than triggering more disputes.
"The US coronavirus situation is also quite serious at the moment, and the US government should put people's lives and health first, rather than excessively focusing on or inciting antagonism among other countries," he said.
Both the Hong Kong Special Administrative Region and the Xinjiang Uygur autonomous region issues are China's domestic issues, and other countries should not try to intervene in them, he said.
Xu added that the US may consider UK's ban against Huawei as a diplomatic victory and would like to push more European countries to follow suit, but it is unlikely to realize that goal.
"The US should take a rational view of China's development. China is not an enemy of the US nor a rival of the US, but a global partner that the US could work with," he said.
Tian Dewen, the deputy director of the Institute of European Studies at the Chinese Academy of Social Sciences, said that politicizing the epidemic and blaming China has been a political discourse of the US government, which wants to avoid accusations of its ineffective response to the pandemic.
Tian said that in the past few months, the US has urged European countries to stand with it against China, however, it has not received much response from major countries such as France and Germany. For example, the French Minister of Economy and Finance Bruno Le Maire said on Tuesday that France is not banning Huawei from investing in its next-generation 5G telecom networks.
Agencies contributed to this story.