China's EV outlook: Before the dawn
By Yale Zhang | chinadaily.com.cn | Updated: 2020-07-27 13:48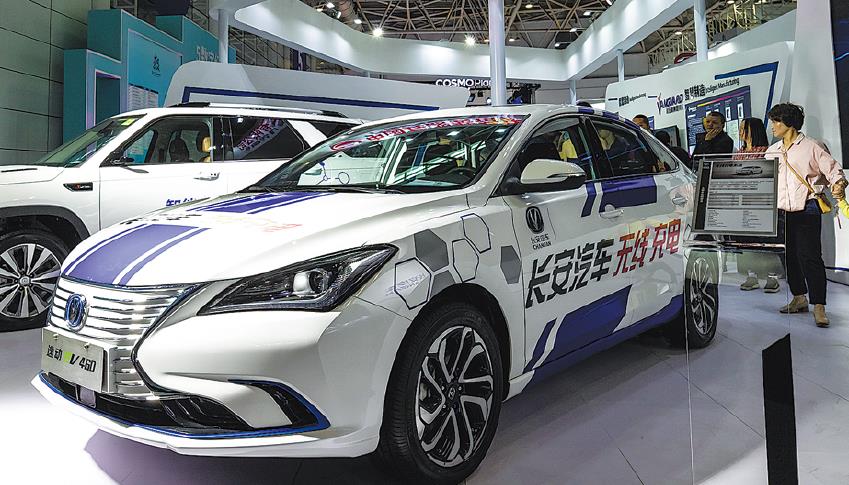 China's electric vehicle sales in the first half of this year reached 259,743, falling by 43.0 percent year-on-year, largely due to the COVID-19 impact and high base of first half. The 2020 total EV sales are expected to drop 30 percent to around 600,000 units, much lower than that of 2019.
With COVID-19 seriously influencing overall car market due to consumers' lower income expectation and sales and production pause, it is easy to understand that expensive EV cars will naturally face a more difficult situation. Luckily in China, COVID-19 impact on society has been brought under control and all economy sectors are recovering.
Industry insiders all agree that EV long-term future is unstoppable, however EV's short- and mid-term potentials are still subject to some basic barriers that we have been familiar with for years, namely, driving ranges, high prices, charging facilities, etc.
Consumers used to be concerned most about the EV driving range, a 2017 or 2018 model-year compact EV sedan could cover barely 200-300 kilometers, insufficient and inconvenient for driving in large cities. But now the latest new EV products' average ranges have improved to 400-500km, more than enough for daily commute, therefore the driving range barrier has become much less of an issue in 2020.
Among the three factors, EV's high price is the current biggest block. Especially now when the pandemic has added short-term pressures. Consumers are trying to control budget tightly or delay their purchase plan in 2020, and EV products' higher prices have become more a problem than previous years, not to mention that there are only 21,000 yuan EV subsidy left in 2020, while it used to be 60,000 yuan subsidy before July 1, 2019, and the mini-EV's subsidy now has been cut to zero.
Consumers are unanimously satisfied with EV's driving performance, but they are only willing to buy an EV with 20-25 percent price rise compared with the same segment gasoline cars. If any EV cars cannot meet this simple criterion, it will not sell well.
First, this explains why mini-EV, usually with 200-300km driving ranges, accounted for about 60 percent of the EV car market before 2019, and the sales slumped quickly after the subsidy was cut to zero from the second in 2019, with the sales accounting for just 15 percent in the first half in 2020.
In 2019, mini-EV with subsidy was still reasonable for car sharing companies and families buying their second car for daily commute. Without subsidy, mini-EV cars are priced at nearly 100 percent higher than a 30,000 yuan mini gasoline car, thus neither institutional nor individual buyers want to buy such mini-EVs.
Second, this also explains mainstream compact EV sedans (Golf/Corolla size) are performing well in a difficult year like 2020, with compact EV sedans roughly priced from 150,000 yuan to 180,000 yuan, around 50 percent higher than mainstream compact gasoline sedans. This price difference is much smaller than mini-EV segment, and as 2020 new compact EV sedans usually have 500km driving range, therefore the market share of this segment can still holds around 40 percent of EV passenger vehicle sales.
Third, this best explains why full-size EV sedans, such as Tesla Model-3, are selling well in 2020. This segment's market share rocketed to 16 percent in the first half of 2020 from 0.6 percent in 2019.
Taking Model-3's price as an example, its 460km driving-range version sells at 271,550 yuan, since Tesla brand has been recognized as a premium brand, compared with same size premium brand gasoline sedans, such as Audi A4, BMW 3 and Mercedes C-class, the price gap is zero already! Many of these entry luxury sedan customers are diverted to Model-3, contributing to the amazing 15,000 units average sales volume per month in Q2.
Furthermore, even comparing with mainstream full-size gasoline sedans, such as Camry, Accord, Passat, which usually sell at around 200,000-220,000 yuan, the price gap between Model-3 and a typical Camry has been narrowed to around 30-35 percent.
Meanwhile, Tesla is very determined to keep lowering its prices to expand its consumer base and directly compete with traditional car makers. It has cut Model-3's prices twice since the fourth quarter in 2019 already; by end of 2020, the Model-3's price is set to fall below 250,000 yuam, or the price gap will be 10-25 percent against gasoline main stream full-size sedans, the customer base of Model-3 will suddenly expand again by the time.
Fourth, the price gap criterion also explains EV SUV segment's slow sales in 2020, its share dropped from 30 percent in 2019 to 25 percent in the first half of 2020. This segment is somehow disappointing to industry insiders, because local OEMs as well as local EV startups launched many EV SUV new models since 2H-2019, however, the segment did not perform as expected.
For those local brands' EV SUVs with 500km driving range, their prices are usually 170,000-200,000 yuan, compared with a local brand's gasoline SUV, the price gap hitting nearly 70-80 percent. Thanks to some rigid demand in tier-one cities to get a car plate and consumer's preference for SUV's body-type, these EV SUVs will face even bigger challenges.
Compared with the same platform's sedan, SUV is bigger and heavier, and its Coefficient of Drag can never be as good as a sedan, therefore, for the same 500km driving range, an EV SUV needs a higher capacity battery, which increased cost quickly. When a battery supplier sells a typical EV SUV's 60-70 Kwh power battery pack still at 1,000 yuan/Kwh in 2020, this battery alone cost car maker 60,000-70,000 yuan.
Luckily, battery cost has been dropping very steadily as government planned. By 2023, the battery pack price is expected to drop to 700 yuan/Kwh, or 30 percent down over that of 2020. The above-mentioned price gaps in 2023 and after are going to be narrowed to a more reasonable range of below 20 percent, especially for compact SUV and compact sedan, two largest car segments in China. The sector is confident that after the boom of full-size EV sedan sector in 2020, compact EV sedans & SUVs will quickly expand the customer base by and after 2023.
Though EV driving ranges and high EV prices issues are being solved in an accelerating speed, charging infrastructure indeed remains as the last major obstacle, and it is a difficult one.
By the first half of 2020, China roughly built 1.3 million charging piles, however, this number is lagging far behind of government planned target of five million by end of 2020. As an online car-hailing EV driver I met last week, said: "The whole charging infrastructure 'can be used, but really not convenient'."
The difficulties of charging infrastructure lie in two fronts:
1. Older residence communities have very limited parking lots, so the residents living in these older buildings cannot find a fixed parking lot to install charging piles.
2. Public fast-charging piles need huge investment: machine costs + even higher land costs + management costs + electricity fee to state grid, while the charging fee at most can be raised to 2.0-2.5 yuan/Kwh, already a very high fee for EV owners, no charging service company can get a profit at current stage. Government realized the difficulty and now gave more subsidy support to build charging facilities. Hopefully more charging companies would invest in this area in the coming five years.
Since driving range and EV prices are no more barriers in five years, depending on major cities' improvements of charging infrastructure from now on, by 2025, there is high possibility that China can achieve the latest planned EV target, or around five million EVs, But if the charging infrastructure still lags far behind after 2023, the 2025 EV sales will be much more moderate than the planned one.
The author is managing director of Automotive Foresight (Shanghai) Co. Ltd.