Russian Navy bulking up with 40 more ships and advanced weaponry
By REN QI | China Daily | Updated: 2020-07-28 09:07
Russia's naval forces have been steadily growing and are set to receive a further boost when 40 vessels, equipped with newly developed weapons, enter service.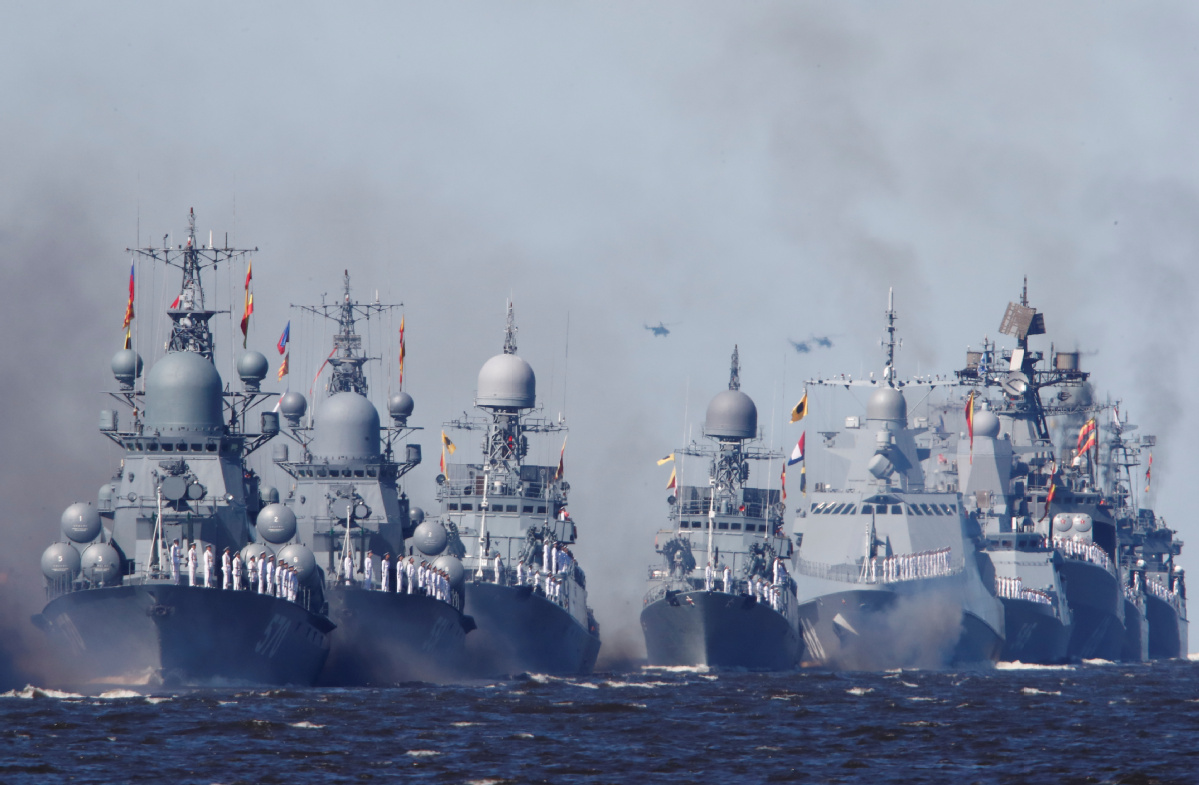 Russian President Vladimir Putin said on Sunday that the new ships and weaponry, which the defense ministry said were in their final phase of testing, are unequaled in their sophistication.
Putin, who was speaking at celebrations for the country's Naval Day, said that the weapons would be able to hit almost anywhere in the world.
Putin said the weapons include the Poseidon underwater nuclear drone designed to be carried by submarines and the Tsirkon (Zircon) hypersonic cruise missile, which can be deployed on surface ships.
Russia last year said it would deploy hypersonic missiles on ships and submarines that could lurk outside United States territorial waters if the US moved to deploy intermediate-range nuclear weapons in Europe.
The Reuters news agency said that while Washington has not deployed such missiles in Europe, Moscow is worried it might.
The combination of speed, maneuverability and altitude of these Russian hypersonic missiles, capable of traveling at more than five times the speed of sound, makes them difficult to track and intercept.
Putin made the announcement about the missiles and new ships in St Petersburg at an annual naval parade that showcases the country's best ships, nuclear submarines and naval aviation.
Effective means
The president said the Navy will strengthen its unique advantages and increase its combat capabilities by deploying advanced digital technologies, hypersonic strike systems, unmanned underwater vehicles. Together, they provided the most effective means of defense, he said.
He noted several days ago that six new vessels for Russia's far-sea zone had been laid down at three leading Russian shipyards.
He did not specify when they would receive the hypersonic weapons, but suggested that day was drawing closer.
The Navy Day parade in St Petersburg, with the events also taking in the nearby town of Kronshtadt, featured 46 vessels of all kinds and more than 4,000 personnel.
Similar parades also took place in the Far Eastern cities of Vladivostok and Petropavlovsk-Kamchatsky, as well as in other cities.
Putin, who recently attended a keel-laying ceremony for new warships in Crimea, said Russia needs a strong navy to "help maintain a strategic balance and global stability."
Russia has been focusing on upgrading its Navy fleet, together with weapons development and deployments, as part of its drive for military modernization.
These efforts come amid tensions with the West after Crimea was incorporated into Russia following a referendum in March 2014 that Ukraine and Western countries refuse to recognize.