Britain launches effort to cycle its way out of crisis
By JONATHAN POWELL in London | China Daily Global | Updated: 2020-07-29 09:35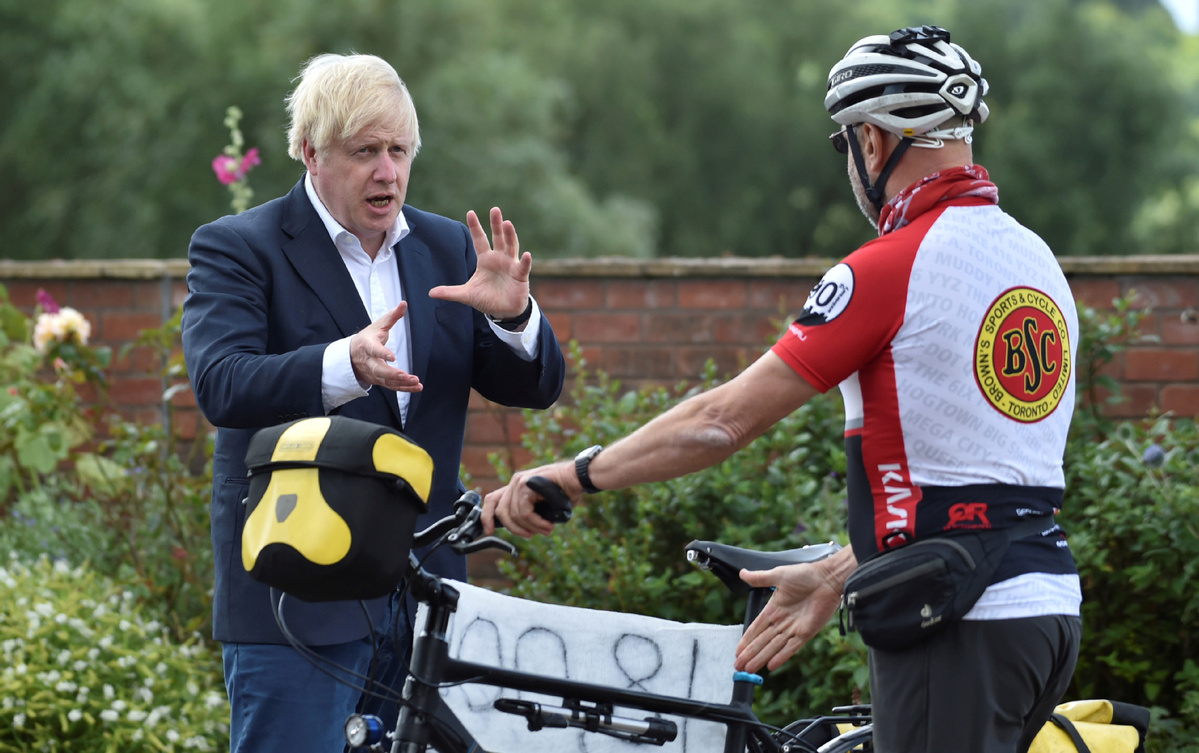 A British government program is encouraging people to get out cycling and walking amid a wider eff ort to boost public health after months of lockdown due to the novel coronavirus outbreak.
Government data shows two-thirds of adults in the United Kingdom are overweight, and some studies suggests that the disease is especially deadly to people who are obese.
The new program of measures launched on Tuesday is titled Gear Shift: A bold vision for cycling and walking and includes: long-term funding for thousands-of-miles of protected cycle routes in towns and cities; cycle training for children and adults; investment in secure bike parking; the creation of 12 new "Mini Hollands"-a reference to cycling culture in towns and cities in the Netherlands; and at least one zero-emission transport city center.
A new government department dubbed Active Travel England will be created to oversee the spend of the earlier pledged 2 billion pounds ($2.6 billion) allocation for active travel over the next five years.
To get the program underway, it was announced that bicycle repair vouchers, worth 50 pounds, would be released in batches to the public from Tuesday.
The vouchers can be used for a basic repair service in cycle retail stores that join the program.
"To build a healthier, more active nation, we need the right infrastructure, training and support in place to give people the confidence to travel on two wheels," said British Prime Minister Boris Johnson.
"That's why now is the time to shift gears and press ahead with our biggest and boldest plans yet to boost active travel-so that everyone can feel the transformative benefits of cycling.
"From helping people get fit and healthy and lowering their risk of illness, to improving air quality and cutting congestion, cycling and walking have a huge role to play in tackling some of the biggest health and environmental challenges that we face," said Johnson.
It comes as polls show people are worried about using public transport. Many trains and buses are running half-empty during morning and evening commutes.
The opposition Labour Party said many of the government's proposals would take too long to come into effect.
Kerry McCarthy, Labour's shadow cycling minister said that the Conservative Party had "failed to seize the opportunity this crisis has posed".
She said: "Although funding is welcome, cyclists will be rightly concerned about how long it is going to take to actually put these plans into practice."
Former Olympic gold medal cyclist Chris Boardman, now a policy adviser to British Cycling, welcomed the plans.
"There's a quarter of households in Britain who don't have access to a car at all and we've got public transport operating at 30 percent, so 70 percent of people have got to find another way to travel or not go to work," he told BBC Breakfast.
"This can be not only provision for people who don't have a car now, it's a consultation for the future."