Liquor industry drinks to better times
By LI YINGXUE | CHINA DAILY | Updated: 2020-07-30 07:28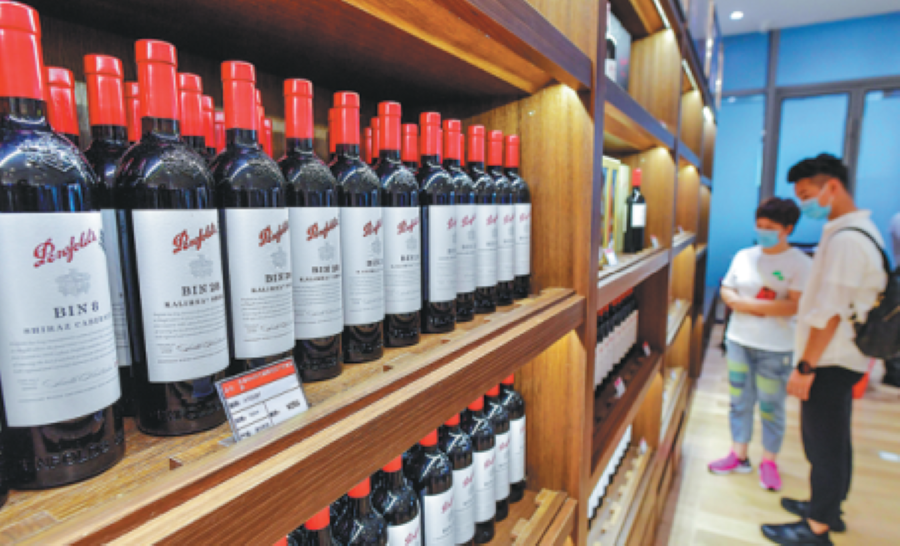 Delayed resumption
Zhao Pengfei, deputy director of the imported beer division at COFCO W&W International, said that because of the pandemic, the company's team only resumed work in April after the Spring Festival holiday in late January.
The team decided to increase beer orders in January by 50 percent at a time when most competitors were cutting back. "Our sales from April to June were 9 percent down on the first half of last year, while total imported beer sales nationwide in the first six months of this year fell by about 30 percent," Zhao said.
He added that the company originally planned to import several new products over the next three years. However, as a result of the pandemic, the products were placed online in May, and have accounted for 10 percent of total sales.
Zhao said other distributors of imported beer placed orders in August, but deliveries only arrived in China from Europe in April, three months later than scheduled.
"The distributors only had a few months before the 12-to 14-month guarantee period for this beer expired. They have had to mostly sell it for half-price," he said.
"Those who placed orders in April or May will only receive the beer in August or September, meaning they will miss the busy summer season. Some have decided to cancel their plans for this year and wait until next.
"However, profit from online sales has fallen because of the pandemic. Non-contact deliveries also mean we have had to include more packaging, which has increased costs."
Exhibition hosted
Meanwhile, demand for imported sake could exceed supply in the next two years.
Zhang Jie, 34, general trade manager at sake importer and distributor Pinor, said the company sold about 50,000 bottles of the drink in the first half of this year.
"Luckily, we hosted a sake exhibition in November, where we placed a considerable number of import orders. However, many sake distributors have been unable to get deliveries to China during the pandemic," he said, with ships mainly being used to transport medical supplies.
"Even though shipments have recently recovered, they now take longer to clear customs, because they have to go through nucleic acid testing," he added.
Zhang said Pinor started to sell sake through WeChat at the end of January, and 20 percent of its sales are now online.
"Each month, the number of new customers has risen by 30 percent and our regular clients place orders two to three times a month," he added.
Zhang is worried that because many Chinese distributors have reduced their orders this year, priority will be given to the Japanese sake market after the pandemic. "There might not be much left for exports," he said.
The pandemic has not had a strong impact on wine sales from premium producers and major brands, but the niche market has been badly affected.
Jiao, from COFCO W&W International, said sales at restaurants and wine shops have been hit hard, but online orders have risen significantly.
"We have broadened our online platforms to sell more wines and are using additional personnel. Before the pandemic, we only focused on JD and Tmall. Now, we are opening stores on Suning, Pinduoduo and NetEase," he said.
Jiao said that since May, the company has hosted a series of livestreaming shows on the JD and Douyin platforms in conjunction with tastings at its 50-plus stores nationwide. By last month, the shows had been watched more than 1.7 million times.
"We have introduced wine courses to the livestreaming shows, and customers have welcomed them," he said. "Before the pandemic, clients may have objected to tasting classes being held with a wine master talking on screen, but now they readily accept this."
Jiao said the market started to recover in May, with the company's sales rising by 100 percent from the previous month. He is confident about the second half of this year, as he feels that linked online and offline marketing will attract more customers.
"We are planning to organize 100 livestreaming shows this year," he said.
Lu, the wine specialist, said: "Liquor purchasing is mostly based on trust. Once customers trust online platforms, they will get used to this form of buying."
He still prefers to drink with friends while dining at restaurants, as he believes that wine is "all about the experience".