Normalcy returning to South as Typhoon Hagupit moves on
By Xing Yi in Shanghai | China Daily | Updated: 2020-08-06 09:15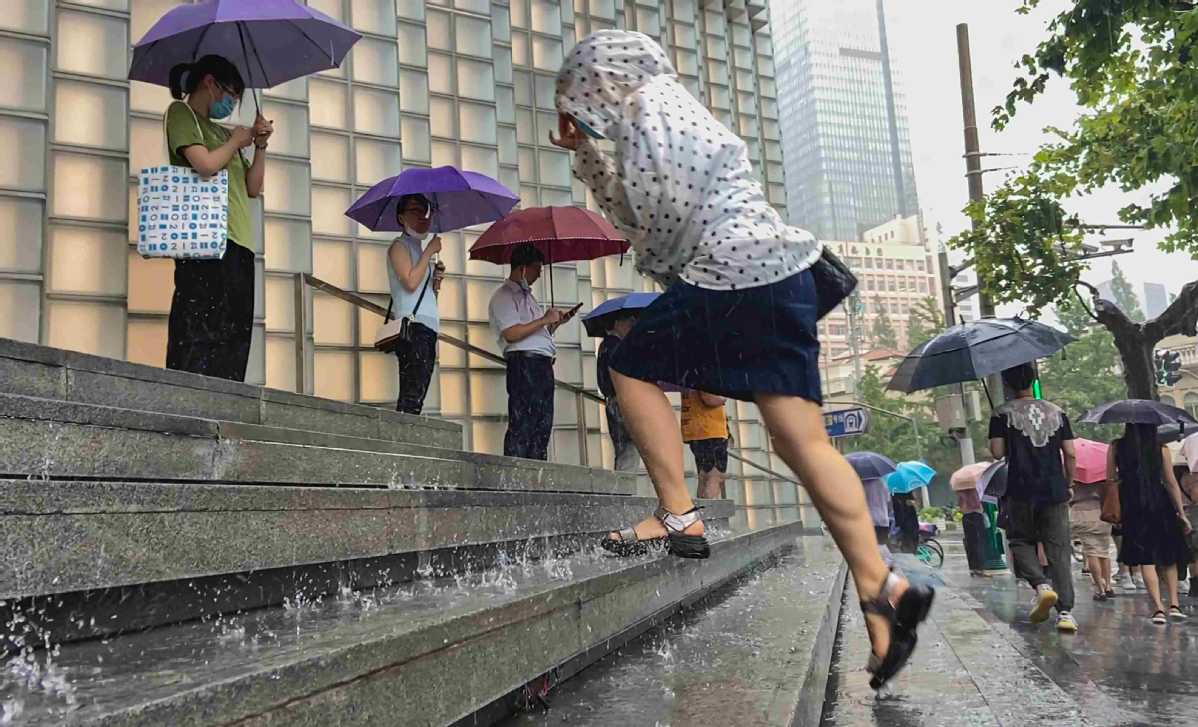 Life along China's east coast had mostly returned to normal by Wednesday afternoon after an overnight disruption caused by the landfall of Typhoon Hagupit on Tuesday.
Hagupit, the fourth typhoon this year and the first to make landfall on the Chinese mainland, brought gales and torrential rains to China's east coast during the wee hours of Tuesday before heading north to the west coast of the Korean Peninsula late Wednesday.
With the advent of Hagupit, the National Meteorological Center on Saturday upgraded the alert for the typhoon from blue to yellow and then from yellow to orange on Tuesday, when the storm made landfall in Yueqing, Zhejiang province, at about 3:30 am before moving north past Shanghai and downgrading to a tropical depression at 5 am on Wednesday.
Since the tropical depression moved to the Yellow Sea, it has picked up intensity to become a tropical storm, according to the weather center, which has issued a blue alert for provinces around the Yellow Sea and has advised ships at sea to return to port.
China has a four-tier color-coded weather warning system, with red representing the most severe weather, followed by orange, yellow and blue.
After making landfall, the typhoon brought heavy rainfall to Zhejiang and Jiangsu provinces as well as Shanghai.
Precipitation in Yongjia and Yueqing in Zhejiang was highest, reaching 400 to 552 millimeters, which led to the grounding of hundreds of flights, caused rail transportation delays and brought operations at ports and ferry lines along the east coast to a halt.
While the exact number of casualties brought by the typhoon is not yet known, Xu Guochao, a 39-year-old grassroots official, died while helping villagers evacuate Xixi township in Zhejiang, the Xinhua News Agency reported.
In general, the disruptions caused by the typhoon have remained limited.
Many operations that had been suspended because of the storm-including the Shanghai Yangshan Deep Water Port, the world's largest automated container terminal located in Hangzhou Bay south of Shanghai-resumed by Wednesday afternoon, according to China News Service.
Most of the outdoor screening sessions for the ongoing Shanghai International Film Festival reopened to the public on Wednesday night, the event's organizers said.
Yet the typhoon will continue to have an impact, according to the weather forecast. Large precipitation will dominate North China over the next three days.
Rainfall may reach over 200 mm in the central and southern areas of North China, including Shanxi and Hebei provinces, said the National Meteorological Center.
The center also warned of landslides and torrents in mountainous areas because of the expected heavy precipitation.